Mikel Landa: "I travel with the aim of winning the Tour"
The 30-year-old from Alava flew to Nice on Tuesday, where a Tour de France marked by COVID-19 and a mountainous route that favors him starts on Saturday.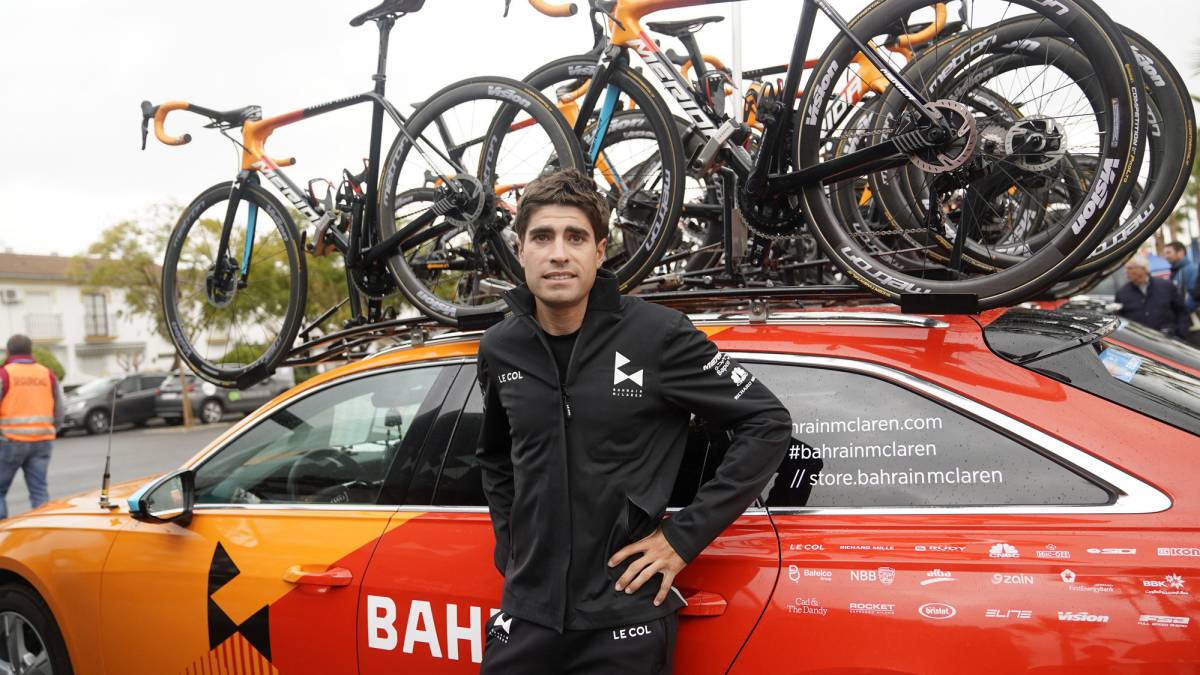 Mikel Landa boarded yesterday Tuesday at 11 am at Bilbao airport for Nice, where the Tour begins on Saturday. And before he revealed his feelings to AS. Bahrain called their riders one day earlier than usual to recognize stages close to the start.
-How do you face the Tour? In the last stage of the Dauphiné he got down due to back discomfort. -That scare is already forgotten, they have treated me well during these days and we have already solved the problem. I reach one hundred percent.
-What happened to her? -It was a very hard Dauphiné and she noticed lumbar discomfort. With the rhythm that was set, which was very high, I was not able to turn the pain around. They went to more and I made the decision to get off the favorites and reach 20 minutes. But I'm done.
-Could these annoyances be related to the hit-and-run that took place at the beginning of the year and ended up with you and a friend lying in the ditch while the driver, who would later test positive for drugs and alcohol, fled? -I don't think so. The truth is that it cost me to overcome it. But I think it comes from somewhere else, just as much rolling during confinement or maybe the opposite (laughs) .
-How did that confinement happen? -Like everyone, at home. A bit boring not being able to go out to train and I live in a town that, in that sense, gives you many more possibilities than a city.
-How do you see the coronavirus issue? -Complicated, but the Tour had to be run yes or yes. It is the most important event of the year and the French always do things very well.
-In fact, it is something that has been shown in the Dauphiné and now with the European Championships ...- The Dauphiné has been the test of the Tour. All protocols will apply from this weekend. We leave the buses through some catwalks, there is little contact with the media and with fans, but the health of cyclists is protected. It will be quite rare.
-And the measure that with two positives in a week the team will be expelled? -It is a bit risky but, once we are all in the organizational bubble, if something happens, it is assumed that the responsibility will be theirs. They are the ones who organize everything, set up the hotels and prepare the departures, layout and arrivals. Another thing is that an auxiliary goes to a supermarket and gets infected or that a cyclist takes it these days at home, incubate it during this week and then test positive for COVID-19 the same Saturday. It is difficult to control.
-You live in the Zuia Valley, a place with several affected in recent weeks. Even a nursing home, La Purísima Concepción, has already recorded 31 positives.-Well, yes, although I have been out of town for a long time. Since confinement ended, I have hardly stopped there. I have competed in Andalusia, Burgos, Getxo and Dauphiné and I have also prepared with the team by reviewing stages in the Alps and the Pyrenees. We did a rally. I know that there is concern in Murgia and I want everyone to recover and things to improve. I have been told that those affected are asymptomatic and that they are recovering normally.
-Are you traveling to Nice with optimism? -Yes, I have had the idea of doing a good Tour since the beginning of the year and, since I returned to the competition, I have realized that I can be there, with the best. Except for the last day of the Dauphiné, the sensations have been very good and we are going to opt for it.
-Right now, are you signing the podium or is the idea to arrive in Paris in yellow? It will be very difficult because there are other riders stronger than me, but I will have time to settle for the podium.
-The list of favorites is reduced. Froome and Thomas are not ... Evenepoel fell and will be out of competition for several months. Cycling has returned in a somewhat strange way, hasn't it? -Yes, we have all returned to run each race as if it were the last. There have been people who have been better and others worse. There have also been quite serious accidents and, in that sense, I think it will be a short but very intense season.
-Years go by and you have to try to win races. The new litter bites ... -Of course, I already said in its day that there is a new generation that has been stomping and that we have to hurry.
-Favorites? -Because Roglic and Dumoulin seem very, very tough rivals and then there is Bernal with the support of all Ineos.
-Do you like the track? -Yes, it is one of the ones that suits me best in recent years. There is only one time trial, the last day, and it also ends high. The rest of the stages will have a lot of mountains. It suits me.
-It is that you start in the Pyrenees, then you reach the Central Massif and practically ends in the Alps. It's a non-stop.
-Already from the first week, on the second day in particular, there will be a fairly mountainous route and hopefully that will help to reduce stress a bit and serve to put people in their place.
-After previous experiences, now it does seem that you are going to be the only leader ...- Yes, and I am very grateful to you. Since the beginning of the year they bet on me and I like that. That was the initial idea and they have proven it in races.
-Among his teammates is his friend Pello Bilbao, who last Friday became champion of Spain in time trial.-Well, let's see if something of him sticks to me. He did a great job. No, seriously, I think I am well prepared in all facets. We have worked hard and now the results have to be noticed.
Photos from as.com