Medvedev kicks off title defense with victory over Giron
The Russian, with a tennis at half gas, surpassed the American without too much trouble to reach the round of 16, where he will face Bedene.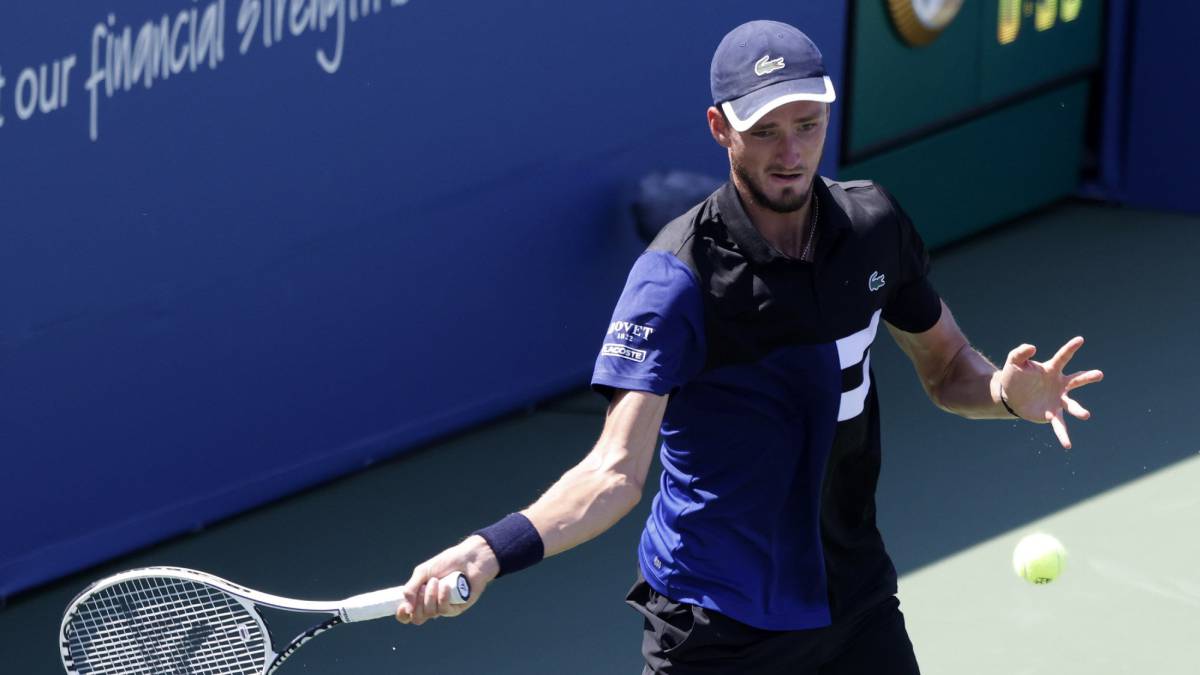 Lots of anticipation to see the reigning champion, Daniil Medvedev, on the track of the Western & Southern Open on the third day of this edition of the tournament. The Russian sealed his return to the competition with victory against the American Marcos Giron, an inexperienced in these Masters 1,000 struggles who played with courage and self-confidence, but who accused the lack of experience at key moments. Playing at half gas and without excessive brightness, the Moscow player will be in the round of 16 with little wear and tear, after closing the match in 1 hour and 29 minutes by a double 6-4.
Both started solid with serve, giving no chance to their rival in the opening bars and exchanging hard blows from the bottom. "Great Rally", showed the screens located on the track after an exchange of 20 shots between the two in a fifth game that was decisive. By 'stubbornness', in the good sense of the word, Giron was going to have serious difficulties against the Soviet, who was growing little by little behind the baseline until he planted his usual wall. He broke the American's serve in that game and was thrown for the set: 6-4.
In the second set, Medvedev got the break at the first change, but everything could take an unexpected turn when the duel seemed more than resolved. The Russian got into a quagmire on his own with unforced errors that conceded three break points to his rival. But Giron was left with the honey on his lips since the Moscow man solved the ballot based on saquetazos to put the 3-1. It was enough for Daniil to keep his serves until the end of the game, squandering any attempt at rebellion by his opponent by playing tran-tran. His rival in the second round will be the Slovenian Bedene, who left out the American Fritz (7-6, 7-5) You have to count on Medvedev in the pools for the title ... 444 444Rest of the day
Canadian Milos Raonic also advanced to the round of 16 after beating Briton Daniel Evans in straight sets, by a score of 6-3 and 7-5. Raonic gave a recital with the serve, a lethal weapon that put him the victory practically on a plate after signing a whopping 23 aces and not giving his rival any break opportunities throughout the game. In the next round they will face the winner of the duel between Andy Murray and Alexander Zverev.
The rest of the day left the American full in three duels: Sandgren knocked out Aliassime (6-7, 6-2, 7-6), Isner beat Millman (4-6, 7-6, 7-6) and Opelka He did the same against Schwartzman (6-3 and 7-6).
Photos from as.com