Mavi García sweeps to achieve the National time trial
The Mallorcan cyclist won ahead of Sara Martín, silver and U23 champion, and Sheyla Gutiérrez, who defended the title and was bronze.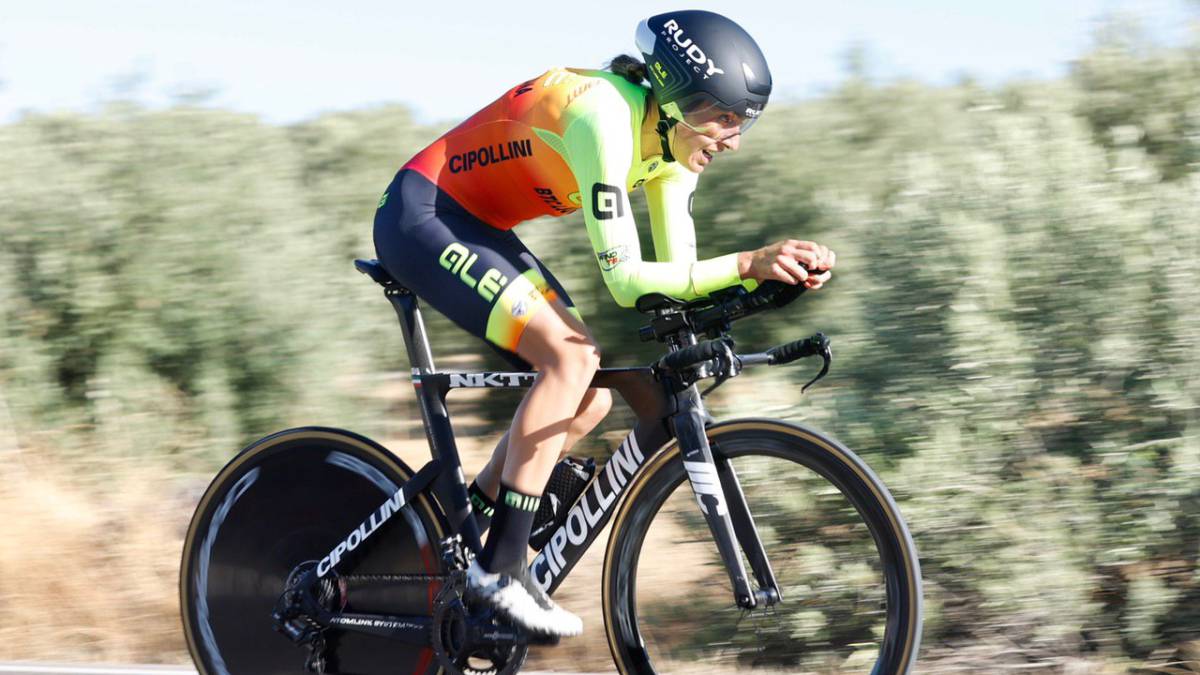 Mavi García proved in the time trial of the Spanish Road Cycling Championships that 2020 is his year. After shining in events such as the Emakumeen Nafarroako Klasikoa and in an entire World Tour event such as the Strade Bianche, the Mallorcan cyclist from Alé-BTC Ljubljana was proclaimed champion of Spain in time trial ahead of Sara Martín (Sopela Women's Team), who was the best cyclist in the sub-23 category, and Sheyla Gutiérrez, who could not defend the title won in Murcia last year but did win the bronze medal.
Movistar cyclist Gloria Rodríguez was the first to go out to face the demanding 26.3 kilometer route between Cazorla and the finish up at La Iruela although it was Alicia González who was setting the best time at the intermediate point until the start by Sara Martín, who stopped the clock at 15:45 at the halfway point. A record that neither Mavi García, who was 11 seconds behind in this intermediate step, nor defending champion Sheyla Gutiérrez were able to beat.
The situation would change at the finish line, where Gloria Rodríguez had the best time with 47:52 until Alicia González improved it in 35 seconds (47:17). Later, another Movistar rider, Eider Merino, used her skills as a climber to pulverize the best time and take the lead with a 46:05 mark. However, there were still Sara Martín and Mavi García to reach the finish line. Martín became provisional leader after improving Merino's time by 19 seconds but Mavi García pulverized all the records and took the gold medal with a time of 44:00, an unbeatable time either for Sheyla Gutiérrez, who took the medal of bronze as they could not surpass Sara Martín either, who in addition to absolute silver was proclaimed champion in the sub-23 category.
Classification of the women's time trial of the Spanish Championships 3333 331. Mavi García (Ale-BTC Ljubljana) 44: 00
2. Sara Martín (Sopela) at 1:46 (U23 champion)
. Sheyla Gutiérrez (Movistar) at 1: 55
4. Lourdes Oyarbide (Movistar) at 1: 59
5. Eider Merino (Movistar) at 2: 05
6. Sandra Alonso (Golden House) at 2:49 (silver sub-23)
7. Alicia González (Movistar) at 3: 17
8. Gloria Rodríguez (Movistar) at 3: 52
9. Mireia Benito (Massi) at 4: 37
10. Almudena Montalvo (Fitstudio) mt
Photos from as.com