"The Maverick thing has been very irresponsible because it also endangers others"
"The Commissioners will have to look at it, because it has caused a red flag," says Suzuki, who also asks for a sanction for Pol for stepping on green.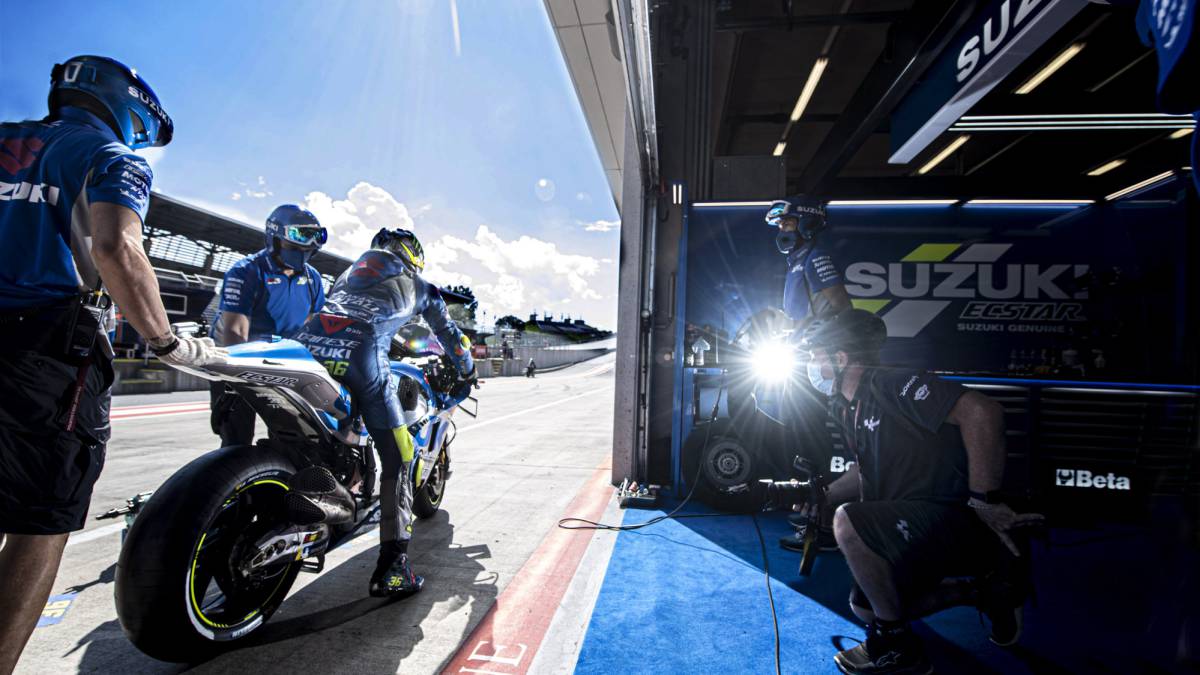 Joan Mir was very angry after the Styrian GP race, and not because the red flag had ruined his first MotoGP victory. He says Maverick "has not been very responsible" because he had brake problems since lap four and had opted to use conventional Brembo brake pads over larger ones. And he also wanted, with good reason, that Pol had been sanctioned for his entry to the finish line stepping on the green in the last corner.
Balance: "I don't have much to comment on this race either, because everything has been seen. It was a shame, because I was feeling very well and we had had a perfect weekend, but today was not our day. It was not our day and we did we have to take this way. We have shown that we are ready to win, so we take the positive and go to the next one ".
Moral winner: "I don't like this moral winner, because Oliveira has taken the points, and the glory, but we have left a stamp. We have been where we want to be. We are there. The victory will come. Today was not the day, but I don't feel like the moral victor. I think I did a great job and the team did a great job. We deserved to win, but Oliveira won ".
Annoyed at the lack of sanction for Pol: "It's brutal. I've seen all weekend that they sneak out to punish people. In Q2, I came in red, Dovizoso was standing in the last sector, it bothers me and nobody penalizes Dovizioso. And in the warm up not a touch to Zarco, who was in the middle of the track stopped. Already in the race, I strain a little after the start and they penalize me. Good for them, because it was to penalize me and I yielded I'm happy to take the position, but what doesn't seem right to me is that when you have to penalize others, don't do it. It's not fair. They have taken away the victory from Martin, the poor man, for leaving at a point where he didn't He has won nothing, which you know if you understand a little about motorcycles, and then Pol, who I love him very much and I have a lot of affection for him, the uncle entered the penultimate corner to overtake Jack, he sneaked in, Jack caught him the position and he has decided to enter the last corner from the outside. Jack had the line and he knew he was going to slip and, when it has reached the green, it has opened gas and it has left that it almost enters the highway. Then he comes back and they don't penalize him. He thought they had penalized him, because instead of going into the closed park he was going to the box, and I have seen him because he was behind. I'm not charging against Pol but against Race Direction. Please, clarify and have a rule and comply with it, because if not this is a joke.
Maverick's accident was with the small Brembo pads instead of the bigger ones: "I had the big discs (340) and since they didn't work well I put the usual ones and I had no brake problems all weekend . We knew we weren't going to have problems with the brakes. The Yamahas have been having problems all weekend and come out with the small pads to do the race. I have heard that Maverick had problems since lap four, which I see very irresponsible because of his part, because he also endangers the other riders. Having problems with the brakes is not having problems with the tires. It is more complicated and what has happened is that he has run out of brakes. I think he was not very responsible for their part. The Commissars will have to look at it, because it has caused a red flag. Normally, when there is a red flag, they investigate why it was. They have to investigate it anyway ".
Photos from as.com