Maverick: "Glad nothing serious happened"
And about the race: "The clutch got hot and I spent three laps with the clutch slipping. I couldn't do anything."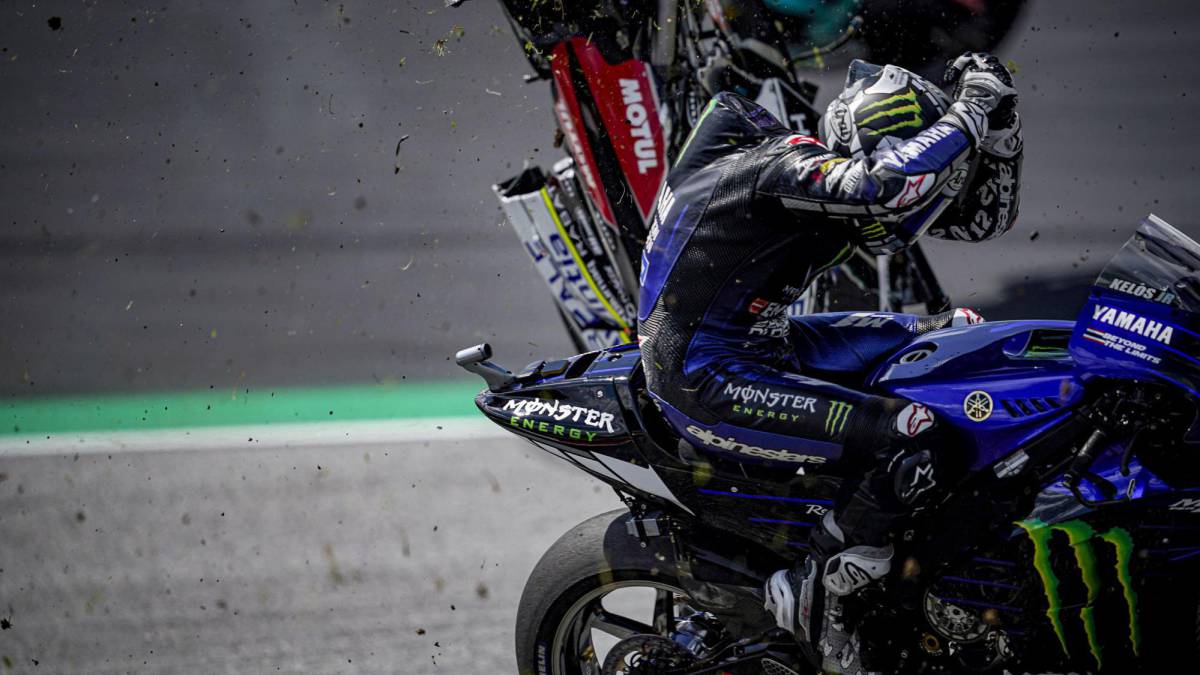 Maverick Viñales was very disappointed with the performance of his Yamaha at the Austrian GP, but happy to have been spared the dangerous impact that Zarco and Morbidelli's bikes could have caused on him and Rossi.
-What can you say about the accident?
-I am really happy today on the one hand, and that is that nothing serious has happened. Both Valentino and I are fine and that is the most important thing. Franco and Johann are doing well too. In turn 3 you know, nothing has happened in the other years because God has not wanted. It is a very complicated curve. For motorcycles that curve is very difficult. Especially in water, so I hope it doesn't rain, because in water that's going to be incredible. You can fall very easily there in the water, because in the end you brake lying down. Let's hope nothing else happens.
-Is the Red Bull Ring dangerous?
-There are always risks. It is something you are exposed to. You know it and it's there. I enjoy running, I have a great time, it is my passion and what I want to do all my life. I know the risk is there, but it's not that I worry. I go out to pilot to the maximum and without thinking about anything else.
-And the career?
-Today I had a problem on the bike, that's why I was so disappointed. I think both in Brno and here were two perfect opportunities to be ahead in the championship and we totally missed them. He had a good pace, he had a good lap, he was there in front ... You have to keep going. It is difficult to understand why things happen. If you get the feeling I have on Saturday, it is spectacular. I have a very good feeling and I am in the top three in every training session, even with the track half wet and half dry. Then comes the race and it's a difficult bike to ride. It changes a lot from workouts to running. It is something that has happened to me for many races and there is no solution. We will see. It's difficult, because as a driver you think "Damn, we missed two perfect opportunities to score 10 or 15 points for Quartararo and be hooked on the championship." I give my maximum in every training and in every race.
-Have you had a problem with the clutch?
-Basically, the clutch has heated up and I have been three laps with the clutch slipping. I could not have done anything. Everyone passed me on the straight and I even raised my hand from turn 1 to 3 so that no one gave me. They passed me by the sides. Of rage. I am very frustrated. It was a good race, because I felt strong, I was braking very late and I would have had a chance to overtake. Another race we've really thrown away.
-¿Balance of the Yamaha in these first three circuits?
-I already said it. In Jerez the bike worked well, but we had to see it on the other tracks. It's complicated, because in the end Jerez has nothing to do with Brno and Austria, and it has nothing to do with most tracks. It is difficult to have an opinion. For one lap we have a good bike when there is grip, it is fantastic. But when there is grip it becomes much more difficult. We are suffering in this regard, that when there is no grip, the bike is unducible. You can do absolutely nothing. I try, I change all the maps, the engine brake, I try to brake earlier, I try to brake later, I try to adapt on each lap ... But there is no way. It's something that has happened to me for a long time. As a pilot I can only hope I have enough weapons to fight others and that's it. What is clear is that for me it is very difficult to understand that on Saturdays I can squeeze myself to the full, and that on Sunday it seems that I can not do anything and that I am walking. That is the feeling that I have. On Saturday I can get my best performance, and on Sunday for A or for B I can't. We are not performing at our best. Others always go forward and the rest of us lose many positions.
-What do the engineers tell you? Because it looks like voodoo ...
-There is no voodoo. It is a lack of grip, both front and back. When you go out after Moto2 it is one of the biggest problems we have. The track changes and we don't know how to hit the button to make the bike work. In the races that have worked, I have always been fighting to win ".
Photos from as.com