Martín's first victory the day Bastianini was born again
The Spaniard crossed the line ahead of Marini and Schrotter in a race that was stopped by a horrifying accident caused by the fall of Enea.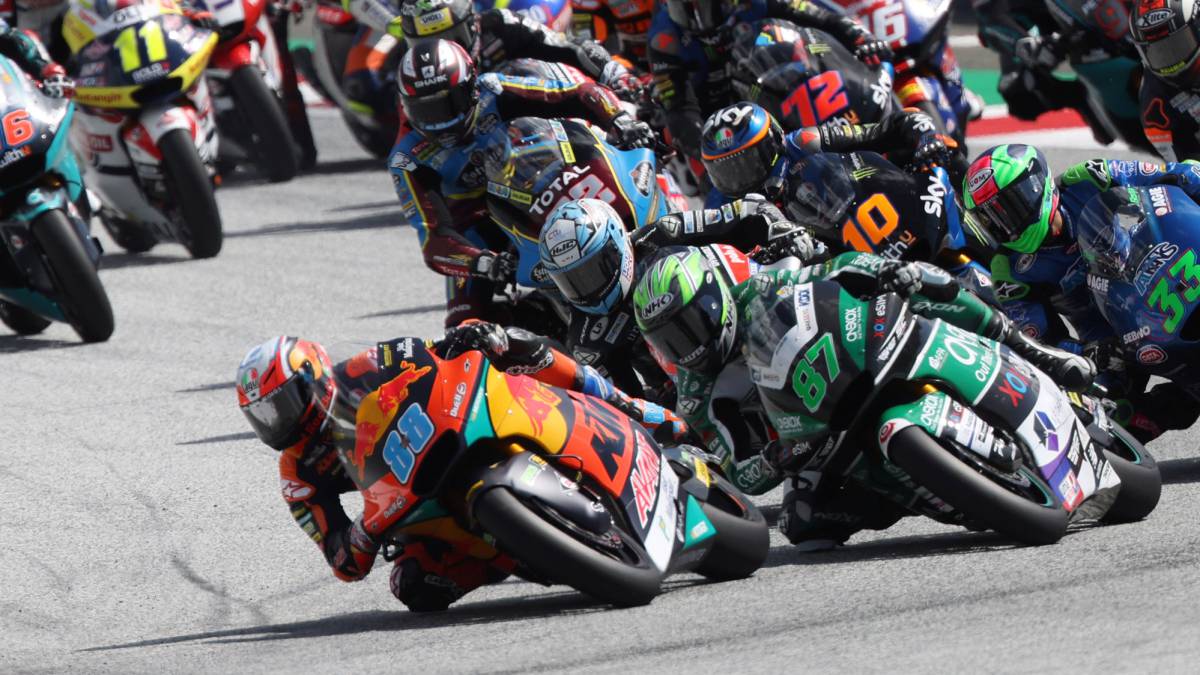 Martín has released his record of victories in Moto2 the day that Bastianini was born again, because he was unharmed from a horrifying accident that left three other riders on the ground and with a pelvic contusion from Syahrin as the most serious injury. A miracle that it was only that seeing what happened, starting with a Bastianini who was not run over by the hair after falling at the exit of Turn 1 and passing almost the entire peloton too close to him. And also from his motorcycle, although Syahrin could not dodge it and he crashed against it, the pilot catapulted out, leaving Bastiani's motorcycle spinning like a top and parts of the two motorcycles that the pilots tried to avoid jumping into the air. That was what brought Edgar Pons and Izdihar to the ground as well, although without consequences.
Recovered from the initial shock when only three laps had been completed, the resumption of a race was reduced to 13 laps and in which Martín acted as the Martinator to dominate from start to finish. Marini was the only one who put up some opposition to the 2018 Moto3 champion, but in the end he had to settle for a good second, 2.1 behind the winner, which made him the new leader of the general classification.
Bastianini's zero helped the leadership of Rossi's brother, who thus took five points from his compatriot and 19 from a Martin who had the pleasure of walking the flag of Spain in the lap of honor with a bull that already walked at his coronation Moto3, the one his parents took to Jerez in their day.
The one who got another zero with which to take off the fight is Nagashima, who led during the first two dates of the season. Navarro also fell, and they have already gone three times in the race this year, and Gardner when he had in hand to climb the podium for the first time. The poleman fell rolling third and that position was inherited by Schrotter, which Lowes and Vierge did not reach, entangled between them in a beautiful fight for fourth place that the Englishman took.
Regarding the rest of Spaniards, Fernández 8º, Canet 9º, Garzó 15º and Ramírez 18º.
Photos from as.com