Magic post Howard: a low ceiling and an uncertain future
The squad is not enough and the East allows them to reach the playoffs, but the Magic are still in no man's land eight years after Howard's departure.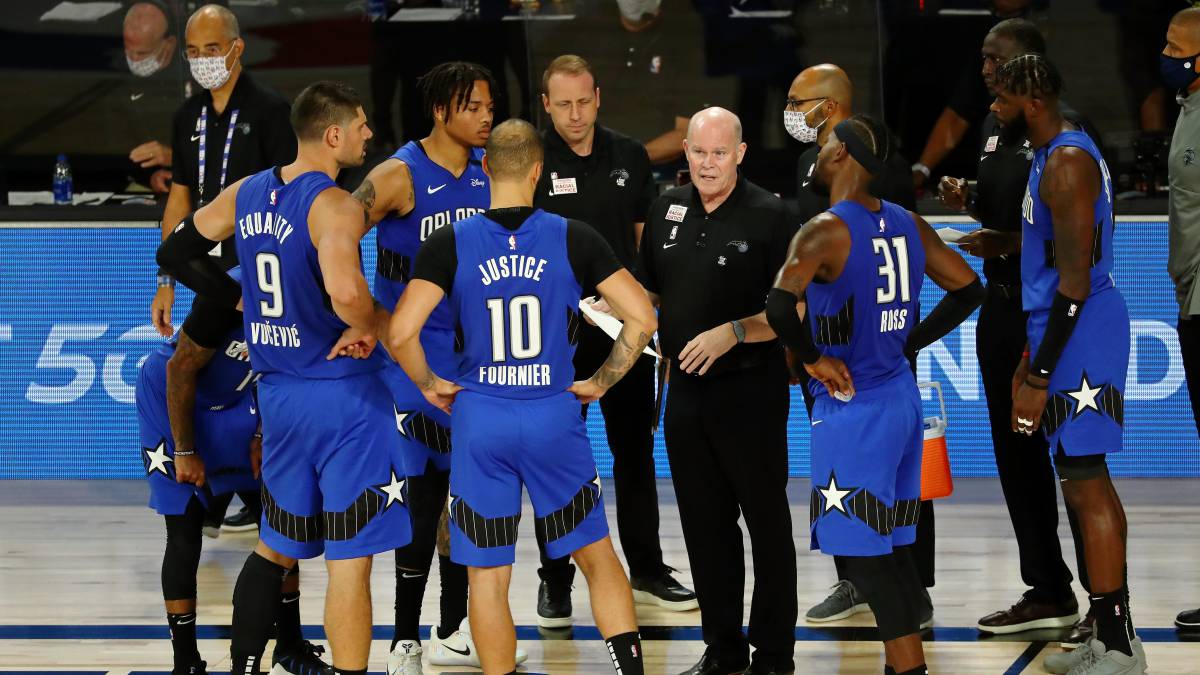 On his own merits, Dwight Howard is one of the least valued references in a given franchise. His exit through the back door of the Magic was a serious blow to a reputation that began to plummet in the Lakers and has not begun to recover until this season. Eight years after his departure from Orlando, Howard seeks redemption in the city where he was born and in the team that saw him fall. An odyssey through hell that is directly proportional to who has lived the place he left and that in this time has lived seven negative records, six consecutive years without playoffs and two first rounds that know little. Especially this year, where they faced with wickers and optimism a season in which they have not stopped accessing the final phase thanks to the lack of competitiveness in an Eastern Conference in which nobody has shown them a minimum resistance when it comes to fighting for an eighth ceiling that represents a very low ceiling and leaves them with an uncertain future.
The forms and substance of Howard's departure, coupled with a childish character that made him the center of attention in the All Star and relegated him one step behind the stars in the playoffs, has prevented him from being valued precisely what he has represented in a small-market franchise that has had two great heroes throughout its long history: Shaquille and Howard himself (plus Penny Hardaway, McGrady ...). Superman and his successor, the man who relieved him in the nickname and who was called to do it in everything else, but who was far from the promised land when he went to a franchise with a shadow infinitely longer than his and with a man, Kobe, who was unwilling to endure an immaturity that had already lived in Shaq a decade earlier. O'Neal had also jumped from Orlando to Hollywood, but while he tirelessly began collecting rings as he became the most dominant man on the planet, Howard went out the back door to do the same for the Rockets and move from Tiptoes by Hawks, Hornets and Wizards.
History has been parallel for the Magic, who have been involved in a gargantuan crisis, motivated by questionable decisions of the board and a small market that has not helped to rebuild a team that has a solid base but insufficient to aspire to more than a first round. And that, in the East, is quite little. In eight years, the Florida franchise has had only one All Star (Vucevic in 2018-19). From 2007 to 2012, Howard did not drop from that denomination, and in 2009, the year of the Finals, Rashard Lewis and Jameer Nelson signed up with him. The ups and downs have been a constant in the entity, with five coaches since Stan Van Gundy left at the same time as Howard after five seasons training the man he discovered and for whom he ended up feeling traidicon. It was the Golden Age of the Magic in the 21st century, the best since Shaq and Hardaway opted for the championship in the 90s and surpassing the tumultuous stage of McGrady and Grant Hill, which consolidated the former as a star and buried the latter under a cloak of injuries that left us without knowing how far such a player could have gone.
Until Steve Clifford, the Magic failed to exceed 40 wins or have a positive record. In fact, from Howard to now, they have had 20, 23, 25, 35, 29, 25, 42 and 33 wins. Poor numbers that have relegated them to the bottom of the Southeast Division five years in a row with Jacque Vaughn, James Borrego, Scott Skiles and Frank Vogel hitting the spot with no fixed course or specific objectives. The bad drift took Rob Hennigan ahead of the dispatches and brought in John Hammond, which slightly corrected the course after Victor Oladipo inexplicably exited the franchise in 2016 alongside Ersan Ilyasova and Domantas Sabonis (!!) in exchange for a Serge Ibaka who covered the holes that Vucevic left in defense but knew little if we take into account the talent that was allowed to escape in a transfer that few understood then and that nobody understands now.A stagnant present and an uncertain future
The Magic season has not been exactly good. As last year they achieved 42 victories and meritoriously sneaked into the playoffs, also starting the first game against the Raptors, future champions, in this the expectations have been truncated. There will be those who settle for that eighth place, but they have been in tow all year and have remained in 33 victories (with 73 games played) and far from teams that have starred in very poor seasons, such as the Sixers and, above all, the Nets. Nor do they have talent for much else, but the game has regressed compared to last year and the confidence that they transmitted, of progress and continuous upward line, has now come to a standstill from which no one knows how they will come out. If you look at the squad, you see that the wickers are what they are, and that their established players do what they have to do without being shocked within the huge number of stars that are in the NBA.
The Magic are the fifth best defense in the competition, their greatest value and what allows them to get ahead. But they only score 107.3 points per game, the seventh worst attack. They have a distributed but not collaborative offense, with seven players over ten points, but more due to the lack of individual talent aside from Vucevic (19.6 + 10.9 this season) than due to a style that pretends to be tough back but lacks solutions when scoring. The Magic are the fourth worst team in shooting from the field, fifth in 3-point percentage and also fourth in two-point shooting percentage. Their classification in rebounding (16th team in the League) is very poor, and they only have three players who exceed five per game. Worse in assists, ranking 18th in the League in that section and with only Fultz above 5 (5.1). Fultz himself represented hope for the franchise, and although he continues to improve (12.1 points per game), he does so in short strides and is far from the man to change the course of a franchise.
For the rest, Vucevic is on his way to 30 years old and is a good player who tries to adapt to the new times and has thrown 8.8 shots per game in the first round against the Bucks, in which he has averaged 28 + 11 + 4 with 50.5% in field goals, 40.9% in triples and 90.9% in free throws. There are those who would say that he has already reached his ceiling, but even if he has not done so, his great level allows him to keep his team for a good part of the season, but nothing more. Aaron Gordon has overcome the sainete of a man who only knows how to dunk and progresses adequately (14.4 points and 7.7 rebounds), Evan Fournier is the only outside threat (18.5 with almost 40% in triples) and Terrence Ross and DJ Augustin meet with a Jonathan Isaac who has been slow to take a step forward that everyone expected. A correct squad and with young people (26.1 years on average and promises in progress), but with members who belong to the bourgeoisie of the League and who give for what they are giving, worse that they will have difficulties to get into the playoffs if teams like Hawks, Bulls or Pistons come out of their particular pothole. Or if the Wizards wake up again; This year they have stayed close despite their bad season and if they had dedicated themselves to something other than attacking they could have given Orlando some scare.
There is little to be learned from the rest, and the need to make a roster change is both necessary and complicated, considering Florida's idiosyncrasies and the traditional difficulty it has had in attracting front-line free agents. Aminu has spent most of the season injured, Carter-Williams has not returned to be the man who won the Rookie of the Year and Mo Bamba promised a lot and has been (very) little. All the players are of the age to be traded (the oldest, Augustin, is 32 years old), but for none of them could they get an especially big cake (not even for Vucevic) that would change the course. Augustin and Carter-Williams will become free agents, while Fournier has a $ 17 million player option that he is expected to execute. The salary limit is not a problem and Vucevic (100 million guaranteed until 2023) is the only one with which they would free up a space that they also do not need. Gordon has to collect 54 million until 2022 and Ross 50 until 2023, while Fultz has a contract until 2021.
The bad thing for them is the difficulty to get something out of any of these players, while the good thing is that the young point guard is still tied up and in the hands of Clifford, a good guy with good fundamentals and who manages the defenses well but who is proving to have the same limits in Orlando that it already seemed to have in the Hornets, with Kemba Walker as the track leader and Michael Jordan of everything else. It will be the progression of that youthful litter that marks the next few years of a project whose ceiling seems low and that gives the feeling of being closer to being left out of the playoffs than to overcoming a first round that they have not passed since 2010. With Howard , Clear. That reference sometimes not fully valued (on its own merits, we have already said it), which won the Best Defender award three times, was the top rebounder and blocked on multiple occasions and was constantly in the best quintets of the season and defensive. And he led the Magic to the 2009 Finals, the second in their history. Of course, things have changed in Florida, where there is a bubble in which the Magic are no longer present, who have lost 4-1 to the Bucks. A present with a small roof and a future, you know, uncertain.
Photos from as.com