Lukaku and Havertz, two different attackers face to face
Italians and Germans face off in one of the most interesting duels of the Europa League quarter-finals with Lukaku and Havertz as stars.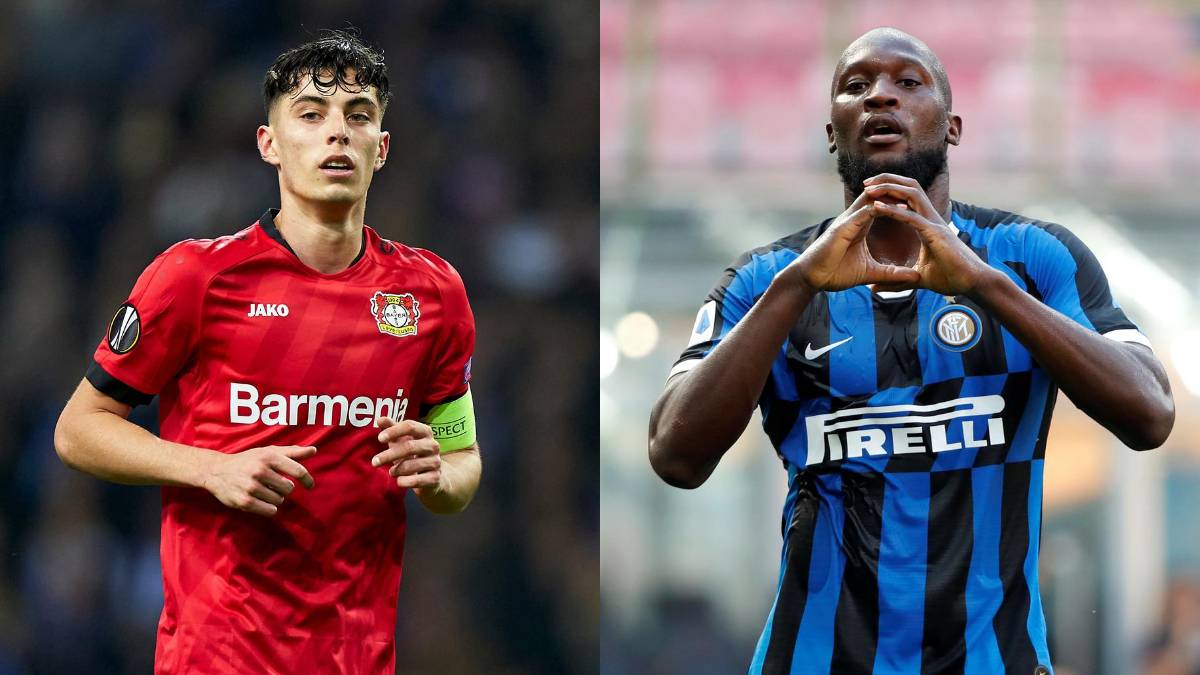 The UEFA Europa League enters the final phase of its tournament in Germany. The quarter-final round saw a great meeting between Inter and Bayer Leverkusen. Both teams have lost since the Champions League and have made it through two rounds to get here. Many eyes will be on the particular duel that Romelu Lukaku and Kai Havertz will star. The winner of the duel and the match will come out as one of the great favorites.
The Belgian striker and the German star have been two of the proper names on the European scene this season. Lukaku, in his first season with Inter, has already scored 30 goals and has shown his best level under Conte's command. Meanwhile, Kai Havertz has confirmed his excellent level from last season and is close to arriving at Chelsea.
Both are performing in the same position during the final stretch of the season but with a totally different role and style of play. They are looking for a title to close a good year, but to do so they still have to win three more games.
Two very different attackers
Romelu Lukaku is a typical center forward. The Belgian is an attacker of a great height (1.91 meters) and an enormous size that he takes advantage of to exert superiority in aerial balls. It has a wide variety of resources and is deadly in the area. Despite not being a forward with excessive mobility, Lukaku has great power and is very difficult to stop in the open field. His last demonstration of this was in the round of 16 against Getafe, when he scored a goal from a frontal aerial ball against Etxeita.
Kai Havertz is a completely different attacker. The player born in Aachen turned 21 just a month ago and is already raffled off by the big European clubs, although his destiny seems to be Chelsea. Despite his height (1.89 meters), he is a technically very skilled footballer, a privileged tactician and lethal when he manages to take the ball from a 3/4 area of the rival field. His ideal position is that of playmaker or second striker, but Peter Bosz has used him as a false '9' during the last part of the season. In this position, Havertz has also proven to be very effective. His mobility dislocates the rival defense and, from there, he channels most of his team's attacks.
Perhaps the greatest virtue of the German is the adaptability and versatility that he has shown to offer great performance from all areas of attack. He made his debut with Bayer Leverkusen's first team at the age of 17 and, four seasons later, has established himself as an elite in European football. Last season he scored 20 goals and distributed 7 assists in 42 games, while in this season he has scored 17 goals and 9 assists in 39 appearances. He will have a difficult task to unleash the best defense of Calcio and overcome Bastoni, De Vrij and Godín or Skriniar, but he is a footballer who is already called to challenges of this caliber.
For his part, Romelu Lukaku has reached 30 goals in a season for the first time in his career. At 27, he is in full football maturity and Antonio Conte's system has suited him like a glove. The attack game focuses on him and Lautaro Martínez, with whom he has formed a lethal duo, and is oriented towards many lateral centers. He arrives in a good moment of form (4 goals in the last 6 games) and will face Edmond Tapsoba, a central defender from Burkina Faso who arrived at Bayer in winter and has become one of the revelations of Europe.
Antonio Conte and Peter Bosz are two coaches with a different way of understanding the game, but they always want to be protagonists and have the ball. The Merkur Spiel-Arena in Düsseldorf will witness perhaps the most stellar duel of the Europa League quarter-finals.
Photos from as.com