Lopetegui: "We are going to give up our lives, it's for the fans"
The Sevilla coach: "Roma and Inter look like a chestnut to an egg. This rival is designed to win everything."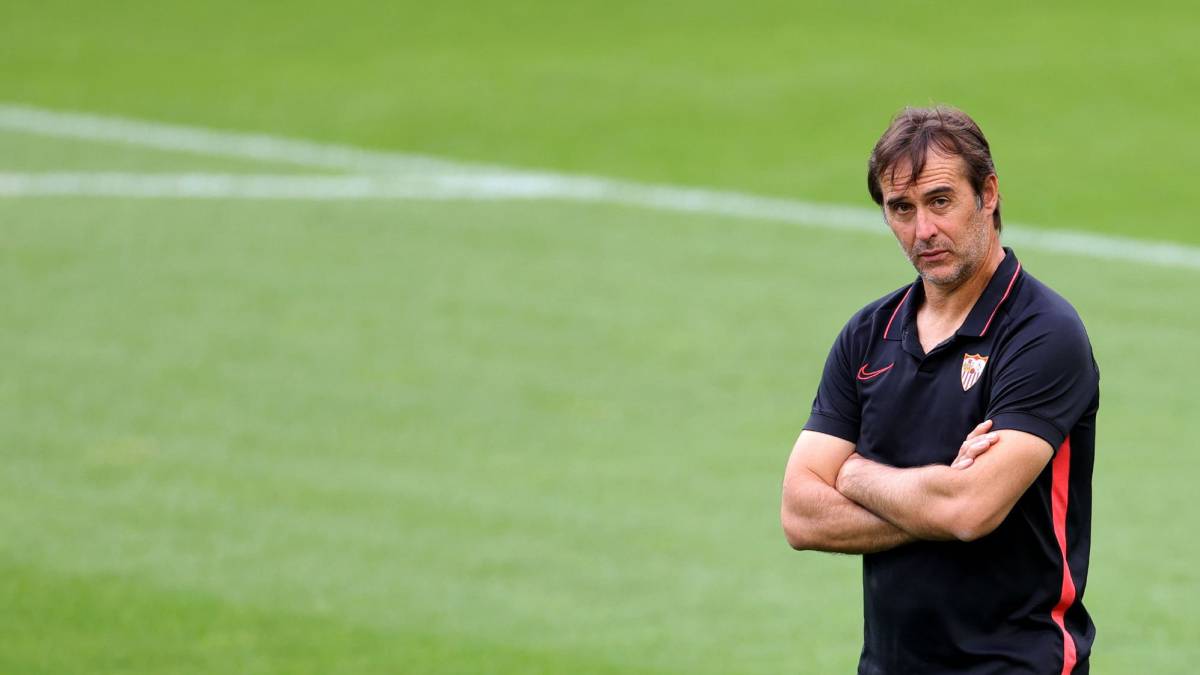 Inter is very powerful and it is difficult to score a goal. Should we go for them or should we wait for them?
It is a very complete team with very great players, it is capable of attacking a lot and that chances are not generated. That speaks to the difficulty. We will face it by trying to take advantage of our virtues and try to be recognizable and give our best version because the level of the rival will demand it.
In the preview of the matches, he has launched a message of respect for the rival. Will we have to take care of the details?
The day we do not have humility and respect we would make a very serious mistake. We know that every detail of the final will be important, soccerically speaking we will have to do what we always do, be focused. Although this has more impact. Inter are a very good team in every way, with world-class players and a very experienced coach.
How will Ocampos be?
We're going to wait and see how you are doing, but everyone has to be in top condition and I hope so.
Are you worried about final phase fatigue?
There is no room to think about fatigue, only to be able to give our best version. We know the rival and the dimension of the game but we have the healthy intention of surpassing them. You have to try to be very good and focused and give your best level.
Does Conte being Italian imply anything?
Conte is a great coach. Inter play as their coach wants and full of players to compete and win the Champions League and Serie A. That is a reality. It will not put any qualifier different from the one I have told you.
How do you handle final anxiety? Conte says only winners are remembered.
When the finals come there are a lot of hackneyed phrases that can be used. But we are with that chicha calm, with the tranquility that we must have to arrive concentrated and balanced. The objective is to get well also on a mental and emotional level. Nothing different from another game although the dimension may be clearly different.
Sevilla beat Roma very well, can it serve them against Inter or should something change?
Roma and Inter look like a chestnut to an egg. They are totally different even if they play with an apparently similar system, and I am sure that the game will be totally different, so we must be prepared for it.
What last message can you send to the Sevilla fans?
The one I gave you on the last day. We have fought a lot to be in this game and we want to do our best. Hopefully they can enjoy, it goes for them. We're going to give up our lives, which is what this team always does.
Jordán: "We have the right to dream"
Joan Jordán wanted to convey his feelings about the game: "For me it is a pride to be able to play a final with this great squad, it is something we have worked on throughout the year. It has been hard, beautiful and Exciting. It gives us the right to dream. Exciting additions had been made, an important coaching staff and all we had to do was work. The growth is positive. We have prepared the 90 minutes in the best way. "
Asked by Inter, it was clear: "We know that we have a difficult opponent in front of us and we have a lot of respect for them. From there we will try to be a recognizable Sevilla. It will be a tough match, there will be many details that will make a difference. We have prepared the match. in the best way, there is a very good rival, he has made a squad to fight in Serie A and the Champions League. But we are Sevilla, we deserve this final and we will try to get our best version ".
Gudelj: "The secret of this team is unity"
Nemanja Gudelj is one more for Lopetegui since he returned and looks at the crash: "I have said many times that a great quality of this team is the union, we work together and have seen many times this season the importance of being a united team. Credit goes to the coach and Monchi, for making a team as united as this one ".
He analyzed the potential of the adversary: "We all know that Inter is a Champions League team that plays for the title in Italy but if we enter the game well and in good shape, as we have done many times this season, we can beat any opponent I have full confidence in us and we are going to give everything to win the game ".
Photos from as.com