Laso, on Doncic: "His madridismo is beyond doubt"
Real Madrid coach Pablo Laso spoke about his team's preseason and his former pupil. The whites dispute the Super Cup on September 12.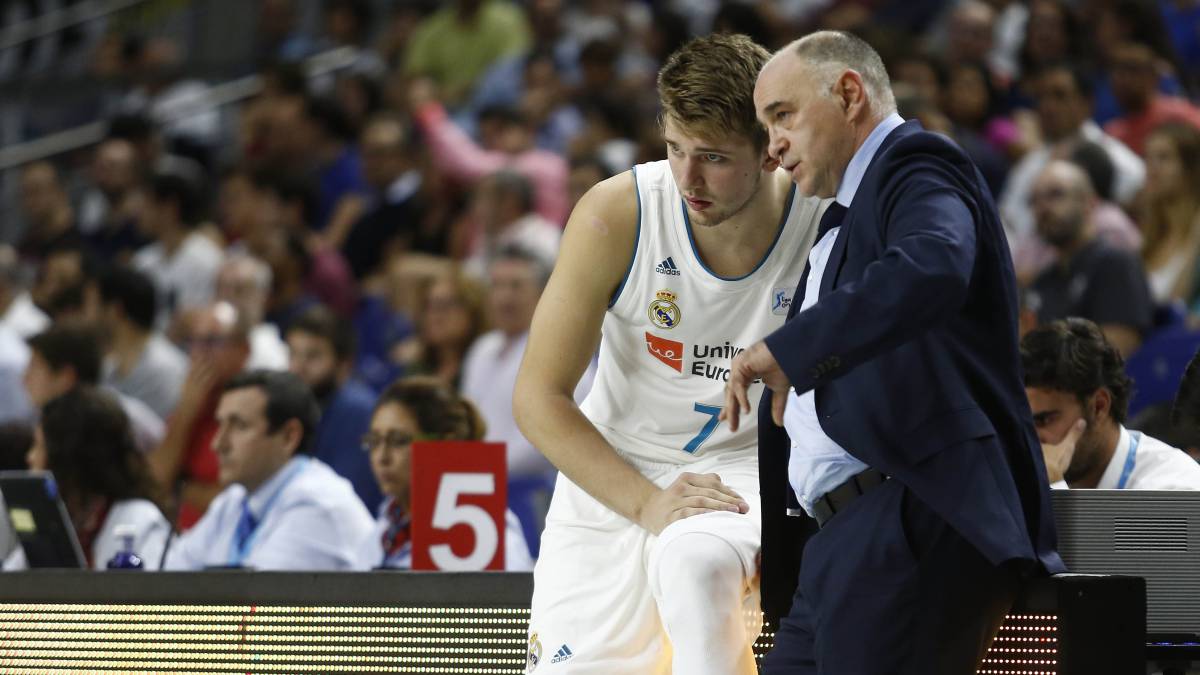 Real Madrid continues to prepare for the new season that will begin on September 12 with the semifinal of the Super Cup against Iberostar Tenerife. The coach of the white team, Pablo Laso, spoke with Realmadrid TV about the team's work in recent weeks, in addition to reviewing different topics such as new signings or the sensations that Luka Doncic is awakening from the NBA, where every night he breaks a new record and it does nothing but break down barriers. "His madridismo is beyond doubt," says the coach about his exupilo.
In addition to talking about the Slovenian, Laso has shared his feelings about the preseason that his team is experiencing. "Each season that begins is a new illusion with new goals. This year we are having an atypical preseason because we have all the players, the team is working well and in a different scenario. The sessions are being very intense, combining physical work with court work. We do not have to change everything, but we do have to take advantage of this time to gain more physical tone. I am very happy with the work of the players. "
"In a preseason like this, in which you have all the players, you have to burn through stages. The first weeks are more physical to pick up the pace and will be the most demanding for the players to reach the Super Cup in the best possible condition. The work of Juan Trapero and the whole team has been very good. They are looking forward to playing games because in the end that is what the players like, "added the coach, who said a few words about Boris Tisma. "Boris Tisma's rise to the first team is a natural process. That feeling of well-done youth work means that we can always draw on them. He is a player who came to Madrid very young and has grown every season. Now he has this opportunity and it could be a great year for him in terms of his growth as a player. "
Laso has also spoken about the arrivals of Carlos Alocén and Alberto Abalde. "They are contrasting players in the League, both come from two teams that have competed very well in recent seasons. Carlos is more of a base, a fast and good player in the open field, young and very electric in his actions. He brings us freshness, the same as Alberto, who has grown a lot and is capable of playing in different situations and positions; defensively he gives a plus and has good physique. The three of them bring that new blood that the team needs to maintain the illusion ".
The Vitorian has highlighted the power of the quarry. "Since I arrived as coach, I have been clear that the youth academy is part of the team. In recent years we have always been incorporating people who give air to the team, like the example of Garuba who is already consolidated in the first team. They push us to keep improving. We are very happy with the work of Alberto Angulo and the rest of the coaches because they get those players to knock on the door of the first team and that speaks of the greatness of the club. "
On Doncic, Laso has added more things besides referring to his Madridismo. "I have always said that he is a special player for us, he was from the first day he arrived. His growth as a player is difficult to stop. People doubted when he was going to go up to the first team and when he was going to go to the NBA. We know him and we know that he is a player who is always capable of adapting because it is his best virtue. Matches like the one on Sunday, in which he makes the last basket and goes viral all over the world, they talk about a player who has a certain star and we are delighted that his progression continues to be what we all expected. "
Photos from as.com