KTM thanks Pol and Pedrosa for their "great work" over the years
Mike Leitner, KTM's 'team manager', remembers the Spanish after Binder's victory, the first for the Austrian firm in MotoGP.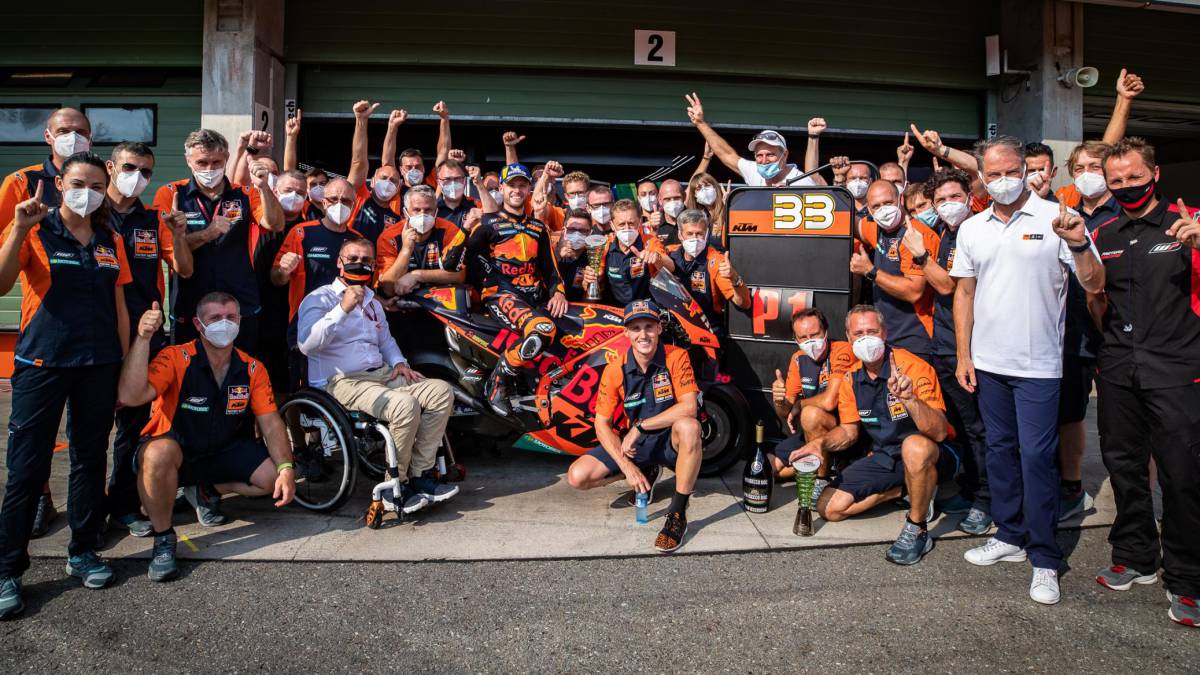 KTM made history with Brad Binder's victory in Brno, the first for the Austrian house in MotoGP. In Matthigofen they can already make room in their spectacular museum for the RC16 piloted by the South African by the end of the 2020 season, because he has won the best possible position, and meanwhile Mike Leitner, team manager of Red Bull KTM Ajo, remembers of the "great work" of two Spanish pilots to get to this point.
"It is an incredible day. We felt that we could be really competitive at this circuit, due to the times achieved and we expected something from this race. Finally it was victory and we are very happy," said the one who was for so many years chief mechanic of Dani Pedrosa at Honda. Precisely the Austrian refers to Pedrosa, whom he signed as a test rider for KTM when he decided to hang up his suit at the end of 2018, and to Pol Espargaró, his main traveling companion on the track since this factory arrived on the MotoGP grid in 2017.
"Pedrosa has done a great job in the last year, being a tester, with a lot of experience, getting involved. And there has also been a great effort from the Grand Prix riders to use what the brand gave them, because it is different to prove that And the arrival of Dani was a great help and put us in the right direction. And also Pol has done a great job in recent years. And now Brad arrives, who is a pilot with great talent, who comes from the Rookies Cup, Moto3 and Moto2 always hand in hand with KTM, and it is incredible that now I can also win with KTM in MotoGP ", congratulates Leitner.
The next MotoGP appointment, and twice, will be in Austria, at home, where Leitner can no longer rule out anything, although he prefers to be prudent: "You can never hope to win. We will go there to try to do our best, to prepare what better than we can the race. Our goal is to win again. "The opinion of the strong man of KTM
For his part, Pit Beirer, boss of Leitner and strong man of KTM, was proud on 'Servus TV', the Austrian television owned by Red Bull, main sponsor of KTM: "The objective that we had The goal was to get on the podium in a dry race. The fact that that turned into a victory is insane. If we did it on a bumpy, low-grip track like Brno, there's no reason why It leads me to think that our motorcycle cannot also work on other circuits ".
Y added the ex-motocross rider: "We knew that this year our bike had improved a lot, so this victory does not come by accident, but as a result of everything we have been learning in recent years. We have been working with more than a year Dani Pedrosa, Mika Kallio and the entire test structure in the development of the RC16 ". The goal of winning the World Cup one day begins to be less distant.
Photos from as.com