Koeman: "I want to know what Messi thinks, I hope he continues"
The Dutchman was not forceful with the future of the Argentine: "I want to know what he thinks of Barça, what he thinks of how he wants to continue. He is the captain and you have to talk to him. You have to make decisions, but hopefully Messi will continue here for many years."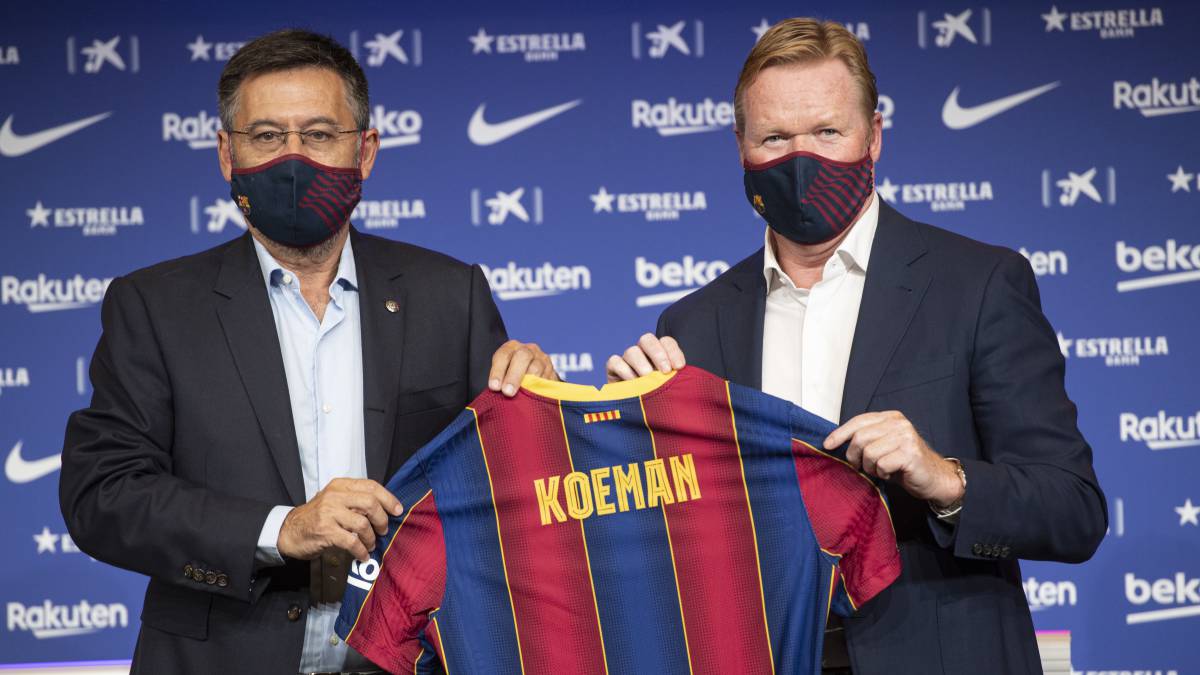 Ronald Koeman arrived, the Dutch sniper who blew up dozens of nets, especially the one at Wembley. And he was forceful, as he hit the goal, with a general message ("I only want players who want to be here") and a very concrete and sincere one for Messi. "I don't know if I have to convince Messi. I don't know if it's yes or no. Messi is the best player in the world and you want to have him in your team, not the other way around. For my part, as a coach, I love working with Messi Because he wins you games. And if you get the performance he has shown, he will be very happy if he wants to stay. But he is a Barça player and has a contract. You have to talk to him, of course, he is the captain. You have to make decisions but hopefully Messi stay here for more years ".
On the contact Koeman-Messi, then, turned the presentation of the Dutch. A meeting that will take place imminently. "If I say what I am going to say to Messi, it is not necessary to meet him. They are private things between a player and the coach. I want to know what he thinks of Barça, what he thinks of how he wants to continue. And then I am the one who has to make decisions. But, once again, Messi has a one-year contract. But he is such an important player that any team wants him. " On the air, then, the master lines of Koeman remained, who threatened to take the baton in the dressing room that Messi and the players have had until now.
It was a somewhat cold premiere. Contrary to what would be dreamed in other times of the masses and not of Covid-19, a tremendous silence received the Dutch hero of Wembley in the Auditori 1899. "Ben tornat home", read on a giant poster with the caricatured image with Ronald Koeman in a raincoat in an image that many wanted to resemble that of, bigger words, Johan Cruyff. It was six in the afternoon when Koeman spoke. "Good afternoon everyone. Today is a day to be very happy and proud. Everyone knows that Barça is my home for me and I will have the opportunity to coach a very great team. It is a challenge, it is not a easy moment. Barça always demands the maximum, and I like it. There is quality to demand the maximum. Now, I have signed. And yes, I am a Barça coach. And from now on we are going to train, strong. We have to do changes. The image of the other day is not the image we want. We have to work hard to regain prestige. It is still the largest club in the world. This was a dream and it is a dream come true. And now to work and put the Barça at the top of everything. We are going to give what we have. It is our trade, our job. And with players who still have a lot of quality ".
In the meantime between the presentation of the coach who was accompanied by Josep Maria Bartomeu, and questions from the press, Barça showed a video in which he was presented as "legend of the Dream Team, Wembley hero and culé as the most" . Koeman had to admit that he will have to see the sacred cows but denied that the identity card is a definitive factor, and hunger is: "When a player is 31 or 32 years old, he is not finished. It has to do with the hunger he has. this player and the desire he has to do his best at the club. But that can also happen to a 20-year-old player. All we have to do is find the best team to win the games. I just want to work with people who I want to be here. If they don't want to be here. I want to work with people who want to do their best for Barcelona. And nothing else. " Then, he elaborated on this idea: "I don't like to talk about the players individually. We have to look for the best for the club from today. We have to look for the strongest squad. I know that there are players who, at a certain age, You may have doubts (he addressed the journalists) about the performance. But we must respect all the players. The technical plan is to seek the best for the club and the squad. But if we have to make decisions, we will make decisions. And As of today, we are going to work. My name has always been heard but since last weekend we have been talking about Barça and we are talking about the decisions we have to make. But I don't like to say names out of respect for the players. "
About his philosophy he did not clarify too much. It only resulted in the ties between Barça and the Netherlands: "I am Dutch and the Dutch like to have the ball. My goal is to have the ball, dominate, play football well and win. I have been a coach for many years, I have learned from many coaches such as player, I have experience in many teams as a coach and I think I am qualified. " He refused to talk about transfers, although he praised Van de Beek and said goodbye with one more message. "Like all culés, I felt very sad. The image is not the image we want. It was a sad day. But it will be different." Koeman is not going to stay still at Barça.
Photos from as.com