Juanmi's punch knocks Cádiz down in Pellegrini's debut
Betis took the victory thanks to a goal from Malaga in the 87th minute. Negredo made his debut for Álvaro Cervera's team.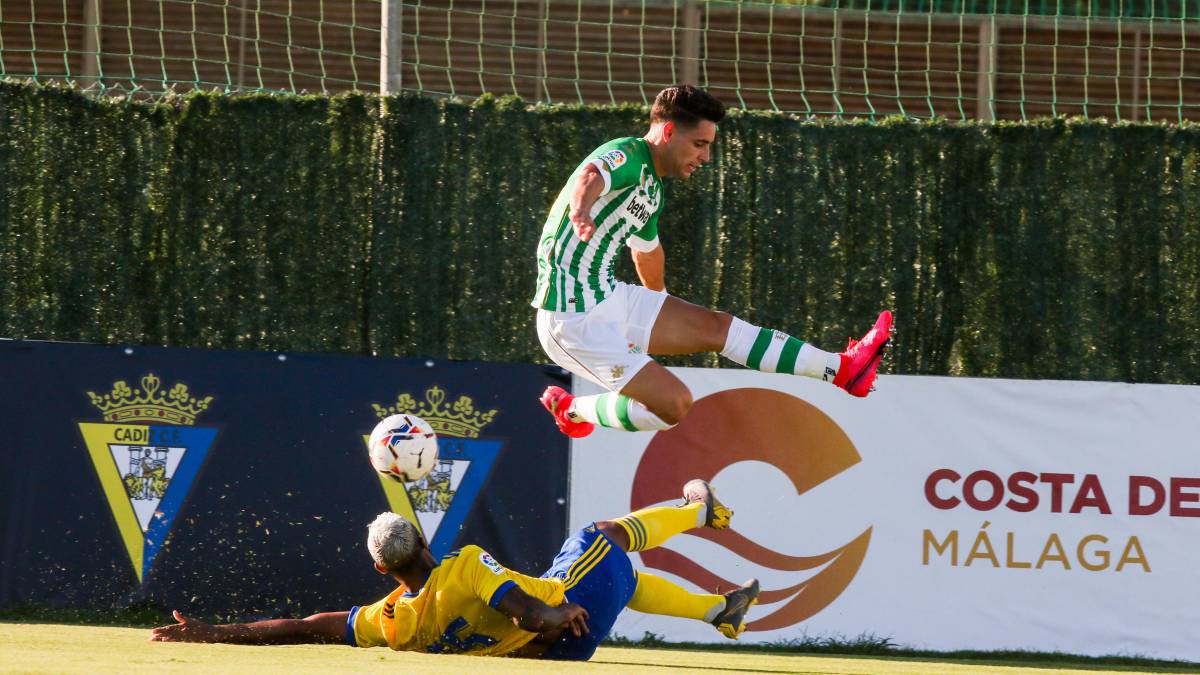 Betis beat Cádiz in a friendly that marked the debut of Manuel Pellegrini as a Verdiblanco coach and Álvaro Negredo as a player of the Cadiz team. The appointment was not exactly a reflection of brilliance on the part of any of the contenders, but Betis put more intensity and insistence until Juanmi signed the winning goal on the last breath. Too many changes and lack of rhythm to glimpse the keys to this new Betis de Pellegrini, which begins its summer with a victory against Cádiz that hopes to multiply its physical capacity to draw necessary lines of improvement in its project.
The first half exposed the new intentions of this Betis. Pellegrini wants more verticality and for this he demands more interned on the wings under a 4-2-3-1 that hurt his rival at times. Sanabria was chosen to be the striker despite his uncertain future, although it was Joaquín who had the most options to find David Gil's goal from the start. His depth and that of Tello drove Pellegrini's side, less precise on the inside when Guido was in command of his midfield. In Cádiz indecision reigned more: Salvi and Pombo warned with some good intentions while Negredo barely found opportunities to be the protagonist. Yes it was David Gil when he intervened before Joaquín on the brink of halftime to prevent the Betic team from leaving with an advantage.
Pellegrini continues to hunt for a more defined team and in his first test he drew an outline of his intentions. It turned out that Joaquín was once again the most incisive part of his attack. The portuense overflowed and threw magic to damage Cádiz, although he neither had aim nor was permanently associated with Sanabria. More arrival than real damage in a Betis still to be manufactured.
Cádiz tried to close more spaces in the second half, although it was Betis who insisted with dangerous arrivals: Canales tried from afar and Borja Iglesias was about to finish off a good service from Aitor Ruibal. There was a revolution of pieces on both sides. Cervera asked for more intensity and Pellegrini pointed out shortcomings and virtues for his project. The Betis Aitor youth squad ran into Sotres on another good opportunity before Juanmi got it right. A precise center by Diego Lainez after a foul was finished off by the former Málaga and Real Sociedad, who are seeking to re-emerge after a course marked by injuries. Cádiz had little room for reaction, which barely found its attackers and expects more market movements in the coming days.
Photos from as.com