Joao Mario points to LaLiga: "I love it and it fits with my game"
The Portuguese speaks exclusively with AS to give clues about his future. Key in Euro 2016, Joao Mario wants to return to his best level and Spain seems the right place.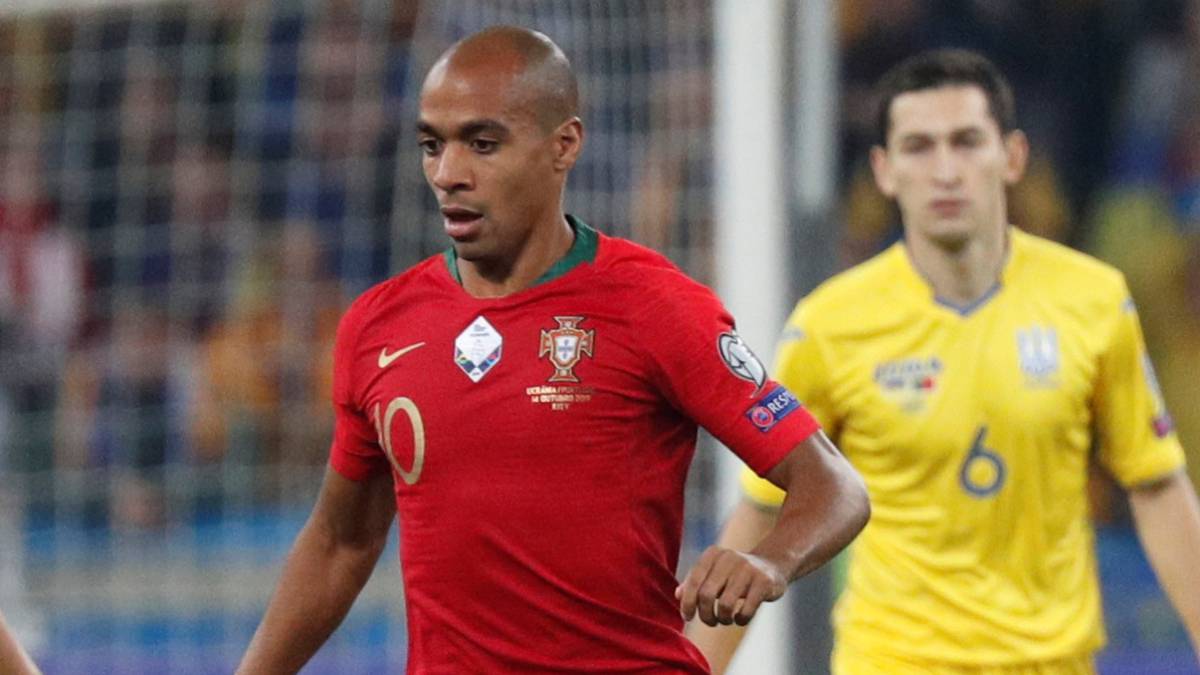 Watched in the classic maroon that always dyes Portugal's shirt, Joao Mario lived the happiest night of his life in a Stade de France flooded with disappointment. French fans gathered while the neighboring country's soccer elite celebrated on the pitch. The selection had redeemed itself from that Greek tragedy of 2004 and Joao had been key. The one from Porto shone at Sporting and, after a difficult stage, he only thinks about the future and believes that his future passes through LaLiga. After confirming himself in Portugal as an excellent midfielder, will Joao Mario become the next Portuguese star in LaLiga? The medium gives the keys to its future exclusively with AS.
- How was the beginning of your career?
- I started in Porto. I was from seven to ten years old. Right, my parents decided to move to Lisbon and then I signed for Sporting and was playing there for fifteen years. Porto was where it all started, but at Sporting it was where I really became a soccer player. Porto was a very important chapter but where I really grew up was at Sporting. As a child, I had a lot of fun with football.
- While you were training you were in the quarries of Porto and Sporting, who was your idol?
- As I was average, as a child, my reference was Zinedine Zidane. Older, it seemed impressive to see how Pep's Barcelona played with Xavi and Iniesta. They were amazing.
- Which players did you notice the most?
- As a medium, I always looked at who passed better, who did the best controls, who took control of the game, who was a leader. Zidane was a personal weakness for me, he was a true leader. I always paid more attention to the midfielders, because they played in my place but regarding character, I stay with Cristiano. He went to Manchester just the year I joined the Sporting quarry. He is the great star that has come out of the Sporting quarry and we all tried to see him to understand how he had become so great.
- At Sporting, you take the leap. In 2016, 7 goals, 12 assists and Fernando Santos called him for the national team. In the Eurocup, he was one of the key players. What do you remember about that tournament?
- I think that for a player one of the most important things, if not the most important, is to win with your national team. It was really difficult. We didn't start the tournament very well and even in the final, Cristiano got injured ... We felt a lot of different things. Lots of emotions. I remember watching the final we lost in 2004 on television at home and it was really sad. Winning the European Championship was a dream come true.
- As mentioned, Cristiano was injured in the final. It had to be a hard blow emotionally ...
- It was really sad because I had never seen him get injured. It was strange because he is always ready to play, to help ... He is our leader, our captain. It was a tough moment on the field. We decided to fight together to bring him the title. He says that it is his most important title and it is like that, because winning with your country is always difficult.
- In addition to Cristiano's injury, that final was marked by moths ...
- It was something very strange. It was a plague. We were not very clear what was going on either. I've never seen anything like it on a soccer field. It was impossible to warm up because it was difficult to move. They were everywhere. In addition, I remember perfectly that when Cristiano left, a plane was seen on television in which you see a moth land on his face. It was really weird.
- Before the final, they went through a really difficult group stage, what changed on the way to the final until they ended up beating France?
- For us it was different. I think we were more prepared to play with something to lose. When we started the games where we knew we would either win or go home, we started to focus more. The truth is, it was a very difficult group stage, against very tough teams, but when we realized that it was 'win or home', we started to play differently because we knew we were capable of facing teams like Spain, Italy, Germany until reaching the end. We knew we could get there and we mentally prepared for it. To do my best every game.
- Then, you sign for Inter, which was in a reconstruction phase, what memories do you keep from your time in Milan?
- The first year was complicated. I arrived at the end of the summer, at a time of many changes. Inter had just signed Frank de Boer ... It was a difficult season because Inter's project was starting again that year. The first year was the one I enjoyed the most and I think it's my best memory there.
- From Serie A, it goes to the Premier. Al West Ham United.
- That's right. It was the project that I liked the most. An impressive club with incredible fans. The Premier League is a great league. They treated me great, I loved playing there and besides, London is a fantastic city. I have a great memory.
- Then, to Moscow, where everything is more different than London, Italy or Portugal from each other. How was your experience there as a player but also in your daily life?
- It is true that there are differences but once you know the city, the people, you realize that you may have formed the wrong idea. I was surprised. Russians are close, friendly and very attentive people. Sometimes the most difficult thing was to understand each other because not many people speak English there. Moscow is a great city. I enjoyed my year there because the people were great, the League was good, we played the Champions League against Juventus, against Atlético ... To lead a normal life it can be difficult to adapt because if you don't speak Russian, communication becomes complicated because not many people speak english. Still, I found it to be a very positive experience.
- In Russia, he coincided with Farfán, a true legend of South American football, although injuries complicated everything ...
- Of course I had heard of him before I met him because he is a great player. With Farfán, unfortunately, I have been able to play little because an injury left him out for most of the season. It was a shame because I love playing with players like him and I'm sure we would have connected very well. I had already seen a lot of his games at Schalke.
- Your stage in Russia has ended, what are your plans for the future?
- Now I would love to try new things. I would love to be able to play in LaLiga because I think it is the one that best suits my style of play. I like the way the Spanish teams play, how they treat the ball. I grew up with a football culture very similar to the Spanish one at Sporting when it comes to the ball. I think I would adapt very quickly. I would very much like to be able to play in Spain.
- At this key moment in your career you have changed agent, how do you feel about signing with Pastorello?
- Very proud. It is a big step for me. I am very happy to work with them because I know that they will be able to help me. I identify a lot with Federico's way of working and also with Fernando Couto, a star in Portugal. I remember watching him play when he was a kid. I am very happy and I think we are going to achieve great things together.
- What attracts you the most about LaLiga?
- What is the League, right? There are great teams, it is very competitive. Of course I would love to play in Spain. Looking at the leagues in which I have not yet played is the one that attracts me the most and also is the one that best suits my style of play.
- Do you think that playing regularly in LaLiga can help you to be important in the selection for the next European Championship?
- Of course. My next goal is to find a project that will help me be with the national team at the next European Championship. I am sure that we will be able to find a project in which I can play regularly, be a starter and be with Portugal.
- For the clueless who don't know you yet, how would you describe yourself as a gamer?
- I think it's a bit difficult to describe yourself. As those who see me from the outside tell me, my strengths are my passing, my controls and my ability to find gaps between lines. I am a player who likes to take the last pass before the goal. I think these are characteristics that would fit well in Spanish football, which Spanish coaches and teams like. I think I would enjoy there a lot because I could do my best football.
- As we said, 2016 was a great year for you, was that your best season? Is that the Joao Mario that we could see in Spain?
- Yes. At Sporting, in my last season with Jorge Jesús. We had a great team and I felt very identified with their way of watching football. We always tried to have the ball and, in teams that play a lot with the ball, I think I am capable of having a lot of presence and helping the team. That's the real Joao Mario. That's why I like LaLiga. I like teams that are capable of playing with the ball. I am sure that I can return to that high level in a team that is committed to that way of playing.
Photos from as.com