"Oliveira is tough, because he rides the bike that I have made"
Pol defends himself against the attacks of his partner in KTM, in which he blames him for the joint crash last Sunday, when he thinks it is the other way around.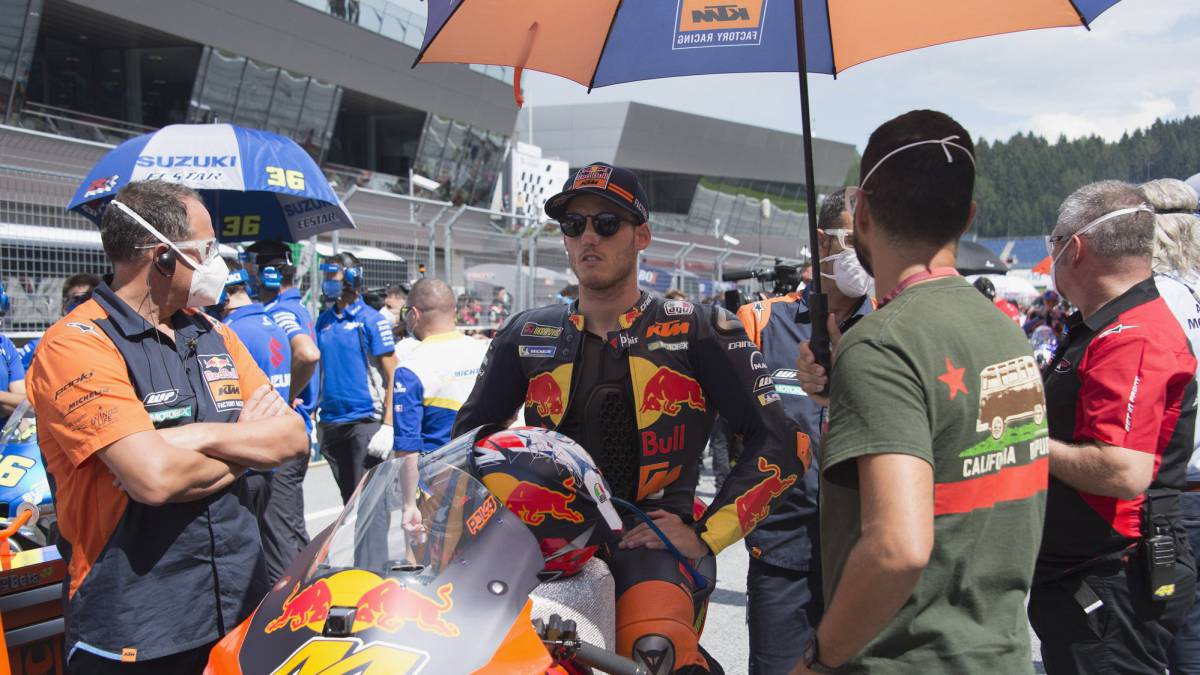 There are several active fires in MotoGP right now. In addition to the one related to Zarco and Morbidelli, another important one is that he has KTM on fire, after Sunday's crash between Oliveira and Pol. The Portuguese lost the front wheel and took the Spanish with him, however, Miguel blames to the youngest of the Espargaró, to the point that he accused him of lack of intelligence in Canal + France. Pol, who did not want to enter into disputes last Sunday, has been forceful today with his factory colleague.
"I was really surprised. I thought the relationship with Miguel was good. Sometimes I have been in situations like this and sometimes I have gotten angry, but I have never disrespected my rivals and less respect a teammate. They are not good words and when I heard him speaking a few minutes ago in the press, he did not even apologize for these words. I would never say that "we are not all born with the same intelligence." It is quite hard, especially since the motorcycle he is riding is the motorcycle that I have made. It is a great lack of respect, but nobody has talked about it until now. There has been a whole week, but nobody has said that Miguel's is disrespectful. I think he was in a hot moment, but he did not use the best words to express that situation. Especially, in a case like this, where it was not exactly my fault ".
Pol has also had to go talk to the Panel of Commissioners about this maneuver with Oliveira. In this regard, he says: "They, after so many things that have happened in these last two races, wanted to call us to understand a little what had happened from our point of view, because you can see something on television, because of the reactions of the drivers You can see something, but you really have to live the stories and the protagonists have to tell them so that you understand what happened. And Freddie (Spencer), who is a MotoGP legend, wanted to understand it from our point of view because he understands that on the bike we go through very different things than what people see on TV. And this is what I have realized these days watching social networks. They wanted to understand what had happened, for us to bring them the data of our motorcycle, the electronics, and that they could see what the problem was. Together with Mike Leitner, the team leader, we have explained what happened, they have understood it perfectly; They were even the ones who with a 'frame' of the video see that Miguel is falling just before hitting my motorcycle, and we have seen that in telemetry as well and show him on paper. They wanted more than anything to understand the situation because even watching TV and believing what has happened there are many times that there are things that escape, and they wanted to understand it. They totally agreed with Mike and me, they understood the situation, like us, that this is a race set and that if anyone could have prevented it it was Miguel, who was losing the front wheel just before hitting me. So everyone agrees, and this continues. "
More about the call of the championship referees: "I honestly liked that they called us to ask for explanations of what happened, because many media that have been talking about the issue these days have thrown themselves into the bullfighting to talk about it without knowing anything at all. And in the end, Freddie Spencer, who has a lot of experience, has seen that there could be things that eluded them and he has called us, we have been talking, we have presented all the information and they have agreed with us. I also like to explain what happens like this and that it is not via social networks, with someone who understands the situation. This is how they understood it in the last race when everyone stoned me and there was a penalty, and even so they kept stoning me, and they stoned me after this race in Austria and the FIM has proved me right again. I mean that knowing things, you may change your mind, and not just watching videos and having conversations with people who don't know very well about it. These people know what we are doing and I also like to explain what happened with data, in this case with telemetry data, because being Miguel we had them at hand ".
On the difference between overtaking a teammate or factory teammate or another rival, he says: "I learned it above all at Yamaha, how to watch overtaking. I had some scuffle with Jorge (Lorenzo) and I understood it. You have to have a little greater respect for your teammates, whether they are from the factory pilot to the satellite, or vice versa. In addition, at KTM there is no factory rider and another satellite, all motorcycles are the same and we all have the same chances of winning, here is the grace of the factory. Part of the noise that occurred with this incident, the guilt that fell on me, was because Miguel just when what happened happened he complained a lot, and I did not complain. Maybe at this point, if I had raised my arms, made a comb, someone would have believed me. But I did not see it appropriate to face him, just as I did not see that it was appropriate to release the data to the press, after speaking with the team. I have learned in this time to be calmer, I went to take a shower, nor did I go to the box, I did not want the cameras to see me angry, and for that reason I ended up being blamed: one went out rolling the marimorena and I tried to stay more calm, knowing that he was a teammate and that this is not going well for the brand ".
And regarding KTM's new role in the championship, with much more prominence, he believes that "it may be that we are ahead a bit, because we are relatively new to the championship and see that we are ahead and that another brand is fighting for races sometimes they don't like it, but as they say, speak well or badly, let them speak. I hope they continue talking, and that it is good, because that is always liked more, the praise than the criticism, but I insist, that it is spoken means that we are there ".
Photos from as.com