'Party' in Dusseldorf to welcome Gudelj, the player no.12
The entire Sevilla expedition gave the Serbian a surprise applause upon arrival in Germany. Lopetegui recovers one of his tactical 'hinges'.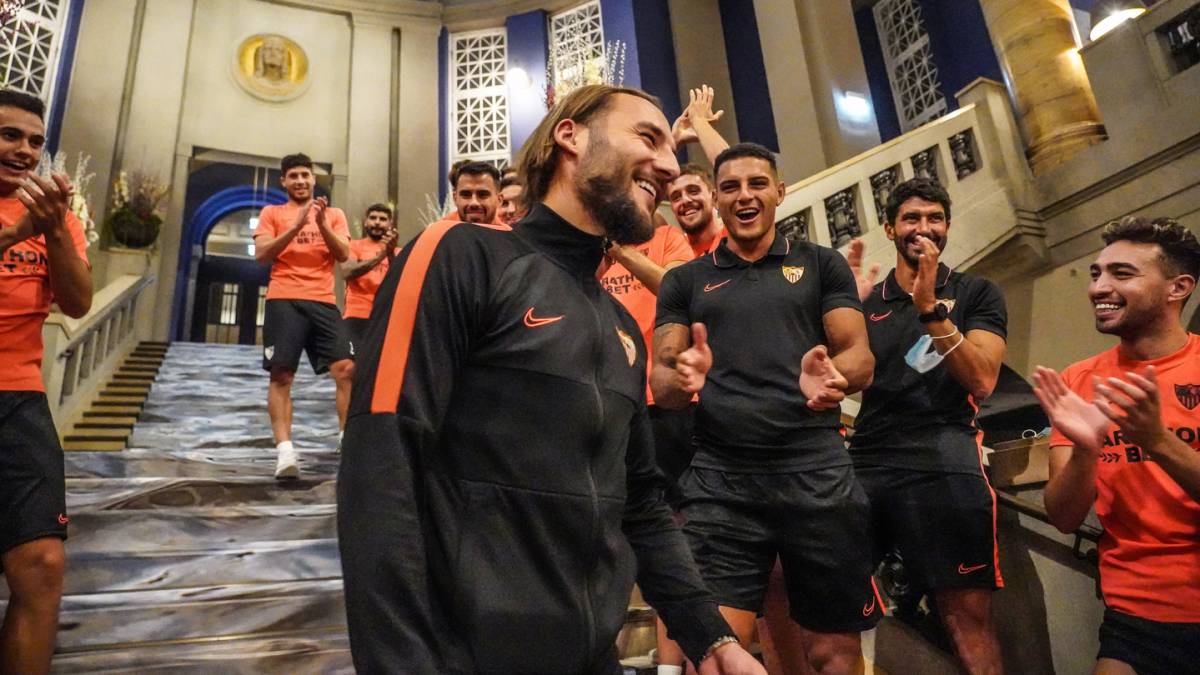 Nemanja Gudelj arrived at the Sevilla hotel in Dusseldorf at night and found almost a surprise party: all his colleagues, the members of the technical staff, managers and employees were waiting for him in the hall to give him applause after two weeks of confinement forced by its positive for coronavirus. The Serbian midfielder has continued to train hard at home in the hope that two negative PCRs, as has finally happened, will allow him to travel to this final stage in Germany. And he has succeeded: perhaps Julen Lopetegui will include him in the call-up against Manchester United, depending on the physical condition that he sees during the two training sessions that he will share with the rest on Friday and Saturday.
Julen appreciates the presence of his main wild card, one of the hinges for his tactical changes. Nemanja has become Sevilla's 12th player, literally also: he is the 12th most used by Lopetegui, with 2,207 minutes. The coach has introduced him to the field as a substitute in 15 of his 24 league games and in another nine he started. In the Europa League, however, the Serbian was the only Sevilla footballer who had played it all until the coronavirus prevented him from moving with his teammates and being part of the eighth and quarter team.The Nervionense squad lost much more than a versatile and tactical footballer, capable of playing as a midfielder and as a central defender. Gudelj is one of the joys of the wardrobe, one of those pieces that help cohesion. Another linker in a tightly knit group. And last night, as soon as we got to Germany, it was checked again. "I would like to be captain of Sevilla", the midfielder has said once this season despite being the first in Nervión, three signed as a Sevilla player last summer. "I've always felt like a leader," he added.
Nemanja also arrives without cards although he was one of the warned in the round of 16, because UEFA cleared all those who passed the round of warnings then. Lopetegui has his wild card and the dressing room has one of those who always put a smile on his face to make a group. Gudelj, one of the exponents of why this Sevilla is a true team that never leaves its own behind.
Photos from as.com