Ibaka and Siakam set the semifinals for the Raptors
The Nets had nothing to do with the Raptors who left them at 42 points at halftime. The fourth, and perhaps decisive, meeting will be this Sunday (00:30).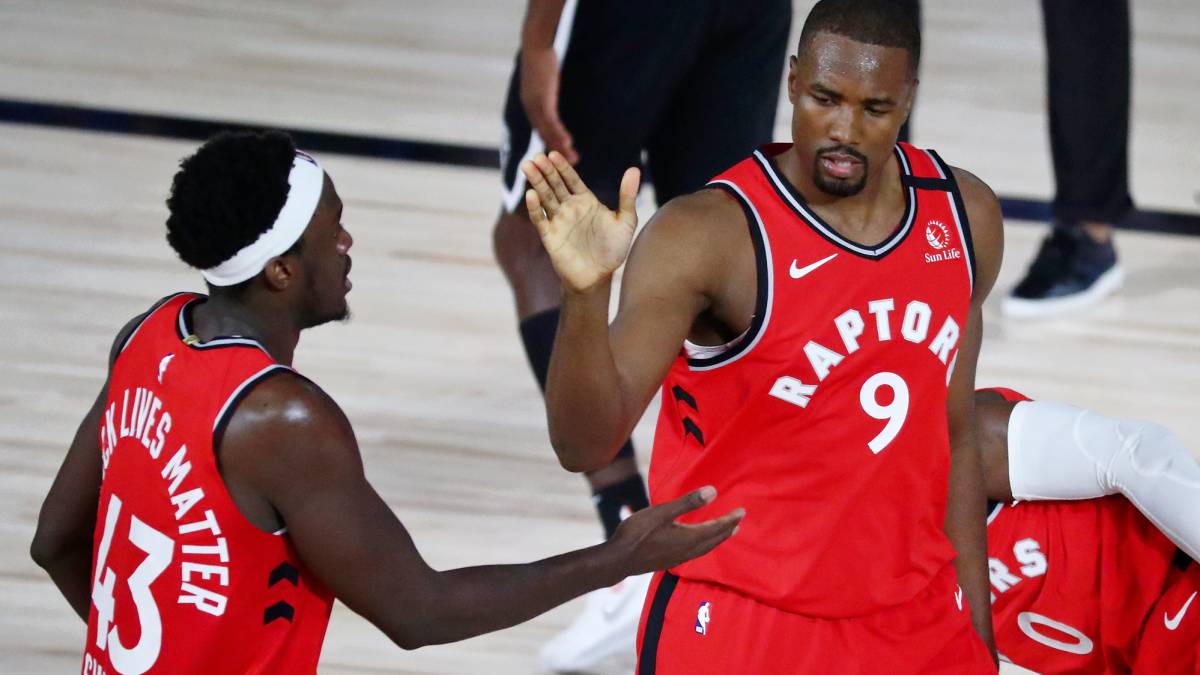 The Raptors are serious about the Orlando bubble. The pandemic nipped at the roots a season that could have been historic (they have remained in 53 victories, six of their best mark but with ten games less) and in Canada they do not want to skimp on anything. His version of this Friday was more similar to that of the first game against the Nets and they are already just one win away from the East semifinals: 10-1 on balance since the season resumed at Disney.
Therefore, Toronto is one step away (they play Game 4 this Sunday at 12:30) from getting into their fifth Conference semifinals in a row. A team, which instead of lamenting the losses of the summer (Danny Green and, above all, MVP Kawhi Leonard), has known how to rearm itself in the defense of its ring. And never better said, about his defense. Because the Raptors put a plug behind again (the Nets scored 17 points in the opening round and led 42 at halftime) to win the game.
Marc Gasol, with a triple, already gave the Raptors a cushion of ten points in the first minutes of the game (5-16). It was the fourth three-point pitch for a Raptors from a very fit VanVleet (eight goals at the time) and it summed up, with a triple from his court before the break, how these playoffs are going for him. In the second quarter, in some very productive minutes from Ibaka, the Raptors extended the lead (22-38). At the break, +15 for the champions (42-57) .
The Nets, who still have a bit to go to reach more in the fight for the ring, managed to get to ten (50-60), but Pascal Siakam assumed gallons and unraveled the mess. The power forward, who understands perfectly with Marc Gasol, had 12 points at halftime and scored another twelve in just under seven minutes (60-74). The Nets were holding on to Tyler Johnson (15 points in the third quarter), but the guard was too lonely, and the Raptors still enjoyed a lead of around 15 points (68-84) .
The Nets' last attempt came from Chiozza (75-87), but the Raptors prefer to solve everything on the fast track. Partial of 7-26 (82-113) and to think about Sunday.
On the Raptors, Siakam finished with 26 points, VanVleet with 22 and Ibaka with 20 and 13 rebounds. Marc Gasol, scored only the triple of the first quarter (1/7 in field goals), but distributed 6 assists. For the Nets, Johnson was their leading scorer (23) thanks to the 15 goals he scored in the third quarter.
Photos from as.com