How was the impact of Maverick when jumping from the Yamaha
Alpinestars published data on how the pilot's airbag acted in the crash he suffered as a result of running out of brakes during the Styrian GP.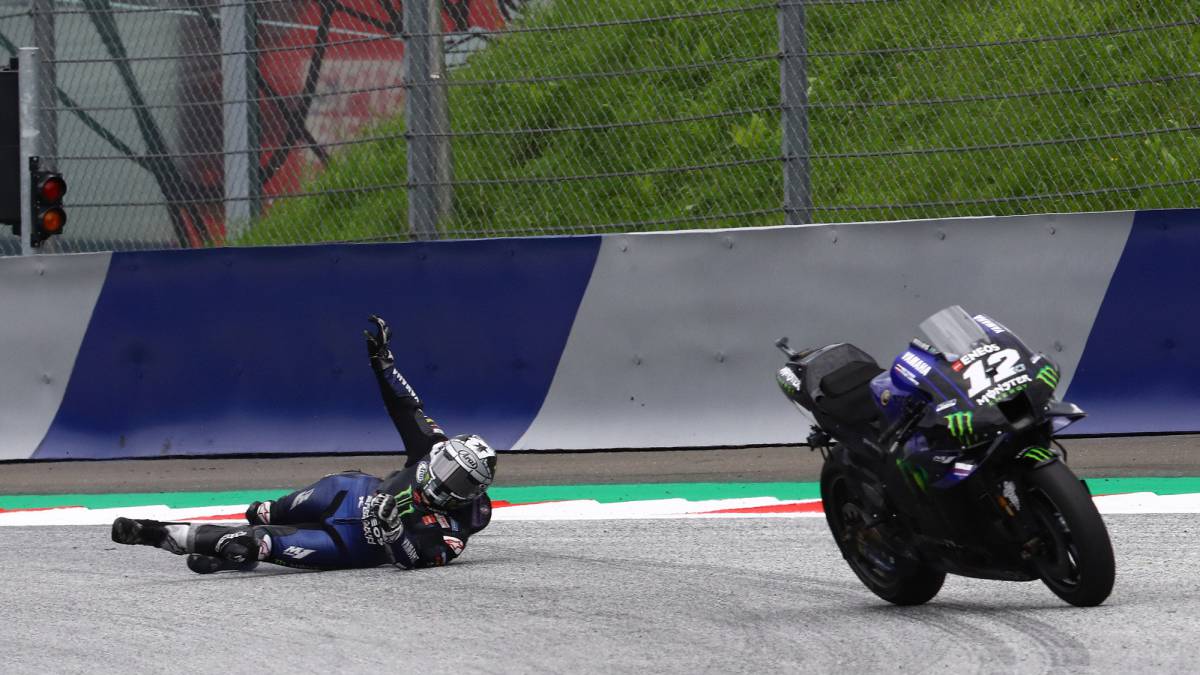 There was a lot of talk about the problems that Yamaha suffered with the engines but the reality is that, since the mounts of the Japanese brand arrived at the Red Bull Ring, the propellants were not their only headache. The clutch and tires were already a problem from the first race in Austria but the culmination came during the second weekend when Maverick appeared dragging at the end of the straight at Spielberg after having been forced to jump from the M1 if he did not want to finish Against the wall. What happened? The brakes failed and the pilot opted for the least critical solution. Which is not to say that it was free from danger.
Alpinestars, the brand that equips Maverick during the last seasons, made public the data on how the airbag that all pilots have installed in their overalls worked during the fall of the Spaniard. At the beginning of lap 17, when the one from Roses was left out of the race when it was circulating at more than 200 km / h, the impact of the Catalan reached a deceleration of 23.35G at the most critical moment, suffering an included tumble that lasted 1.9 seconds of the 4.8 total during which he was crawling on the asphalt while the mount ended up on fire against the airfence. Not having incorporated the new braking system that Brembo recommended for that grand prize, something that a Joan Mir did not do, who could finish the race, was what took to the limit an M1 that already in the morning in the warm up gave some notice.
From the other side of the wall, that of Valentino Rossi, they did listen to the manufacturer's recommendations and that favored the Italian to see the checkered flag even if it was in ninth position, since the clutch did not make things easy for the rest of the team. Yamaha riders. But returning to the protagonist, despite the fact that Maverick crashed when the M1 was running at 218 km / h as the report shows, its impact was three points below the 26.27G that Marc Márquez endured last year during the GP of Malaysia. The ilerdense defined it as his "worst fall of the season" but, fortunately, both Viñales and the eighth champion came out unscathed. And wanting revenge. Because in Misano, the tuning fork brand wants to fight for everything again.
Photos from as.com