"Zarco has not avoided contact and has made me fall"
Pol believes that the sanction carried out by the Frenchman "has been a joke" and says that "it came out perfectly: he got me off my back and ended up on the podium."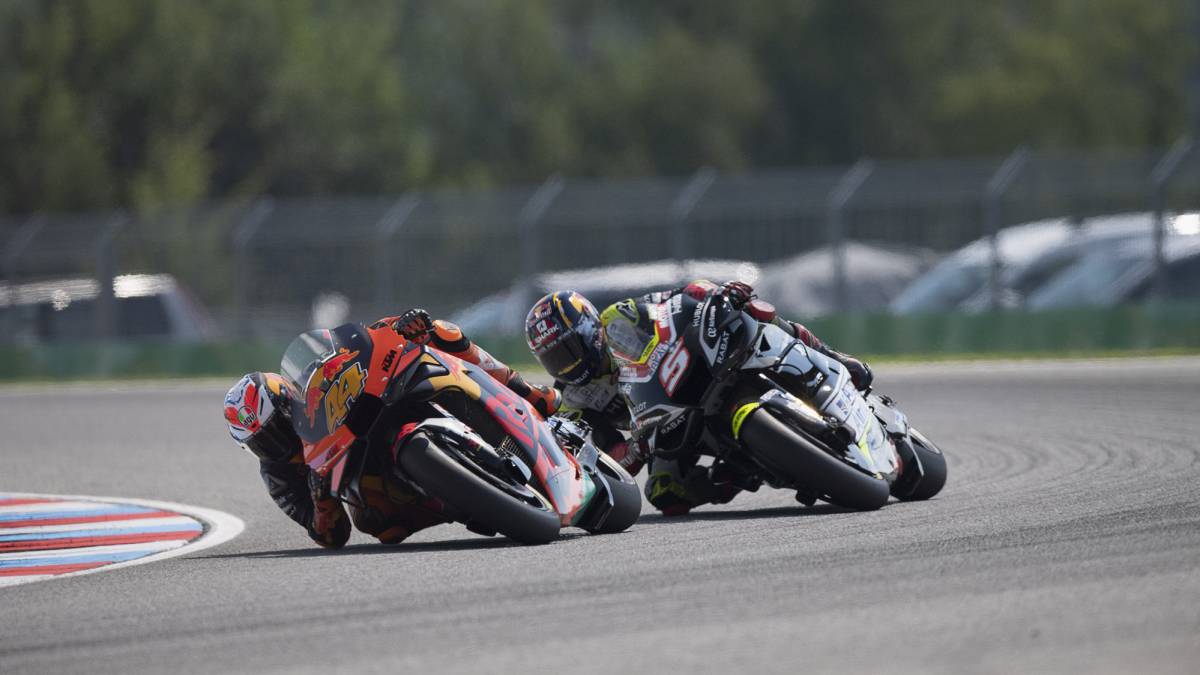 The GP of the Czech Republic was not Pol Espargaró's weekend. On Saturday they sent him from second on the grid to sixth after canceling his best lap and, already in the race, according to him Zarco has thrown him for a mistake that was avoidable. To make matters worse, he looked to win for the first time with the KTM and instead of doing so he has done it his partner Binder. His analysis: "It has not ended up being a good weekend, with yesterday and today, I think it has been quite unfair to us. But that's the way racing is and we have to deal with these things. The race went well, I was behind Brad (Binder) seeing how the tires were burning while I dedicated myself to managing the situation, simply playing with the maps to try to be as strong as possible at the end of the race, because we have seen how Everyone was very slow in the last laps, high 59, and I sincerely think I could have kept the low 58 or 59 because I had worked on it in practice. I just wanted to go as calm as possible without losing my mind, but what happened has happened, and I have not been able to show my potential. I'm happy for Brad, because he's a good guy, fast, and he deserves it, and because my work for the last four years has paid off, but I'm disappointed because he had it today. "Binder and KTM: "Yes, it hurts a lot, obviously it hurts a lot, because we've never had it so close before and, in the end, if you have it so close and you make a mistake, you can blame yourself, but it is still your mistake, and that it hurts, but it is what it is; But when you have it so close after almost four years fighting, with a KTM made practically by me, that this moment comes and someone snatches it from you is very hard to digest. Obviously, I'm happy for Brad, happy for the factory, for everyone, because I think everyone deserves this victory, but it is clear that I would have liked it to have come from me, or at least that we had been two KTM on the podium, 1-2 or 2-1, however you want to see it. I think it would have been a much fairer award. "Zarco: "There is no other way than to let it go. I have no intention of talking to Johann, especially now. In the end, all actions have to be seen in two ways: is it avoidable or is it a mistake? We all make mistakes, you spend two meters braking because you have lost your mind, or because your front wheel is blocked and you hit the pilot in front, or you simply do not avoid contact, as could have been avoided today. And I've gone to the ground. He has not avoided contact and that has made me fall and that is how Race Direction has seen it and for that reason he has been penalized. What makes me angry is that being able to avoid a fall, with what that entails, with the possibility of an injury, he did not make the minimum effort to avoid the collision, which for his part was very easy to avoid. It is what it is, these are races, sometimes they are not fair. This weekend it was not with us, it started yesterday with the fastest lap, which made me start in second row instead of first, and today with this action from Johann. You have to get back on the bike and fight again in the next race in Austria. "Frustration: "It's difficult to understand and that's why I'm so frustrated and angry, because I don't know if today was an isolated case, that the bike worked, the tires were perfect, the temperature was ideal for us and it was a opportunity that they have taken from us, or that the bike is in very good condition and that we can do this from now on every weekend. If someone told me now that this is going to be repeated or that we will at least have the option of repeating it more times between now and the end of the year, then a clean slate; But the fact of not knowing if this is going to be repeated this year makes me very angry, because sometimes these opportunities are unique, having rivals with so many problems and us with a motorcycle that works so well, not even in the best of dreams ... It is very angry. It is what I have said before, if that mistake had come from me and I had fallen it would have hurt but it would have been my fault, but that it came for a third party and in this way annoys me a lot ".The sanction for Zarco: "It is clear that, in the end, for one pilot to shoot another is not normal. The fault is of the one who throws it, because I would not have fallen if he had not touched me there, I have fallen precisely because he has leaned on my body to make the curve. That is why I think the penalty is clear and I don't think anyone can dispute it, that's how Race Direction has seen it. If the penalty is greater or less? I don't know, there are times on circuits where this 'long lap penalty' works very well, because it is in a place where time is wasted, but here it was a joke; I don't even think he did it correctly, because the rule says that the rider and the bike have to be inside the white line, and his body was on the outside. And since he has done it, he has lost nothing, two seconds, which is nothing in a race in which he was running very slowly, at 59, when a normal pace is at 58. It was great: he got off me, because at least he would have been on the podium, and he ended up doing it and one less rider ".
Photos from as.com