"Sevilla has more experience, we want to surprise"
The Inter coach said after getting into the final: "We were good at not letting them play, we made them look less good than they are. Brazilian players find it difficult to defend."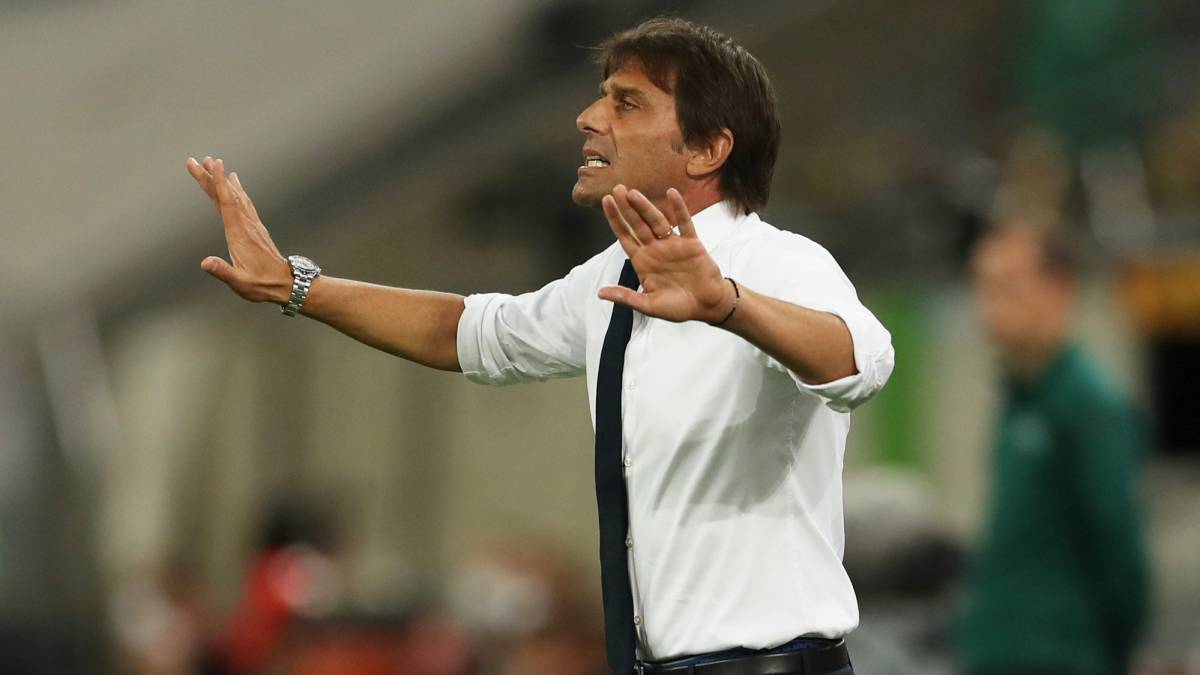 Antonio Conte, Inter Milan coach, assured on Monday that Sevilla, his rival next Friday in the Europa League final, "has more experience" than the Inter Milan team, who will face the duel determined to "surprise" .
Doubles by Argentine Lautaro Martínez and Belgian Romelu Lukaku, together with a goal from Danilo D'Ambrosio, gave Inter Milan a resounding 5-0 victory against Shakhtar Donetsk in the semifinals on Monday and qualified Inter for the end of this Friday in Cologne.
"The final is a satisfaction for everyone. The most important thing is that many of my boys play these games for the first time, they are gaining experience in the Europa League," Conte said at the end of the game in statements to Italian television. "Sky Sport ".
"Now we have Sevilla, which is a club of experience, in the last eight years I think they won four times (three in the last seven and a total of five). They are used to it, but we want to surprise," he added .
The Italian coach stressed that he hopes his players will leave the field "without regrets" and that, if the game ends with a defeat, it must be because "the rival has been better" .
He also congratulated his squad for their solid performance this Monday, against an opponent for whom he had a lot of respect.
"We were good at not letting them play, we made them look less good than they are. We made them run, we made them defend, which is something they don't want to do. Brazilian players have a hard time defending. We played with courage and I'm satisfied with my boys, because they played a European game with the right attitude, "he said.
Antonio Conte, Interde Milan coach, assured this Monday that Sevilla, his rival next Friday in the Europa League final, "has more experience" than the cadre, who will face the duel determined to "surprise". Doublets by Argentine Lautaro Martínez and Belgian Romelu Lukaku, together with a goal from Danilo D'Ambrosio, gave Inter Milan a resounding 5-0 victory against Shakhtar Donetsk in the semifinals on Monday and qualified Inter for the final of this Friday in Cologne. "The final is a satisfaction for all. The most important thing is that many of my boys are playing these games for the first time, they are gaining experience in the Europa League," Conte said at the end of the match in declarations to Italian television "Sky Sport". "Now we have Sevilla, which is a club of experience, in the last eight years I think they have won four times (three in the last seven and a total of five). They are used to it, but we want to surprise," he added. The Italian coach stressed that he hopes his players will leave the field "without regrets" and that, if the game ends with a defeat, it must be because "the rival has been better." He also congratulated his squad for the solid performance this Monday, against an opponent for whom he had a lot of respect. "We were good at not letting them play, we made them look less good than they are. We made them run, we made them defend, which is something they don't want to do. Brazilian players have a hard time defending. We play with courage and I'm satisfied with my boys, because they played a European match with the right attitude, "he said.

Photos from as.com