Hakanson, fit for takeoff
"Last year I have matured a lot and I have been a leader in a team. I have been in the ACB for many years and I think I am in the best shape of my life," says the Swedish international guard after his arrival in Bilbao.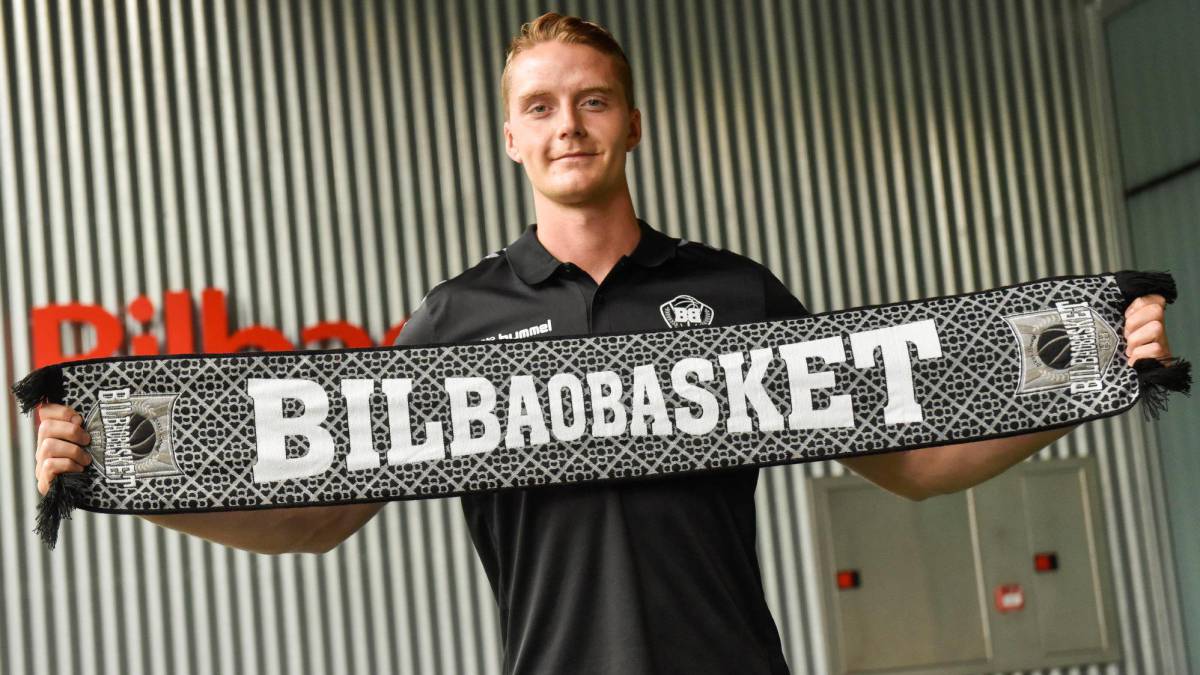 Ludde Hakanson is no longer that kid who promised so much from the Barcelona quarry and was left halfway. Students, Seville and Poland are many stages to have only 24 years. After a good season at Stelmet Zielona Gora, he considers that in the Polish team he has taken that step forward that was asked of him and that he is returning to the ACB in his best moment. "Last year I have matured a lot and I have been the leader of a team. I have been in the ACB for many years and I think I am in the best shape of my life. I have worked a lot physically and mentally I know what I have to do as a player to help the team win, "said the 24-year-old, 1.90-tall Swedish international guard, happy at his introduction as the new men in black.
In that sense, he recalled the joy he had when Bilbao Basket called him: "I was at my home in Sweden during the stoppage due to the coronavirus, my agent called me and I was super happy to receive the call from a great team like Bilbao, an ACB team, which is where I have always wanted to be and want to be. Everything was very fast and very easy to accept the offer. " Hakanson stressed from his new team that "there is a good group" human. "We had a good time in the dressing room and I think I have seen all the matches of the past year that are on YouTube. You can see that there is a good group and that they enjoy playing," he said.
He also revealed the importance of signing the fact of already meeting some of his new teammates. "Another thing that has made me decide to come here is that with Rigo and Balvin I have played in Seville and with Zyskowski, in Poland. It always helps to meet some teammates," he congratulated himself. And he also believes that "one of the best things about Bilbao Basket is Miribilla and her fans." "I have come five times, it was always full and I have never won here. Now I would like to always win and I hope there is an audience," he said, confessing that, due to the health situation due to the coronavirus pandemic, "it would be a very great shame play without an audience here ".
In any case, after "five months without competing", he is already eager to "play five-on-five games" both in the ACB League and in a Basketball Champions League that he sees "surely the best of all years." "We are going to play many games but that is what all the players want, to play games," he said.
Hakanson assumed that the Polish competition and the ACB "are different leagues because in the ACB the defense is better, there is more scouting and it is more physical", but he advanced that he will try to "play as well as last year" in Poland. "Generate for my teammates and score when necessary. I'm not going to try to change a lot," summarized a game that was also highlighted by its sports director, Rafa Pueyo. "Although he is very young, he already has a lot of experience, not only in the ACB, in which this would already be his fifth team, but also internationally because he has played in the Champions League, Eurocup, Polish league and VTB", he valued.
For the Bilbao coach, "last year was an important step" in the career of a Hakanson who hopes "that he will continue his progression in Bilbao and be an important player for Bilbao Basket." Pueyo, on the other hand, confirmed that Bilbao Basket will play six preseason games.
The RETAbet sports director highlighted that the rest of the Endesa League teams "have strengthened themselves very well" and "have done a very good job" from their respective sports directorates in preparing the squads for the new 2020-21 season. "It is too early to assess, but my feeling is that the rest of the teams have strengthened themselves very well and that they have done a very good job from their sports direction," he remarked.
For this reason, Pueyo believes that "the ACB League, as always, is going to be very tough and very competitive." "We will have to be at a very good level to be able to keep up with the rivals," he warned his team of what awaits him throughout the season. The leader assumes that the two extra matches that an Endesa League of 19 teams will include is something that the different technical bodies will not like, and more so those of the teams that, like his, that will play a continental competition. But he also does not believe that "you have to go crazy" with it.
"I don't think Alex (Mumbrú) and the rest of the coaching staff found it very funny, but it will not affect only Bilbao Basket, but all the teams, many of them are going to play European competition. But they are two more games in the season and I don't think you have to go too crazy with that story, "he reflected.
Photos from as.com