"This goes for all sevillistas"
The coach recalled the difficulties to lift the title: "We have worked hard, we have had three penalties in the last three games, this team never gives up and I am very happy."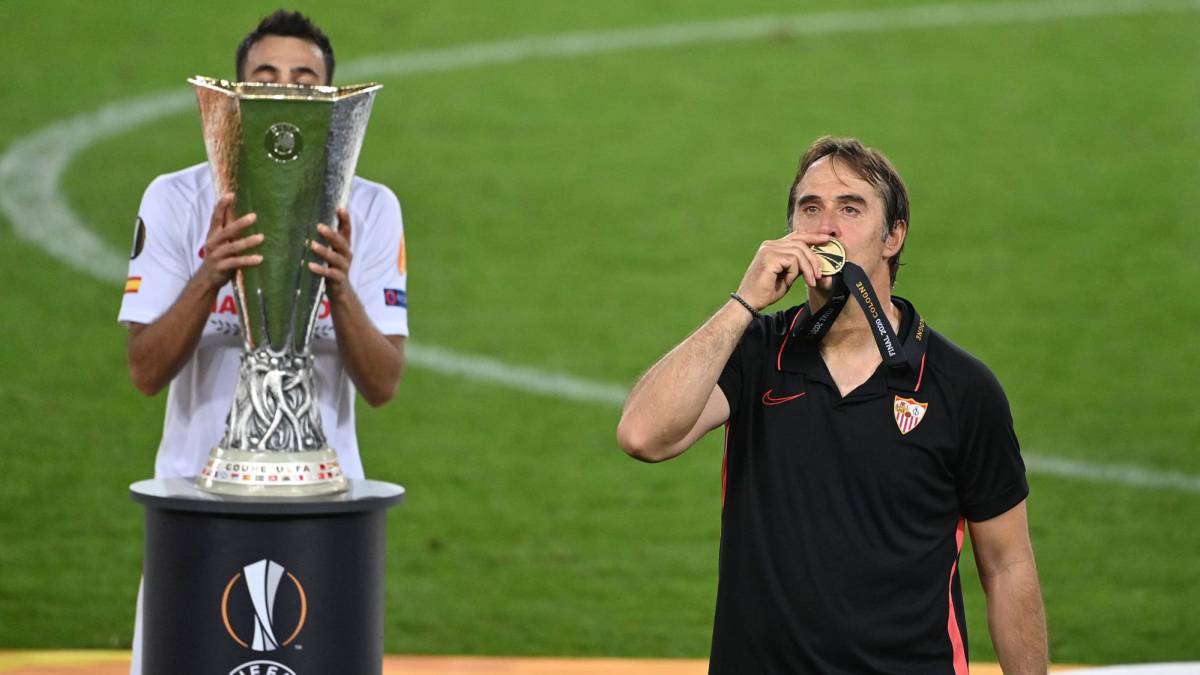 Julen Lopetegui valued before the Movistar cameras what Sevilla achieved: "They are great, even if we had not won them. We have worked hard, we have had three penalties in the last three games, this team never gives up and I am very happy. August 22, here, no one thought of anything other than helping us and here we are ".
He looked at everything that resisted: "We talked about resilience in the previous game, difficulties are not always overcome, but nothing more than trying is a champion. I think we deserved to win and we are happy" .
Individual satisfaction: "It's a magnificent club, I hope the fans celebrate it but be careful. But we have to celebrate it, this goes for them, for Puerta, for all those who love us."
Sensaciones: "I feel very happy and proud for all the players, the staff and all of Sevilla for achieving this wonderful goal. Very happy for the Sevilla players and we are happy after a Europa League in some circumstances, in a complex moment, with three penalties in the last three games ".
Match: "We are a team that takes risks, we knew that we had the best pair of forwards in front of us, it is a team that optimizes resources to the maximum, I did not expect there to be a penalty so soon. But in the end that resilience was put to the test and Our desire to win, the only way was to play well, to continue believing. It was a very nice game for the fans, perhaps not so much for Sevilla and Inter, the second half had that award with Diego Carlos from Chile to the triumph. It belongs to everyone who has been there, we have been balanced and this is a victory for many people "
Difficult moments: "When a coach wins he is happy. All the coaches work to achieve the objectives, the work is there. We had two wonderful years in the National Team and I was only a short time at Real Madrid, I have been lucky to find this club" .
Banega: "It is not easy to find a player of Banega's level, two months ago I told him that I imagined him lifting the Cup. He has had a mentality that all Sevilla fans have to thank him, he has put his leg knowing that he was going to leave and not only these league games to go to the Champions League. Being a great player he has had that team feeling and it will not be easy to find another player like him ".
Photos from as.com