Gasol: "The only explanation for this is systemic racism"
The Spanish pivot speaks in Movistar + of the NBA situation and also of Leo Messi goodbye to Barcelona: "When the end comes, it is difficult to deal with it."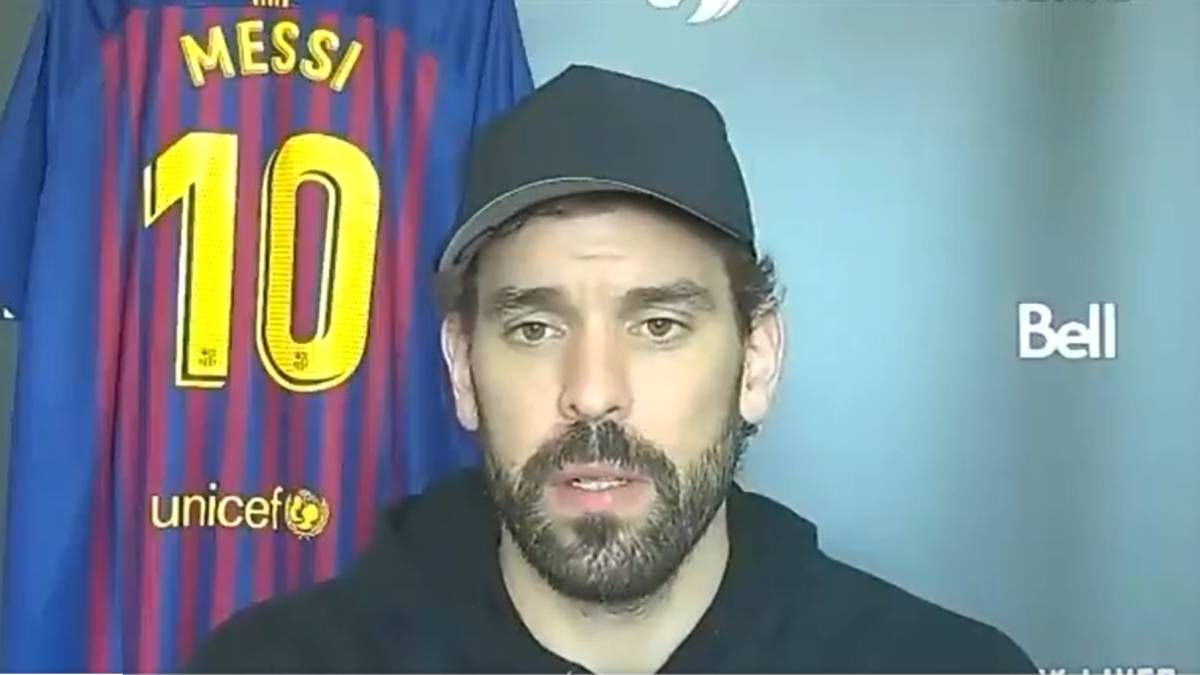 Marc Gasol, the Spanish center of the Toronto Raptors, should start the second round of the playoffs today. His team aired (4-0) the Brooklyn Nets and has an exciting tie ahead against the Boston Celtics ... if played. The shooting of Jacob Blake by a police officer in Kenosha, Wisconsin, has fueled social protests that spread throughout the United States after the murder of George Floyd. The NBA canceled yesterday's games after the Bucks (the Wisconsin team) decided not to play the Magic. And today there are meetings on the side of the players and the owners from which drastic measures could come. At the very least, it seems difficult that today's matches can be played, even if the players decide to stay in the Florida bubble and resume the competition.
Movistar + broadcast this Thursday an interview with Marc in the # NBAalDía space. In it the pivot the pivot speaks clearly about the social situation in the United States and the need to promote transcendent changes: "You only need to judge the images you see on television. They are very harsh, they are something difficult to explain to any human being. I do not see any other explanation than racism, a systemic racism that has been going on for many years. It is impossible not to wonder what would happen if those images were not recorded and we did not have those visual evidence. What would be the message that we would receive as a society. That is why it is so important in the US, and at the local level, to vote. This is how the persons who could prosecute these events are determined. "
Marc insisted that the players went to the Orlando bubble with a mission: "When we arrived, we had a very clear objective of raising awareness of this situation, using our loudspeaker so that people would notice and mediate the situation. The problem is very deep and our reaction is from the loudspeaker, they are not being responded to with actions outside of here. That generates frustration ".
The feeling, among many of the players, is that "the protests were falling on deaf ears" so the suspension implies a search for more creative actions to achieve "real changes to a social system that is unfair and very racist." Marc believes that the problem of racism comes "from the lack of education." "We have to break that chain so that it does not pass to the next generations. There is impunity between certain races in the United States. I believe that beyond politics, it is a matter of humanity, education and common sense" .
In the interview, Marc also talks about the goodbye of Leo Messi who was also his club, Barcelona. And he does it with a shirt of the Argentine behind him, a clear gesture: "It has been the standard for 15 years. It has been a pleasure to see him compete. When the best player in the history of a sport coincides with a city where people live so intensely and a club where Messi is everything, because when the end comes it's hard for us to deal with it. "
Photos from as.com