"The future of Ducati is decided by Gigi, but mine is decided by me"
Although Dovizioso did not want to go into details, he left this lapidary phrase the day he announced that he will not continue with Ducati at the end of the year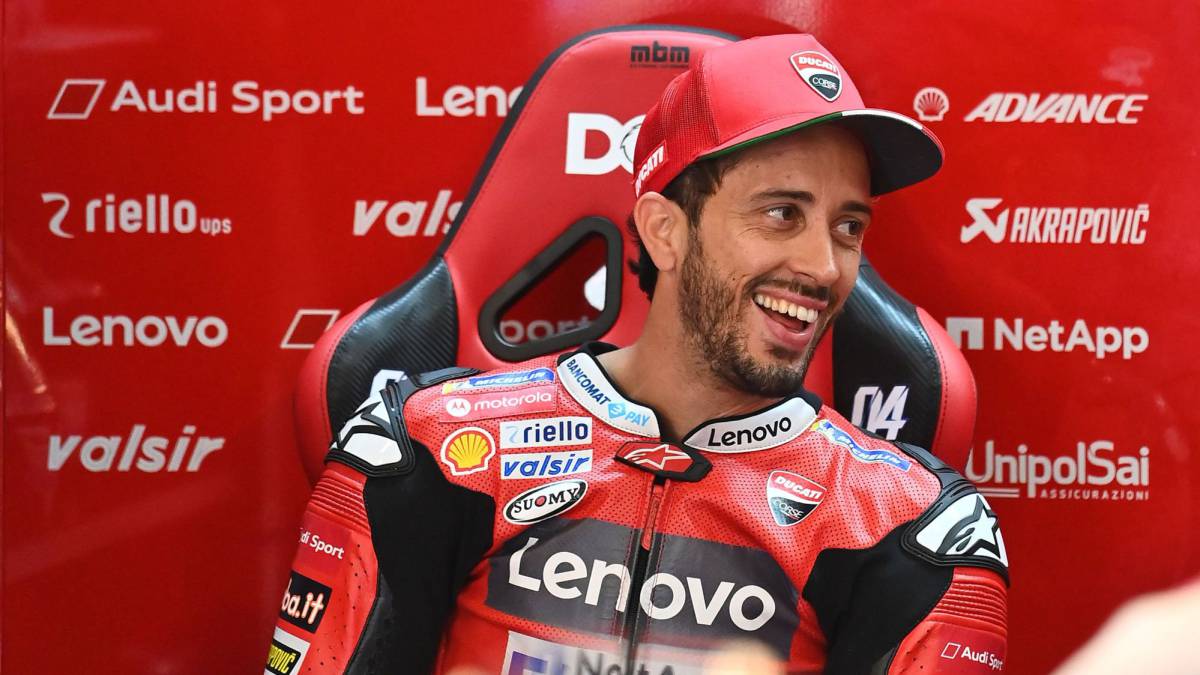 The appearance of Andrea Dovizioso with the journalists by video call counter-scheduled the official press conference, because it coincided on time, and it was the Italian who had the most media pull. His announcement that he will not continue at Ducati next season is the news of the day and, although he did not go into depth in the details, he expanded from the Red Bull Ring paddock and left a lapidary phrase that reflects the tension maintained in recent times with Gigi Dall'Igna, Ducati project leader.
-What leads you to say no to Ducati?
-There are many things, it is not the time to speak and I will not make journalists happy, but it is not the time. I decided to make this decision because I think it should be like that, especially because in the end we have to focus on the results since in the end there is a lot of talk about the market, but then we have to take the results home. We are on a favorable circuit for us, we have done a good job and tomorrow we will try to take home as many points as possible. It won't be easy, but we will try.
-When did you make the decision?
-It is a situation that I have always had in my head. I have been with Ducati for eight years and many things have happened, but things continually happen and little by little I have decided to make the decision, although I repeat that this is not the time to talk about it, I don't want to or I can't. ..
-Did you expect Ducati to have tried harder for you to stay?
- (smiles). I can not answer. I dislike not being able to be clearer in my answer, but I insist that this is not the time. I know what I want, I want to race and it is not a retreat, but decisions are made based on a series of situations and at the moment this is the one and for now we are going to concentrate on the race.
-You need a motorcycle to keep running and only April remains ...
-This is a small problem. (Smile). The decision has been made regardless of the options available at this time. The best decision has been made for me and this is the best for me, the fairest. Later we will see that other situations are created, if they are interesting, but this decision is not taken based on a plan B that at this time there is no. Motorcycling is very particular and you never know what might happen ...
-Could there be a reversal between you and Ducati if they win the title this year?
-I don't know, but it would be very nice. But not to back down.
-Has COVID-19 had something to do with this decision?
-Surely being at home for two months may have made us think about many things and certain details of life, but it has not conditioned anything in this situation.
-Repeats from a year ago between Bautista and Ducati but now with you ...
-Surely it is a representative problem. You have to change to Batistella. (It has the same as Bautista) .
-How is your relationship with Ducati?
-They have been a mixture of sensations. We have had fantastic moments and everything that has been done and what we have fought must be guarded with affection. I have found many great people with a great relationship that is very positive and is not over yet, but about the decision it is not the time to talk. I don't want to risk answering.
-Can you be on sabbatical in 2021?
-I don't know, I have no idea and this makes me understand that the decision was not related to my future. The decision has been made because it had to be made and, when you are in a situation and you think you have to move forward, it leaves, although this season is still very open. Surely I have to worry about other things, but I honestly don't have any plans. In motorcycling things change quickly and I don't know what is planned for me, I just hope to be able to fight for the championship and wait for interesting proposals to come, but having made the results that I have done in recent years I know what I want to live on and what I want and we will see if there are interesting things in the future.
-Not an overnight decision ...
-My future has been decided in a wrong way. The future of Ducati is decided by Gigi, but mine is decided by me. Domenicali hasn't called me. I'm just concentrating on racing and he has the experience to speak up when the time comes. We are professionals and we have discussed what had to be discussed with Gigi and the team.
Photos from as.com