First casualties: broken femur for Valls and kneecap, Gilbert
Landa, Valls's teammate in Bahrain, also fell in the last montonera and has touched his ribs. Degenkolb got out of control.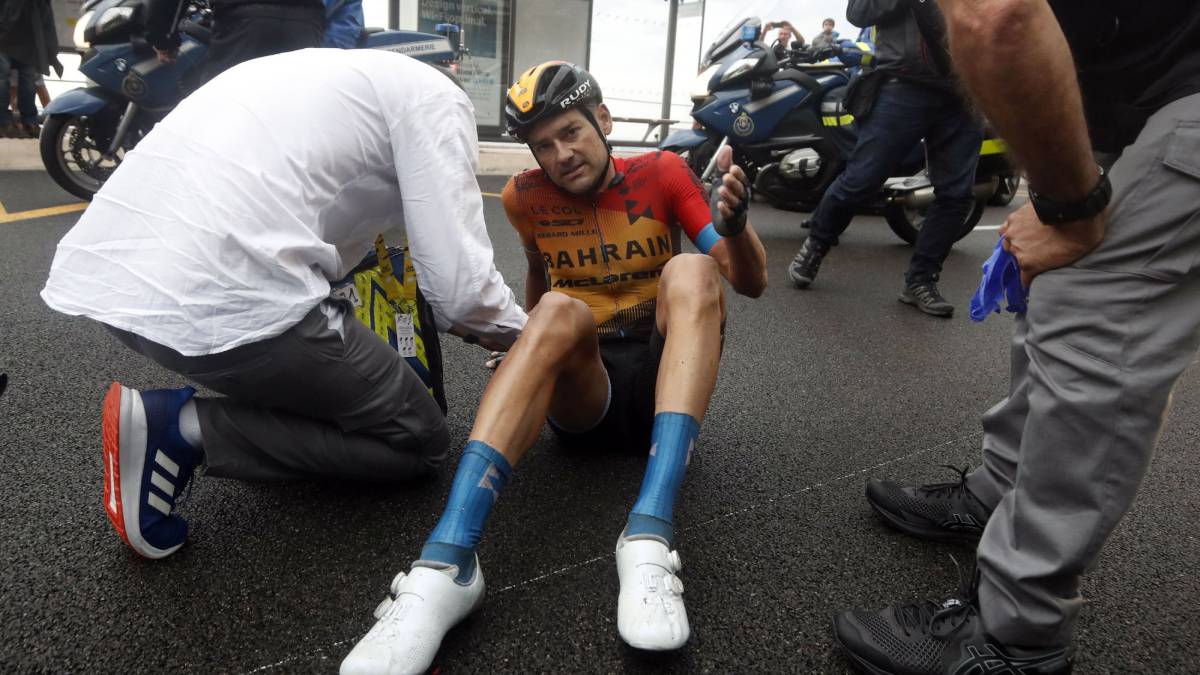 The crashes of the inaugural stage caused the first casualties of the Tour. Rafa Valls was operated on at the Nice hospital for a fractured femur. Although at first it was said that the clavicle had been broken, the blows and injuries to the shoulders and arms are superficial. The other who did not start due to injury on the second day, Philippe Gilbert, broke his kneecap. A third, John Degenkolb, also crossed the Nice finish line on Saturday, but out of control, and was therefore excluded by the judges. The German suffered pain in his back and knee, and covered the last 65 kilometers alone: "A Calvary for nothing" .
Several runners with problems did set out in search of La Colmiane, Turini and Èze, a good test. Wouter Poels holds a fissured rib, bruising his lung and causing discomfort to his side. David de la Cruz, with a damaged sacrum, was sentenced to the tail of the squad, like David Gaudu, bruised to death. And if Mikel Landa lost Valls and is left with a depleted Poels in Bahrain, he himself hit "a considerable blow" in the ribs that he fractured when he was hit by a car in February: "I went to the doctor to check it, it doesn't seem serious , although it will be a difficult time for a few days. "
The Alava saved all the problems of a complicated debut in the Tour except the montonera of the banner of the final three kilometers. Domenico Pozzovivo explained on his social networks that he was provoked by a fan by hitting him with his arm on the helmet ... while trying to take a selfie: "Thanks to the spectator who shot me down at 50 km / h with his mobile phone along with 20 other cyclists." The Italian's team, the NTT, demanded respect from the public: "We would like to warn the people. Please step back when the race is at your side. "
Photos from as.com