Emiliano Martínez: "I have suffered, now I want to succeed at Arsenal"
The Argentine goalkeeper has been waiting for a decade for his great opportunity with the Gunners after multiple assignments. His season finale was excellent.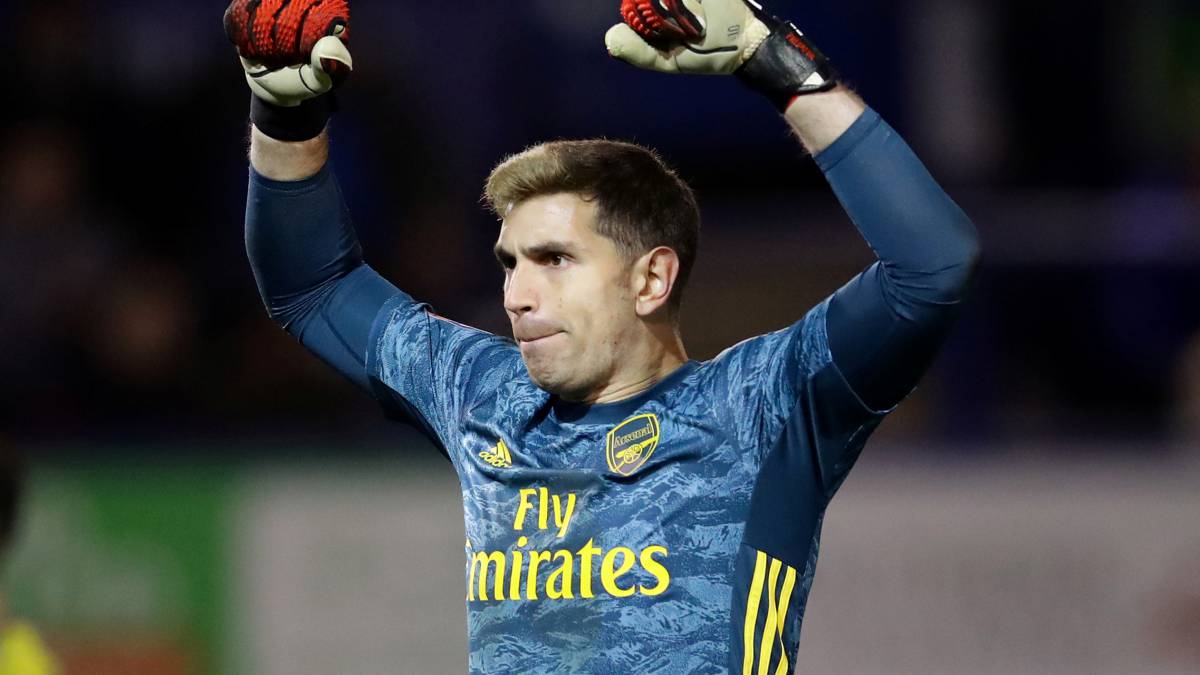 Emiliano Martínez (Mar de Plata, 1992) became famous this summer for the moving images after winning the FA Cup against Chelsea and for the incredible performances he had with Arsenal after the discharge of Leno. Draw has waited for a decade for his opportunity with the English team, going through six assignments, and now he believes that his time has come. He wants to play for the Emirates, if possible, or another club, but without loans. And he wants the Argentina shirt.
Has this year been the best of your life?
Yes ... People liked my story, they were moved to see how much it cost me to get so high and many wanted to talk to me, get to know me. I did it a lot during the holidays, also so that the boys understand that it is not easy to realize your dreams.
Did you see the images of the final with Chelsea again?
No. I went straight on vacation. I only know the work we did as a team to achieve that victory. It was enough.
The path to reach that joy has been a long one…
I came to Arsenal in 2010 and had to go through five loans, plus another playing just one game, at Oxford. It wasn't easy, really. It cost me and I suffered more than I should have, but today I can say that all the effort was worth it.
What assignment left you the most beautiful memories?
The last one, at Reading, was the one I enjoyed the most. Coach José Gomes gave me a lot of confidence. And I grew up.
Have you ever thought about going permanently to another team?
If I have returned so many times it is because they kept trusting that I could be their number one. If they had told me 'look, you have no future here', I would have gone to another club. Now what I wanted has been fulfilled, and I hope to continue succeeding at Arsenal.
Leno's injury has changed his career…
Yes, also other great goalkeepers, like Casillas, had their great opportunity because the one who was playing was injured. One has to be prepared.
What moment do you keep from the last months?
There are two. The first game I played as a starter in the Premier, against Southampton, in the 84th minute I made an important save, which helped us to take the win and leave a clean sheet. It gave me confidence. The other was in 94 'against Liverpool, when I neutralized a great shot by Alexander-Arnold and we took the victory.
The video call with his family went around the world ...
Actually, we were just crying. His tears were mine. I was celebrating the victory and my wife told me: 'call them, they are crying'. I went outside, there was a lot of noise in the locker room, and I did. It was only two minutes, which will stay in my mind for the rest of my life.
After this wonderful summer, the time has come to also have a leading role with Argentina. The qualifiers are approaching… .
I work to achieve it, playing for the national team is the dream of any footballer. I don't know if I will be able to start, it will be the coach's decision, but what I do know is that I want to continue competing well to earn that opportunity.
Will we continue to see you at Arsenal next year?
What I hope, as I said, is to continue at Arsenal. My idea is that, but obviously I want it to be playing.
What dream do you have for the rest of your career?
Play as many Premier League matches as possible and do it for my country.
Photos from as.com