Doncic overtakes Kareem and Mavs scare Clippers
Great game for the Mavs, always ahead against some lazy Clippers beyond Kawhi. Doncic, stellar first and limited by fouls later.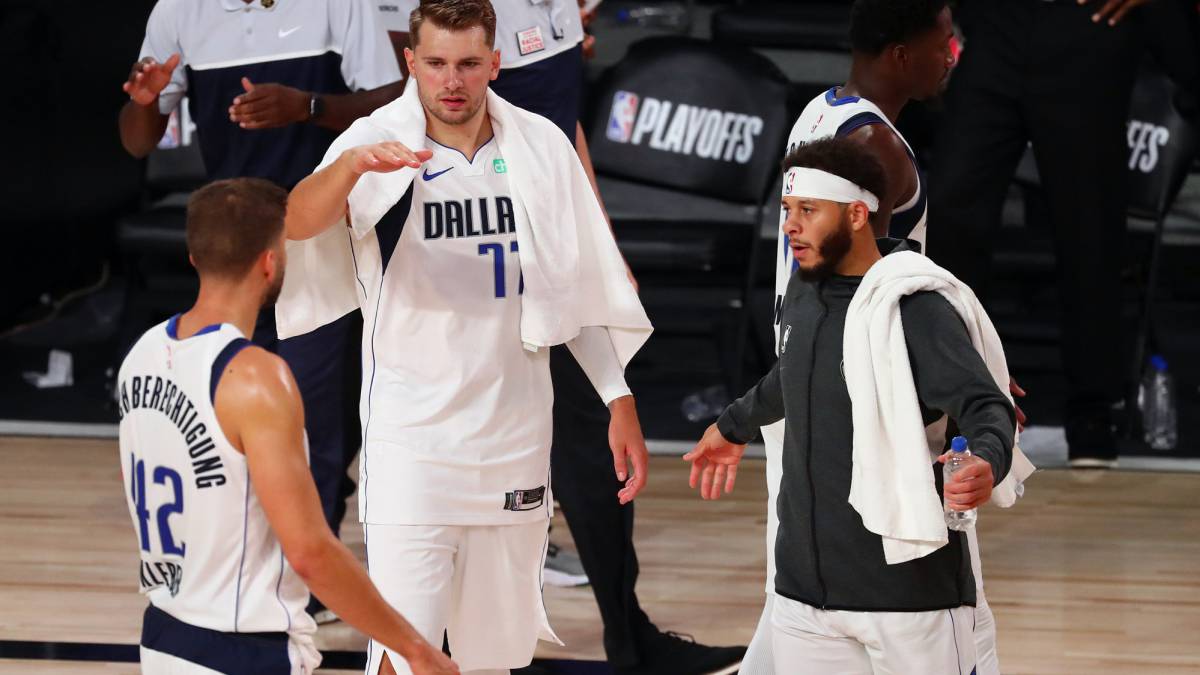 Here are the Mavericks. In a series to seven, against a theoretically far superior team, and without even a trip home after the first round of games as a possible elixir, it seemed obvious that the second game against the Clippers was final. Not mathematically, but emotionally: in practice. But the Mavericks did exactly what living teams do, willing to fight: improve, raise the bar, find new resources: win. 114-127 from an initial 2-15, 48 minutes ahead (the second time they have lost without ever leading the Clippers this season: both have arrived in the bubble), and excellent feelings. So much so that Doc Rivers was very clear after the game: "Right now the Mavs are playing better than us." He is right.
Because the Mavericks were leading in the third quarter of the first game when Kristaps Porzingis was sent off in a difficult way. Before this (hinge) second game, it was announced that the Latvian was doubtful due to a sore knee. The panorama pointed to twilight for some Mavericks that also could only have Luka Doncic on the track for 28 minutes, who committed the fourth foul as soon as the third quarter and the fifth began, a contact that he had to avoid, a few seconds after it was opened the last one. The Slovenian only played 9 minutes in the entire second half and Porzingis had knee discomfort. Grim data that, however, did not translate into defeat for a team that was again much more than the sum of its parts. Wonderfully well prepared by Rick Carlisle. And right now superior (by sensations) to some Clippers who have defended horribly badly in both games, unbalanced and unbalanced in a plot in which they would have to be elite. Or so they are supposed to. Patrick Beverley, a specialist, did not play due to muscle problems. And the Clippers, take the data as you like, are 11-11 this season when the rabid point guard is not playing.
With his knee touched, Porzingis had 23 points and 7 rebounds. In just 28 minutes, Doncic went to 28 + 8 and 7 assists. And after his 11 losses in the first game, he stayed at one. He shot well (8/17) and is cutting through the defensive deficiencies of a highly individual opponent with his quick reading and passing angles, both protecting his basket and attacking the opponent. Doncic led at half time, before the foul mess, 22 + 6 + 7. At 21, he has won his first playoff game (and his first for the Mavs since 2016) and has started with 70 points in two games against one of the best teams in the NBA. For many, (a priori) the best. Only George Mikan in 1949 scored more points (75) in his first two games in the playoffs. Kareem Abdul-Jabbar reached 69.
But the news is that Doncic and Porzingis are not alone, that the bench appeared on a day in which without the secondaries things would have gotten very ugly. Trey Burke (13 points), Marjanovic (13 and 9 rebounds) and Delon Wright led a definitive 0-8 in the fourth quarter, when the Clippers had reached 10 (88-98) with eleven minutes to play and Doncic had committed the fifth foul. From that 88-106 the Angelenos no longer recovered. Seth Curry also played an excellent game: 15 points and +30 for the Mavs with him on the court. Having seen these first two rounds, there is a tie. And more for sensations than for this promising 1-1.
And there is a tie in part because the Clippers are not playing well. His defense, which should be an infallible shield (it has not been except with a dropper during the season), is a chaos in which Rivers has to put order. One of his solutions may be (we were going to see him in the last quarter before the Slovenian went to the bench with five fouls) to definitely place Kawhi Leonard on Doncic, who crushed Reggie Jackson and Lou Williams, always choosing as a weak point whoever was on the track at all times. In addition, it has also been seen all season, the Clippers attack on individual impulses, without great passers or brainy team plans. This time, only 7 assists among the five starters. Kawhi Leonard shined as a soldier of fortune (35 points, 10 rebounds) and it is the big reason why his team continues to be very favorite to advance in the second round… and beyond.
Paul George, with whom doubts appear every time he fumbled in the playoffs, did not score (harassed by fouls) in the first half and finished with 14 points and 4/17 shooting. Lou Wiliams scored 23 points but the Clippers showed this time more flaws than virtues (also in sections of the first game). The vices that make them vulnerable despite their obvious accumulation of talent. So there is a tie, no doubt after the Mavs cleared up any doubts there might be about it: they are here to fight.
Photos from as.com