Doncic, on Morris: "It was a terrible action, you know exactly what I think"
The Dallas player was very upset with the attitude of the Clippers after the stomp on the ankle and sent her off yesterday: "I don't want to deal with these types of players."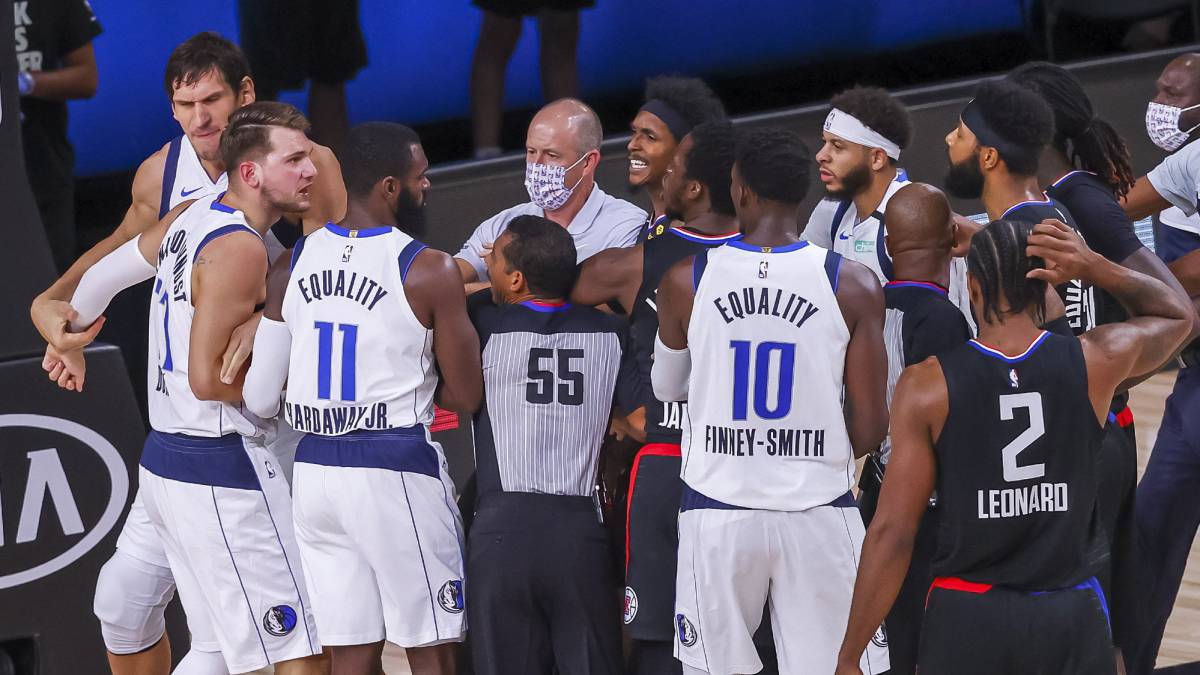 Slovenian point guard Luka Doncic, of the Dallas Mavericks, who said goodbye to his first appearance in the playoffs on Sunday after losing the sixth game 97-111 to the Los Angeles Clippers and the tie (2-4), accused the wing -Pivot Marcus Morris Sr., of playing "dirty" in the marking he did. After having suffered in the fifth game a blow to the left ankle, which Doncic had injured, by Morris Sr. and that the former Real Madrid player considered as the rest of the Mavericks team that it was intentional, things were not for better in the sixth.
Because with 1:07 minutes to go to the end of the first quarter, Morris Sr. gave Doncic a mark under the basket that cost him a flagrant foul 2 and the automatic expulsion of the Clippers power forward. "It was a terrible action. What can I say?" Doncic declared after the game in which he contributed 38 points, 9 rebounds and 9 assists. "It's two games in a row that he did something like that. I really hoped the first one wasn't on purpose, but looking back at today's foul, you know exactly what I think." Doncic reiterated that "I don't want to deal with those kinds of players. Just keep going."
For his part, Morris declared that it was "a hard foul" and understood that he had Doncic above his shoulders, which deserved a flagrant foul 2. But he reiterated that he was not trying to hurt Doncic. "Morris commented that he thought that it was "absurd" that some thought he was trying to injure Doncic in Game 5, when he stepped on the Dallas star's left ankle area, causing Doncic's shoe to slip off.
"They had to make that decision," Morris explained of the blatant 2 on Sunday. "I think we honestly had a lot of back and forth in this series. It was a very close series. I don't want people to confuse playing basketball, playing rough with trying to hurt someone. I think Tim Hardaway fouled Paul George extremely hard. the last game, and it wasn't taken in the same context as mine. " Referring to Doncic, Morris admitted that he knows perfectly what kind of player he is and what he already represents within the NBA. "He's a young player. He's going to be the face of the league. I've taken all of that into account. I'm a veteran. I know how this works ... I'm a grown man. I'm on my own. Like I said, I didn't want to step on his ankle. You can say the things you want to say, this and that, on Twitter ... Do you want to say? You can say it. I am going to continue playing, happy that my team is in the second round, "said Morris.
Rivers: "I don't think they had to send him off"
For his part, Clippers coach Doc Rivers said Morris' foul did not appear to be Flagrant 2, much less ejection. He also praised the game and Morris's ability to be "an instigator" in the first round. But Rivers said he believes Morris should not have been expelled and that Morris's reputation led him to have the umpires make that decision.
"I don't think they had to kick him out, but listen, I'm biased," admitted Rivers. "I think he fouled the ball and hit him on the head. It happens every game. I think it was his bad reputation, but you have to live with it. I love the intensity of Marcus, he's a tough guy. backwards, and I love that, "Rivers said. The veteran Clippers coach also stated that he hopes Morris will not be penalized with a game that prevents him from playing the first of the semifinals because it would be a significant loss.

Photos from as.com