De Jong: "I want Sevilla to win the title, not be the hero"
The Dutch striker, who scored the saving grace for Manchester United: "I would like to be here for many years. I think next season I will score more goals."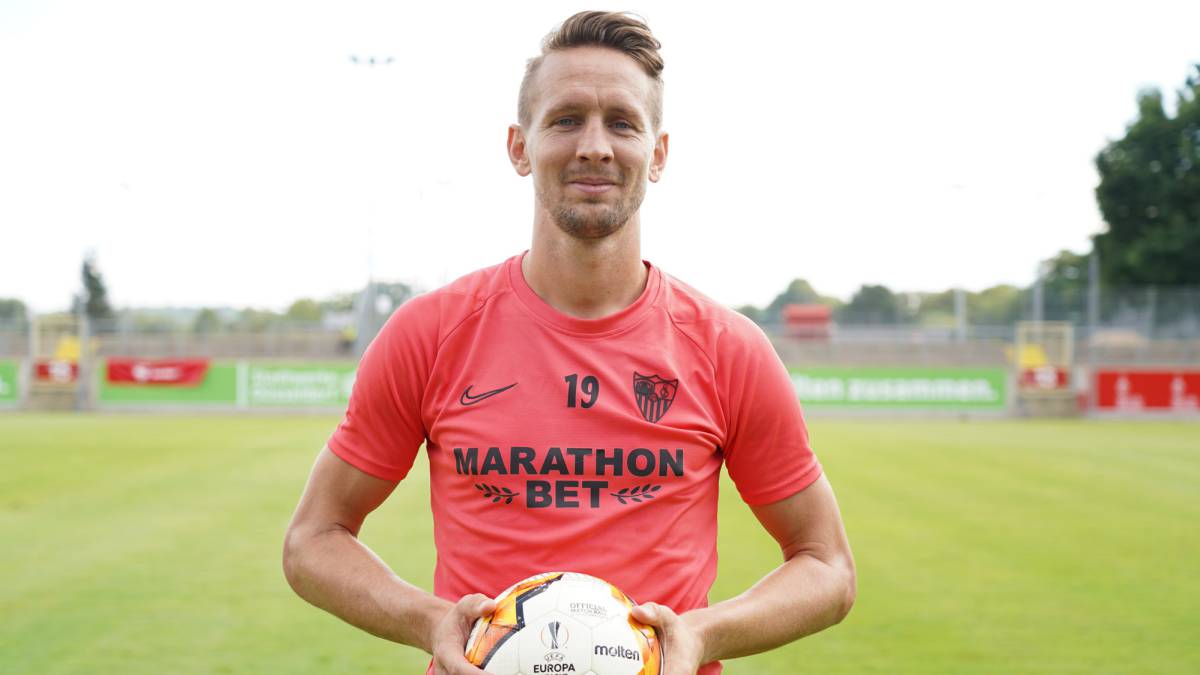 How does Sevilla feel before a match of this caliber?
Very good. Sunday was an impressive night. There is only one thing you can ask for more than reaching the final: to win it.
I have looked at his record against Inter: four games in the Champions League (two with Twente and two with PSV), two draws and two losses ... and zero goals for him? A little rematch?
It is one of the best clubs in Europe. It can turn into revenge, yes, score a goal and win the Europa League. Although it would not be the most important thing to me. What matters is that Sevilla triumph.
How did it feel to make United 2-1? Could it be the most important goal of your career?
The one I don't know the most, but certainly one of the most important. I scored some in Holland that helped us to win titles. Yes, it may be the one that more people will have seen and heard the most, because I did it to Manchester United, a team that has millions of followers around the world.
Be that as it may, it wasn't the first crucial goal this year. He scored in the derby, Madrid, Atlético ... 444 444
I have scored quite a few goals that have sounded this year, yes. But what I want is to win a lot of games. I think that the greatest virtue of this team is that we are all equally happy about the goals, as if we had scored them ourselves.
Do you understand your substitution during this Europa League?
We have many players on the team, not just eleven. The coach's decision to play with another is absolutely understandable. I always want to start in the eleven but the one who decides is the coach.
Y has decided on En Nesyri three games in a row.
In Nesyri he came in winter, he is improving, he is young. For a team it is important to have competition in all positions. In Nesyri he is doing well, I don't know what level he will reach but he has great potential.
What does Lopetegui tell you about not putting it on?
The technician has maintained confidence in me, and we have talked about that, of course. He told me to be ready, that my time might come. He arrived against United and I think I responded, not only with the goal, but also with work to give air to the team, in other facets.
You have repeated several times this year that the goal was not the only important thing.
That's right. The forward has to contribute much more, it is my philosophy. I've always worked like this, all my life. I work hard for the team and then I try to score the maximum number of goals.
Ocampos also works hard and has scored 17 points.
Lucas is very important to us, he scores many important goals. He always tries to move in the area, behind me. Our way of playing can help the wingers score too.
In the Netherlands he scored many goals with a header. Here it costs you more. The reason?
In the Eredivisie, PSV played more dominant. I put many centers in the area, in my head. I think he is one of my strengths, but in LaLiga the defenders are tougher, there is more level.
Has scored 8 goals with the one from the other day. Do you understand why they are asking you for more?
Of course I understand, it's the forward's life. But you also have to understand that LaLiga is more difficult than the Eredivisie. It's my first year here and maybe I should have scored seven or eight more goals, but I think next season will be different, that I will score more goals. The important thing is to ask yourself other things.
Which ones?
Well, for example: could we have done better as a team? Hard. Maybe winning the Copa de Rey, lifting the title on Friday. It has been a great season for Sevilla, beyond the goals that De Jong has scored.
Will Sevilla feel Banega's departure?
Éver is a great person and a great player. He has had a magnificent career here, but he must be respected.
Did you think it would be possible to win a Europa League when you arrived at Sevilla?
Of course I dreamed it. I know this is the Sevilla tournament. They played the first final in Eindhoven, everyone knows Sevilla in Holland for the Europa League, they have won it five times and they have great respect for it. So coming here was one more step in my career.
Do you see yourself in Sevilla for a long time?
Yes. I have felt important to the team, I feel great in the city. I hope to spend many more years at Sevilla and score many more goals. Hang your boots here? Why not. The club is awesome.
Is it true that you were able to go to Mexico before?
That was more than two years ago. But I won the title with PSV, I scored quite a few goals and things changed for me.
Do you sign to score and also be the hero of the victory against Inter?
No. I am signing right now not to be a starter, not even to play, if we win the title. I insist: the team, always ahead.
Photos from as.com