Controversial expulsion to Porzingis that changed the party
The pivot did not finish his debut in the playoffs due to two techniques: the first for protesting a non-existent foul and the second for a scuffle with Morris.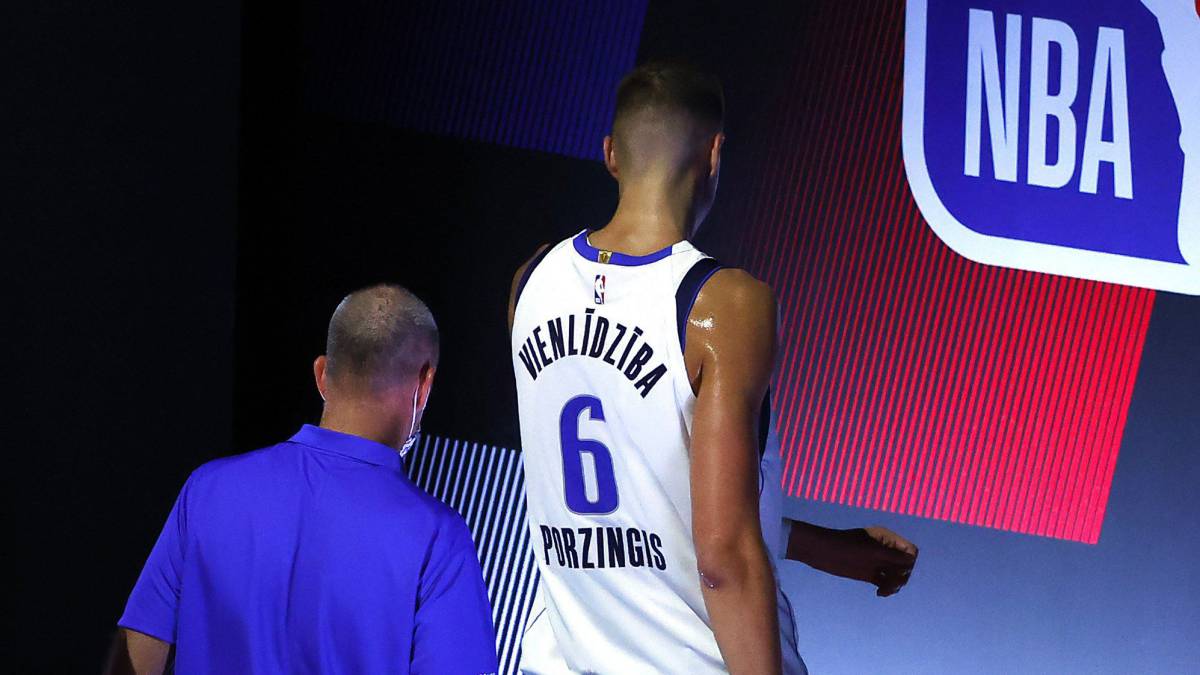 The Los Angeles Clippers' victory over the Dallas Mavericks left the first controversy of the playoffs for the expulsion of Kristaps Porzingis. The Latvian had to abandon his debut in the final rounds three minutes into the third quarter (9:10) for a second technique. The pivot went to the locker room with 14 points and 6 rebounds in 20 minutes and 66-71 for the Mavs. His departure brought a 21-11 run in favor of Los Angeles, who won the first game of this tie.
His first technique came in the second period (6:02) for a legal block on Paul George, which the referees called a foul. Porzingis, angrily, threw a punch into the air with no one around and was punished.
The second was sanctioned for defending Luka Doncic: his teammate was fouled by Marcus Morris. The Slovenian faced his rival and the Latvian participated. After consulting the Instant Replay, Porzingis headed off the field. "I saw it get in Luka's face and I didn't like it. That is why I reacted. That was smart of him. I just have to be smarter and control my emotions next time, "said the victim after the encounter.
"I knew KP was behind me. He did it for me, he did it for his teammate. I appreciate him and I don't think it would be fair to take him out of the game, especially in the playoffs. We had to play without him, which was difficult, "Doncic said. The criticism of the former Madrid veteran for the expulsion of his friend was not the only one in the NBA.
Criticisms of NBA players
"What a scam, man," began LeBron James on social media. "That ejection was super weak," Mavericks legend Dirk Nowitzki wrote on Twitter. "You cannot expel Kristaps for this. Protecting the best player on the Mavs. This is bad, "continued Kevin Love, power forward for the Cleveland Cavaliers. "Don't send off in the playoffs, man," said Spencer Dinwiddie of the Brooklyn Nets. Support also came from the rival side. "I don't think it was enough to get two techniques. I want him to play. He's a playoff man, "closed Morris, who also received a technique in his scuffle with the Latvian.
Mark Cuban was silent on the matter, according to ESPN, which tried to get his assessment on the matter. The Mavericks owner racks up a seven-figure fine for criticizing NBA umpiring for more than two decades.
Carlisle, of course: "It's in the book"
However, there was a contrary voice to the general feeling: Rick Carlisle, coach of Dallas. "The expulsion is automatic. It's in the rule book. There is not even discussion. So look, that's just part of the things we need to be aware of. And now we know. We will continue forward and be better, "said the coach. "I can tell you that we are a better defensive team when he is on the court. We need it, we know it, and he knows it. We are here to win the series, so we are disappointed with this game and with the result. "
Photos from as.com