Conte: "It's hard to get angry after a game like this"
The coach was satisfied: "I can only congratulate the boys for their performance." Godín: "We have to enjoy ourselves because after ten years Inter are playing a European semi-final."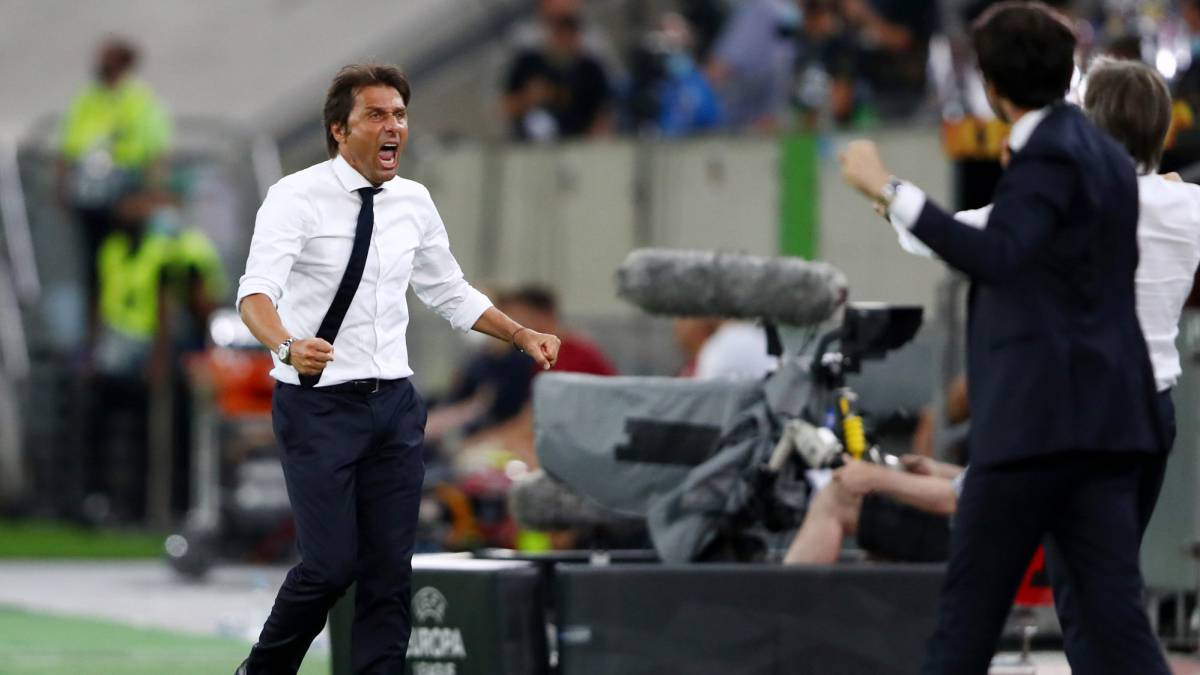 Antonio Conte assessed Inter's qualification for the Europa League semi-finals after beating Bayer Leverkusen 2-1.
Performance: "There is great satisfaction from all, because we had a great game. We had prepared the game properly and we did not let Bayer Leverkusen play, achieving in the possession phase to put into practice what we had studied. We could have been calmer because, although we did not suffer almost anything, the result was in the balance, but I can only congratulate the boys because they wanted to show that they are having an important season. Now we can play a European semifinal and we must be happy. Tomorrow we will have to think about it. next game, because we want to aim for the maximum without recriminations ".
Lukaku: "It's hard to talk about the players when you see a performance like this from everyone. Romelu is having a great season, but he's supported by the team. If everyone does well and behaves as a team, then individuality emerges. To have forwards like Lukaku, Lautaro and Sánchez is important, but everyone has to thank the team because it is the group that allows individuals to give their maximum. "
Game creation: "We work a lot from that point of view. There are some positions studied and, in addition to having players with technical skills, it is important to avoid offensive pressure with proven situations. This allows us to verticalize and find the field. I often hear badly. to start over, but we started the play from the bottom to create the right situations and spaces ".
Angry about the goals or satisfied with the shots against ?: "It's hard to get angry after a game like this. I can only congratulate the boys on their performance. Then, as we do after each game, we will analyze all the situations in video and we'll see where we can improve ".
Godín: "We have to enjoy this because after ten years Inter play a European semifinal"
Uruguayan Diego Godín, defender of Inter Milan, assured this Monday that his team should "enjoy" by qualifying for the semifinal of the Europa League after eliminating Leverkusen, something that had not been achieved since 2010, when they ended up winning the Champions League.
"We have to enjoy this because after ten years Inter plays in a European semi-final. For us the final will be the next match (the semi-final). We must approach it this way. It is a unique match and for us it will be like a final" Godín told the Italian television "Sky Sport" .
Godín has regained a starting place for the decisive phase of this Europa League after a difficult season for him, in which he had to work hard to learn to play in the defense of three of coach Antonio Conte, after nine seasons in the line of four from Atlético de Madrid.
"Everything I did in my career I have to put on the field. I think that after a long time I understood the coach's ideas, I learned to move in the spaces, which is totally different from what I did at Atlético and also in Uruguay, "he said.
"Playing with this system is different, I have to get very tired to press. But now I feel good, and I can help. Then the experience is seen in small situations on the field," he added.
"I can play on the right, on the left. Now I feel good and this is the important thing. The team is well in defense and attack," he concluded.
Godín stressed that a player always wants to be on the field, but considered that you always have to work with humility, beyond the curriculum.
"The most important thing for me is the human part, respecting everyone. I knew that if I didn't play I had to do something else, work harder, and I did it. During the break I trained even more. I tried to get into the team little by little, always respecting the teammate. We know that what a player wants is to play. If I don't play I'm not well, but always respecting the decisions, "he added.

Photos from as.com