Champion teaches muscle: beat the Nets to start
VanVleet leads some Raptors who embroidered him for a quarter and a half (68-35). Good minutes from Marc Gasol and excellent level from Serge Ibaka.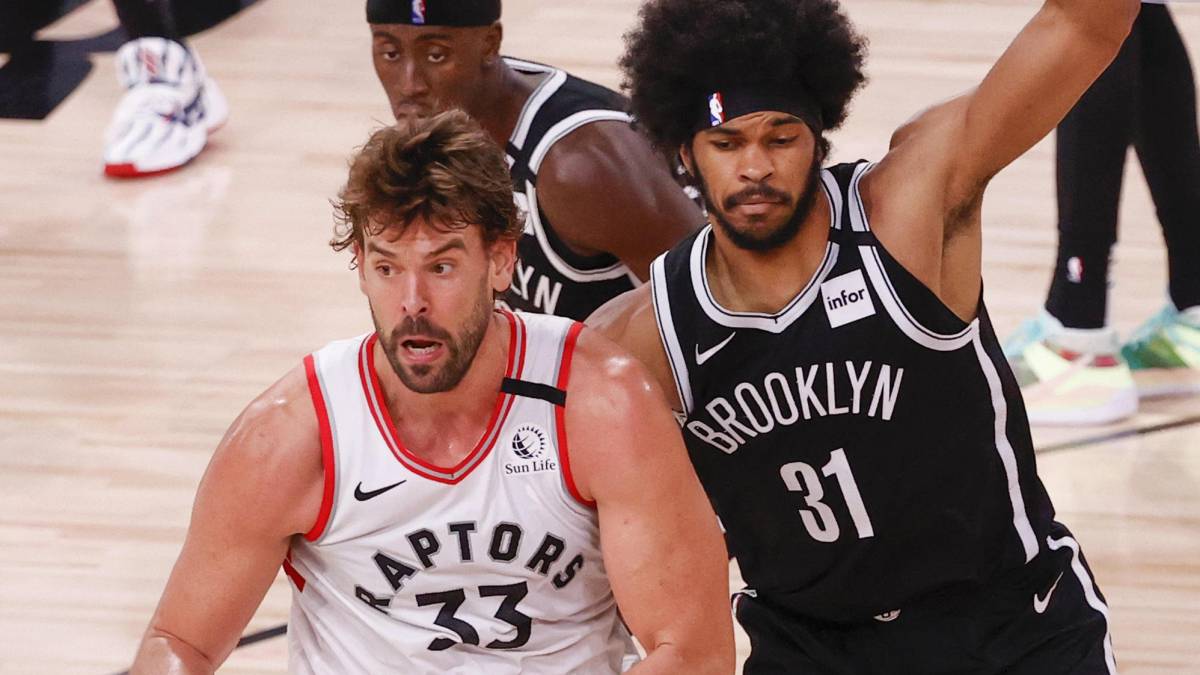 The champion went through the regular phase restart like a whirlwind (7-1) and opened the playoffs anyway: on full blast. The Toronto Raptors are such a compact team, so well trained (Nick Nurse is a gem) and so perfectly oiled that it is hard to remember that it was very difficult to count on them for so long after the summer outings of Danny Green and, above all, Kawhi Leonard. But there they are: with a better victory percentage, better points difference, better defensive efficiency and better net rating (difference between attack and defense ratings) than in the 2018-19 season. A miracle that stopped being a surprise long ago, of course before the return to Florida, and that raised the Raptors to the second best record in the entire NBA, only behind the Bucks; and with real aspirations to repeat the title.
For that you have to first navigate a hard East… but not in this first round. The Nets, a very worthy Nets, did what they could but lost (134-110). And that will surely be the tone of all the games in a series that should not last too long. Without Kyrie Irving, certainly without Kevin Durant, without DeAndre Jordan, without Spencer Dinwiddie ... the Nets hit the bubble with every reason to get carried away at Disney World but instead they have played very good basketball, they have competed in every game and they have reached where their talent has left them, which is not enough. This game was another example: wiped out and taken off the court in the fourth and a half (68-35), they managed to get into the game and, although it never seemed that the Raptors could lose control, they got to eight in the third fourth (95-86), before VanVleet's triples, Lowry's intelligence and Anunoby's work ruled out surprise in the last quarter.
Merit of LeVert, Harris, Temple, Allen, Luwawu-Cabarrot… players who have teamed up in Florida although no one knows who will coach the Nets or what operations will be done to put more wood next to Kyrie and Durant in Brooklyn. Just in case, they are giving a lesson in honesty and chemistry. That is not enough, of course, to be a real threat for these Raptors, who took a good nap and closed the victory when and how they wanted later. Before, they bared their teeth and allowed themselves a playoff live fire trial. His defensive resources, a Nurse arsenal that makes the Raptors a team unlike almost everyone else, and his attacking pace put the Nets out of control for a quarter and a half. Afterwards, there was really no game. Fred VanVleet, for whom there will be a serious fight in the next market, scored 30 points, distributed 11 assists and signed an 8/10 in triples. Lowry finished 16 + 7 + 6, Siakam (who does not finish catching his best touch) added 18 points, Anunoby 12, Marc Gasol 13 with 5 rebounds and an intense Ibaka 22 with 7 rebounds. In total, Nurse's men made 22 3-pointers of 44 attempts and posted a brilliant 32/33 on free throws. One more day, one more victory. And 1-0 for a champion who, it seems obvious, will not have even for the appetizer with these meritorious but very fair Nets.
Photos from as.com