Castro: "The thing about 'Again? Yes, again' comes from Michel Platini"
José Castro Carmona (Utrera, 1958) is seeking his fourth Europa League since he is president of Sevilla, a position he acceded to in 2013.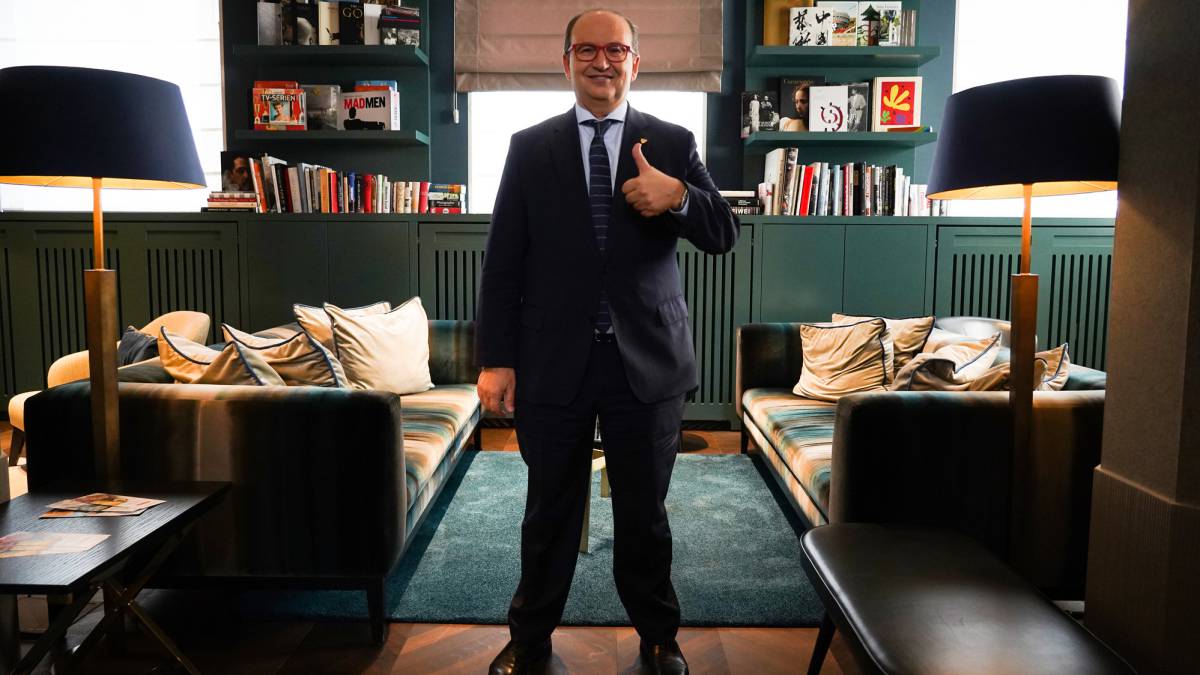 Again, Mr. Castro?
Yes, again (laughs). That phrase comes from Michel Platini, the second or third time we won the Europa League in a row. The then president of UEFA gave us the Cup and a commemorative painting, and he asked me, opening his hands: Again? And I replied: Yes, again. They were three consecutive years winning this competition, something that nobody has done. And there the phrase remained.
Sevillismo will be absent.
We will miss them, yeah. But I know they will cheer us on from a distance. Sevilla is a great company, one of the most important in Andalusia, and in addition to creating wealth it also brings great happiness. The fact that we are giving joy to the fans from here is what I feel most proud of, of generating that force in these difficult moments.
What feelings do you have in this preview against Inter?
Statistics say that every time we have reached the fourth, we have won. But we know the team we're up against. He is runner-up in the Italian league, a great with a lot of history. Of course, they play against the king of this tournament. We can only think of the party falling on our side, with great ambition and great respect for the rival.
It would be the 'Sixth'. Don't you get tired of winning this Cup?
How are we going to lose the desire to win a trophy that is ours, our Cup. The one for which we have most dreamed and worked. Having the Sixth at home would make us enormously happy. Time will give the importance of the last three qualifiers, against three great teams, and this final against Inter. No, we don't get tired of winning the Europa League, of getting money for our showcases, because we are insatiable.
You say it: after so many hardships ...
That's right. But after the pandemic we have been the best team at stake and in numbers, along with Real Madrid. We have been able to with the coronavirus, with the positive of Gudelj ... And we have already gone as far as we could go, to the final. This group is with an impressive desire and union. We are very motivated that it is our Jesús Navas who lifts the title. People are so into getting this that it's hard for us to miss it. But whatever happens, what sevillistas enjoy for us stays with us.
Does Banega's departure hurt?
Now we are with Inter, Inter and Inter. Later we will have to talk about many things, but now I am not going to allow anyone to deviate in this entity one iota from what we have to do.
So I ask you about Del Nido and that shareholder battle?
I insist: the institutional theme right now is Inter, Inter, Inter and win, win and win. This Seville will have something that is capable of achieving so many things. The staff, technicians and employees of the entity, all work at 140 percent. That 95.8 percent of our subscribers wanted to leave the money from last year's card there shows that their love for the club is above all else. Sevillistas are not stupid and they see what we are doing. The results are fooling no one.
Has Lopetegui surprised you? Few believed in him at first.
No. Julen has not surprised me, first because he comes with Monchi's endorsement and that is enough. But I spoke with him for five minutes and I realized that there was a great coach there despite what happened with the National Team, Real Madrid ... Lopetegui works 20 hours at the Ciudad Deportiva.
They want to start LaLiga the last week of September and the European Super Cup, if they beat Inter, it would be on 24. Can it be changed?
The appointment of September 24 would be inevitable, but we would see it. Hopefully we have to worry about that. Calendars are made like this. You have to try to win and think that the fans are dreaming of silver, with another title. And all, with a budget that does not reach 200 million euros. We are the team in Europe that have played the most finals in all these years.
Photos from as.com