Carreño: "I play because it is my job; zero risk does not exist"
Pablo Carreño is one of the two Spaniards (the other, Bautista) with a direct place in the final draw in Cincinnati. He spoke to AS from NY.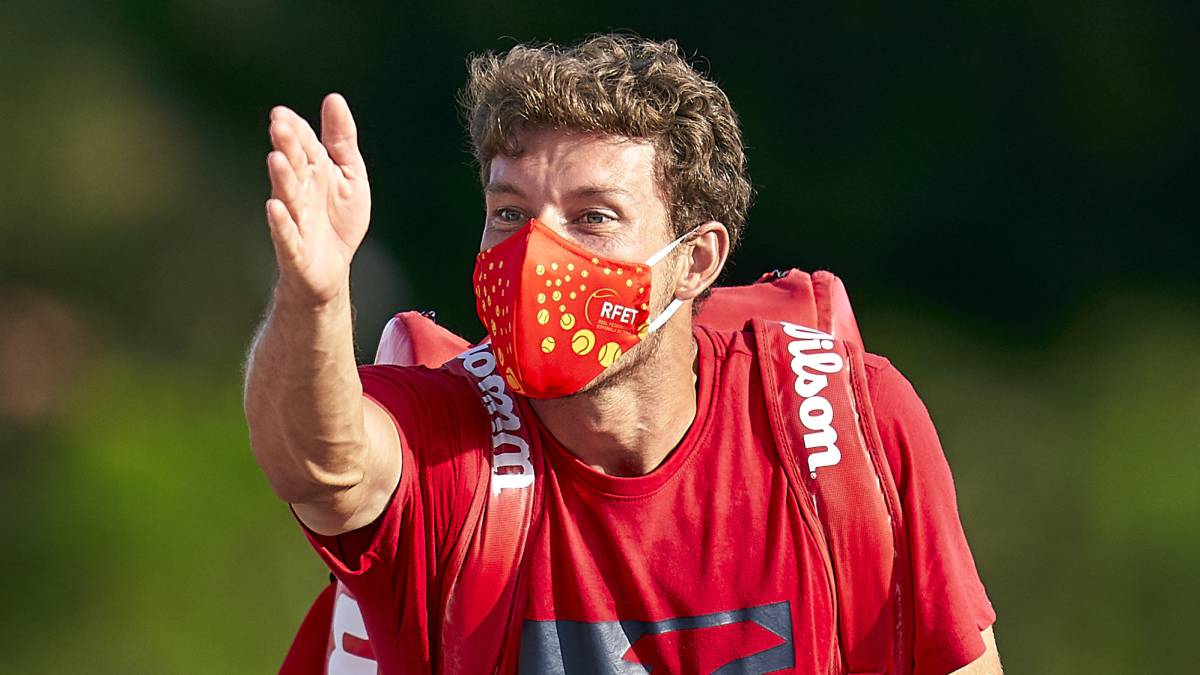 The official competition is back. Are you concerned about safety?
I am here because playing the US Open is important and since there is no quarantine afterwards, I do it because it is my job. There is danger, but zero risk does not exist. If everyone does things well, it is easier to be safe, even if it does not depend on oneself.
What do you think about the measures and possible sanctions for those who violate?
They are very restrictive and demanding, but you have to comply with them. The situation is very delicate and if someone skips them they can compromise the tournament and the 200 or 400 people who are here. Whoever infringes should be heavily penalized. I hope that, with demanding measures, the event goes well. They send you messages the day before to remind you when you should take the tests or they send you to fill out a form about not having symptoms, and that always before going to the club. The seeds we have a suite in the Arthur Ashe very well equipped, they bring you food so that we avoid going to the dining room.
Is playing now an opportunity for you?
With so many months without competing, it is difficult to know our real level. The best will continue to be the best, but the competition always changes, the exhibitions are one thing and the official competition is another… the body has to get used to it. There can be many surprises, and the absence of some favorites will give options to others with a slightly lower ranking.
What do you think of the reorganization of the ranking?
It has been a fix that hurts some and benefits others. Finding a fair solution is impossible, unless the ranking had been blocked until March of next year. It is a decision of the ATP that must be respected, it has tried to harm the majority as little as possible. It hurts me on the US tour and on the gravel tour it can benefit me, because in Rome I lost in the first round.
And how did you see the cancellation of the Davis Cup?
It is understood because they were not going to have benefits and surely they would lose, but for sports and a competition like Davis, I find it regrettable that they did not fight a little more and try to do something. I would have liked to end the year playing it, not because it was in Madrid, but because it is special and we won it last year. If the US Open is held, it means that if the Davis Cup were to be held, an effort would have been made.
How did you get through the lockdown?
I was at home, in Barcelona, only the first two months until I went to Villena. Bored like everyone else and attentive to the news that was coming out, the evolution, the uncertainty ... At first I did not know what was going to happen, I expected it to be two weeks of confinement, then things increased ... I always tried to maintain a routine to keep my schedules, not going to bed too late and getting up early. I did physical preparation every day at the same time by video call. Then I read, I played Play with my friends (online), I talked to my family who was in Asturias. I tried to have as much fun as possible.
Was your tennis severely impaired?
I do not think that the break has benefited me, because I was in a good moment and could have scored points to improve in the ranking, but I do not think it has hurt me so much, because I have had plenty of time to get back into shape, three months or more training with more normality and playing exhibition tournaments like Equelite's. The day the official competition begins we will not be able to make the excuse of not having been able to prepare, we will all start the same, because it has harmed us all.
What specifically did you prepare?
My priority was to recover physically, because tennis knew that sooner or later I would come back and I had time. I had to get back in shape. When I arrived in Villena I had lost three kilos and a lot of muscle mass that had to be recovered. In three or four weeks of preseason he was ready.
What are your short- and medium-term objectives?
My goal at the beginning of the year was to get close to the top 15, because between March and June I defended 90 points at Roland Garros and nothing else. The change in schedule has made the season strange, with surface changes in just one day. It will be six or seven weeks in a row of Masters 1,000 and Grand Slam competition that will be very tough. Rafa when the gravel season starts will come without competing, but fresher than Djokovic. Playing in the US has its good side and its bad side.
Do you feel increasingly competitive?
I lost that feeling when I was not able to play for two months in a row due to injuries. I lost confidence and it was hard for me to get back on track. It became very hard. When I was able to compete last year from the American tour to the end of the year, I regained my confidence, level, form, pace and results.
What are your sporting and personal prides?
I am sportingly proud of my career. When I was little I couldn't even imagine that I would dedicate myself to this and earn a living; that I would win ATP titles, that I would be top ten and that I would win the Davis Cup, the tournament that has made me win the most. On a personal level, it has made me different from the person I would have been if I had stayed in Asturias. I have known a lot of the world, different customs. I have lived alone, away from my family, in Barcelona and Villena, traveling the world… that has made me another person and has made me mature very quickly, with a different vision of life. See that problems have solutions and that the real ones are much more important than the nonsense that we worry about every day. Now I have experienced many things, very good and some bad, such as the injuries that made me grow and mature, see things from another perspective.
How do you see your stage in Equelite?
It is the fifth season that I am here, from the first I felt very comfortable and they treat me like a king when I am at the Academy. Everywhere, in the kitchen, the coaches, the kids… I feel like one of them, like home. The stay is very comfortable for me and the training group is very good, with players of a very good level, juniors who help a lot to train, then there is Carlos, Mario, Gimeno ... and when I am in Barcelona, César Fábregas travels with me to cover those weeks which makes things easier for me.
Do you feel like a benchmark in the academy?
Juan Carlos was number one and gave it the name of the Academy, but I am excited that the Academy boasts of me and can put on his resume that he has won another Davis Cup with me, I am excited and I am proud to be able to give him more prestige yes it fits.
Photos from as.com