Brakes also doomed Quartararo's career
"In the warm up I was left without brakes. When that happens and in the race you notice the very weak lever, you lose confidence and you have the feeling that you are going to run out of brakes," he says.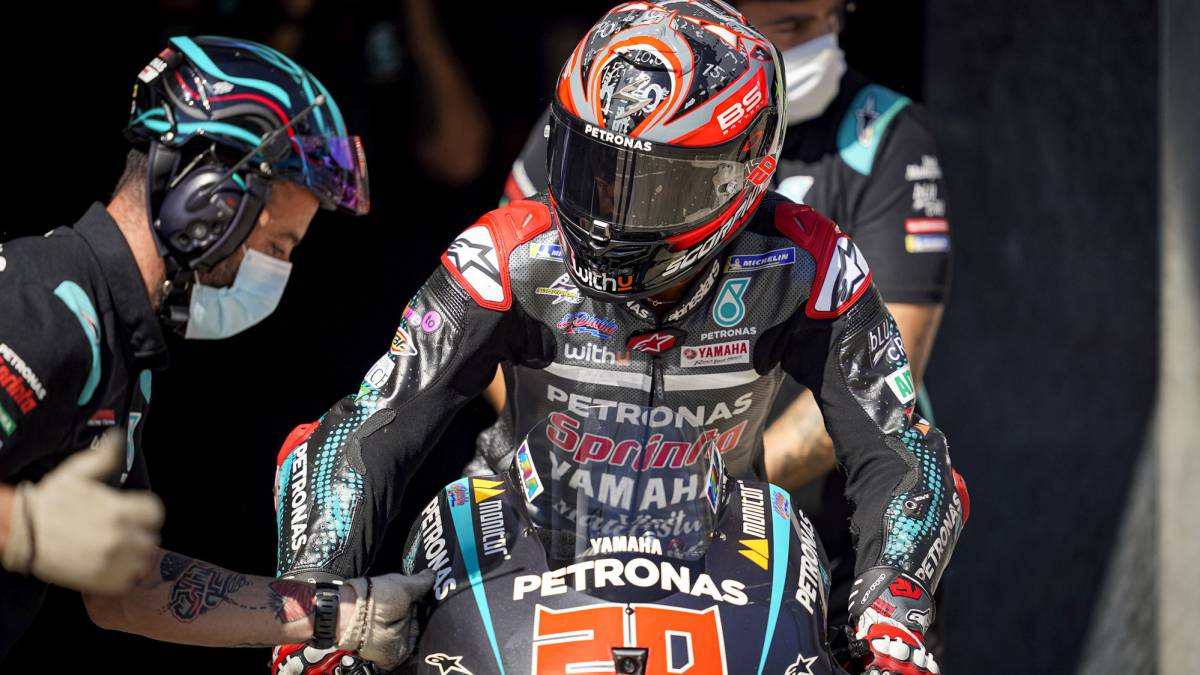 Yamaha needs to get to the Marco Simoncelli circuit from Misano like eating. His balance after the two appointments in Austria is a fifth and a ninth place as the best results, both with Rossi's signature ("the fifth was because there were many falls," he explained himself). And everyone hopes that they will do much better on the Italian track, because historically it has always been that way and Quartararo already fought for victory until the last lap last year, when Márquez beat him. The leader of the general classification could only be 13th yesterday and brake problems also condemned his race. He did not need to jump off the bike while running, like his teammate Maverick, but he ran without confidence because he had already run out of brakes in the warm up. The Petronas Yamaha SRT driver explained his career like this: "In the warm up I ran out of brakes once. When that happens and in the race you notice the lever very weak, that has an impact on your confidence because you have the feeling that you are going to run out of brakes at any moment. It is very dangerous and conditions you a lot ". You don't have to be a pilot to imagine what he must have gone through, so it is not surprising that he ended up desperate: "We are being too irregular, so it is impossible to fight for the World Cup" .Rossi, on the other hand, had no brake problems because he opted for the bigger pads that Brembo carried for this appointment, something that Maverick did not do. "I had some brake problems last week, but this weekend we worked with Brembo. We used a different version from Friday and I had no problem in the race. This is a very demanding track with the brakes, so everyone suffers, but we suffer a little more because we try to compensate for what we lose on the straight when we brake and in this way we stress the brakes a lot, "said The Doctor after the race that Oliveira won. More from Rossi and his point of view on this crazy championship: "We are all there, we are not very far. A very interesting situation is emerging for this championship. Who will win? Everyone who seems like a favorite then has a setback. I don't know if Quartararo feels the pressure, but I think he is having technical problems. It was scary in Jerez, but then more critical tracks came and it was difficult. Mainly I think it is for a technical issue. What we hope is that our bike will do better in the next circuits, like in Misano, where we were competitive last year. The bikes that used to be second row, like KTM and Suzuki, have improved a lot. This means that there are at least six other bikes that can fight for victory. All MotoGP riders are strong, so it's very interesting. Now you go fast if you work well with the tires. If you get it, it's easy from Friday. The following week you go to another track and everything goes wrong. The biggest problem is that nobody knows why, so it is difficult to solve ".About Misano, Quartararo is also very optimistic: "Misano will be a circuit that will suit us better, but Yamaha has to work to solve the problems that the bike has. I hope that with the normal carcass that we will use there we will feel competitive again ". It says so because Michelin will recover its conventional rear tire there. Happily behind is Austria for Yamaha, a scenario in which Rossi was clear about what would happen: "We knew that on this track we were going to suffer, because here top speed is very important. It's the same as last year. We are working to try to resolve the situation, but it is still very similar. Last week I managed to finish fifth because there were a lot of crashes ahead. Now nobody made a mistake, so the first Yamaha was ninth. It is true that we are doing well in other circuits, because we made a triplet in Jerez, so let's hope we do better in the next circuits ". Yamaha is lacking, although they remain leaders with Quartararo despite their last three races.
Photos from as.com