Bilbao Basket starts the year of confirmation
After a campaign in which he has left the mouths open to many, he has had to pull bets once again before the departure of key players via transfer or escape clauses.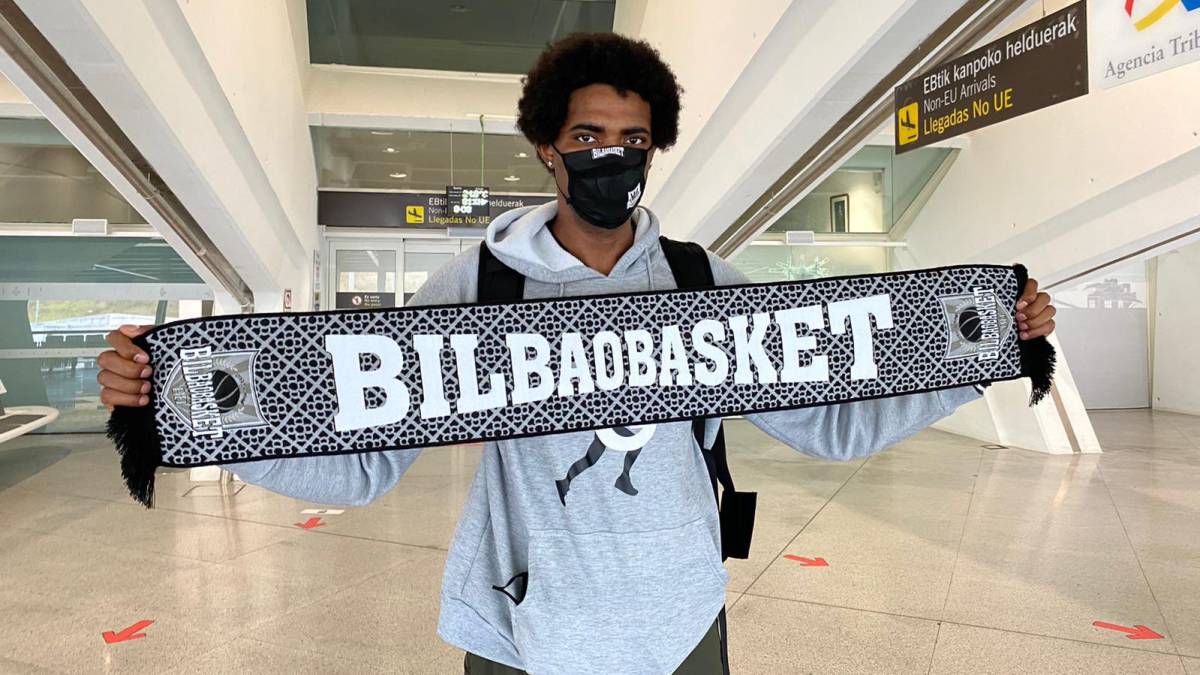 Charlotte-Washington-Brussels-Bilbao. It is the tute yesterday of the affable Aaron Jones without removing his smile all the way (it is assumed that with the mask one does not know if they are sticking out their tongues or blowing kisses) to start his first stage in the ACB. In the afternoon, Jaylon Brown arrived, opening his third year at Miribilla, one of them at LEB with the promotion. A tough injury prevented him from expressing himself as he knows last season so he has a thorn in his side. Both played together at Salon Vilpas Vikings (Finland) .
With these arrivals, there is now only Moses Kingsley to join the group, a Bilbao Basket that has had to reinvent itself, before the departures by transfer of Bouteille (this with the current season, to Unicaja) and Lammers, to Alba Berlin from Aíto; or via clause (Sulejmanovic al Tenerife). Rafa Martínez put an end to his stage as a 'man in black' and will say goodbye to the game he loves so much in Manresa, closing the circle that is said. Schreiner and Cruz did not want to renew, and Sergio Rodríguez did not reach an agreement to do so and accompanies Sule in Tenerife de Vidorreta.
Therefore, Jonathan Rousselle, Jaylon Brown, Tomeu Rigo, Quentin Serron, Arnoldas Kulboka, Ondrej Balvin and, as coach, Alex Mumbrú continue. Only Brown and Rigo remain from the promotion. And it's something that people in Bilbao will have to get used to: betting and if they go well, the powerful will dismantle the group. Mumbrú has the ballot to defend a very high bar. He signed for two years and although Zalgiris had it on their agenda, they want to evolve with a franchise that is already part of their soul.
Y to try to take the ship to a port similar to this year, has enhanced the physical, especially under the hoop. Dos Anjos, a born five, has barely set foot in the ACB (four games in San Pablo Burgos in 2017-18) and tries to resume those notes that placed him at a top level in the League when he was in the Madrid quarry. The ticket had to be worked for an opportunity at LEB. Álex Reyes (Oviedo Baloncesto) has the high bar of making Sergio Rodríguez, the other Chacho, forget. Something similar happens with Ludde Hakanson (Stelmet Zielona Gora): he wants to establish himself in the category, show that he has an ACB level, after passing through Barcelona, Seville, Fuenlabrada and Estudiantes. He had to pack the duffel and is back. Too many teams with 24 years. He will meet again with Jaroslaw Zyskowski, his partner in the Polish Zielona Gora. Aaron Jones (Crailsheim Merlins) and Moses Kingsley (Peristeri) are two forces of nature, athletic folks who were sometimes missed in tough games last year. Although what can be blamed on a recently promoted who has struck down all the Euroleague? 444 444
The team is summoned at 5:30 p.m., extreme precautions and protocols, and more so now that they begin to jump positive in the teams' preseason. Holidays have been shorter than other times. And the club that Mauraza presides over (well that's what the councilors say, although that chair is emptier than the emeritus room) is stunned, like everyone else, by the unknowns derived from COVID-19. In a new step of ambition, he has confirmed that he will debut in the Basketball Champions League and gives his fans that continental adventure to make up for what they could not see last season, but without even knowing if he can give away something that right now looks like smoke: have people in the stands.
The preparation matches will take place within a radius that will not exceed 300 kilometers, thus avoiding long journeys to avoid unnecessary risks in this complicated situation. The U-22s will be with the elders Miguel Ruiz, who already debuted with the first team two seasons ago in LEB Oro and surprised everyone in the Fonteta 'bubble', Iñigo Betolaza, Nahuel del Val and Diego Rodríguez. The coaching staff, how could it be otherwise, remains unchanged, with Encinas and Salgado as close collaborators of Mumbrú. He was already wanting to return to action: "We know that we miss you at the end of the season. We feel the desire and need to meet again as soon as possible. We will train to win the Covid-19 and so that when that comes day let's be ready to enjoy our passion for basketball together Let's go to trouble ".
Photos from as.com