Arturo Grávalos and Eduardo Pérez-Landaluce, new stagiaires of the Kometa-Xstra
The Rioja and Asturian will be part of the Continental team and it is expected that they will participate in some tests until the end of the season to continue their growth.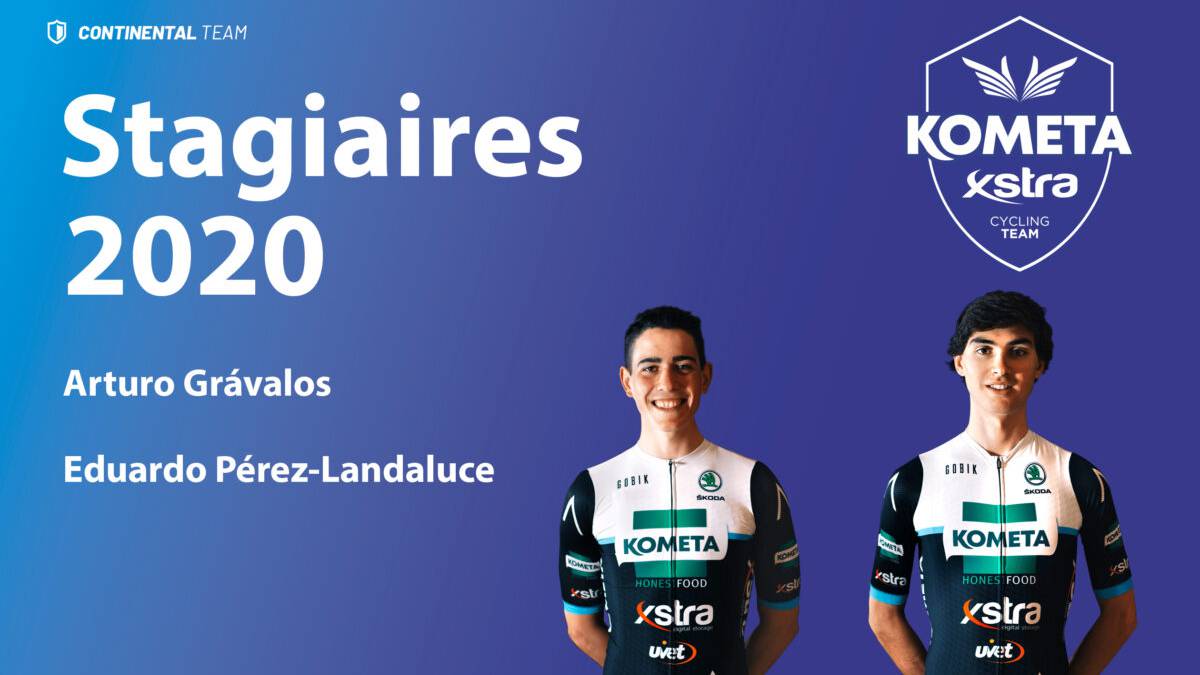 The Riojan Arturo Grávalos and the Asturian Eduardo Pérez-Landaluce will compete throughout this season with the continental Kometa-Xstra Cycling Team as stagiaires (apprentices). The two riders of the U23 team, both 22 years old, have been chosen to compete in some tests with the continental structure led by Jesús Hernández and Dario Andriotto between now and the end of the season.
Grávalos (March 2, 1998), which faces its second year within the structure of the Alberto Contador Foundation, had a great 2019 season, including a silver medal in the Murcia Nationals, which ended earlier than planned as a result of injuries to his left hand derived from a traffic accident from which, after undergoing surgery and undergoing rehabilitation, he is fully recovered.
"When Rafa and Carlos told me, as you are always joking, I thought they were kidding me. But no. It was an impressive joy, and more after the injury. It is a huge opportunity that you have to make the most of. Fortunately the accident is more than forgotten, but the truth is that at the beginning the doctors told me to forget to compete, even at some point I thought I would have to leave the bike. But I have worked very hard. We are lucky that in the continental team we know the people and we have raced with some. I have good friends, such as Alejandro Ropero, Sergio García, Alessandro Fancellu or Diego Pablo Sevilla, with whom I have trained at some time and he is a very friendly, very close boy ", says the Riojan.
Pérez-Landaluce (May 1, 1998), who a few seasons ago had already been part of the Foundation's junior team, returned to it also in 2019 to compete in the sub23 led by Rafa Díaz Justo. "I am very happy for this opportunity that I will be able to enjoy. I am very grateful to Rafa Díaz Justo, Carlos Barredo and Fran Contador, and all my colleagues because this is something that also belongs to them. The truth is that in a year as rare as this, news of this type is a motivation, a contribution of desire to continue working and doing things well. In the end, an opportunity like this means they trust you. I am looking forward to helping the team and doing everything that both Jesus and Dario tell me ", assesses the Asturian.
"There is a profile of a rider that we believe that due to their physiology they perform very well in professionalism, better than in the amateur category. Sergio García, with his performances in the Vuelta a Murcia or in the recent Getxo Circuit is a good example. With Arturo and Edu a similar case can be given. Both are great long-distance runners, who work very well from the fourth hour of the race. A big problem in the sub23 category is that in many cases the races are short and that, in the face of a leap to professionalism, it shows ", explains Rafa Díaz Justo, director of the Kometa-Xstra Cycling Team sub23.
Regarding the Riojan cyclist, the man from Toledo states: "Until his mishap at the beginning of the summer, Arturo was showing great form. He did a very nice Giro, with all the handicap of his toughness, and during all that he competed he showed us that he is that type of runner that hunters for stages in big tours. Grávalos is a great wheeler, with a great engine, he goes down a certain mountain well and has room to better pass the high mountain. After the Giro and finishing second in the nationals, he had an accident and was unemployed for six months. We gave him a lot of peace of mind, because he had gained a lot of weight, and before confinement he already had a good level. After the same he has shown a brutal sporting level in Zamora, which was a pleasant surprise. He is an obedient cyclist, not selfish at all, a very good companion and above all he is brave ".
Regarding Pérez-Landaluce Díaz Justo contributes: "He is a very similar profile to Arturo, also with a lot of drive and with experience in the Foundation's junior team. He is also more cautious than Grávalos, he must be encouraged to venture into certain racing situations. With him we have a particular struggle with the issue of weight, and it is precisely the opposite: he is a very fine boy, he has a practically professional body. Edu works very well in long and very hard races, because such are his physical conditions. But in shorter, more explosive others, he's not exactly in his habitat. So a little more weight would allow you to stand out more, because you also have more strength in your legs. Looking to the near future, we think that he could be that great gregarious person for the mountains. "
Since the continental structure of the Alberto Contador Foundation was born, four have been the stagiaires that have competed with it: the Spanish Alejandro Ropero and the Italian Stefano Oldani, in 2018; and the Hungarians Karl Adam and Vas Balazs in 2019.
Photos from as.com