Angélica Bernal, the Colombian who wants to succeed in the US Open
The Bogota woman, number 10 in the world, will be one of the eight tennis players participating in the wheelchair modality, both in singles and doubles.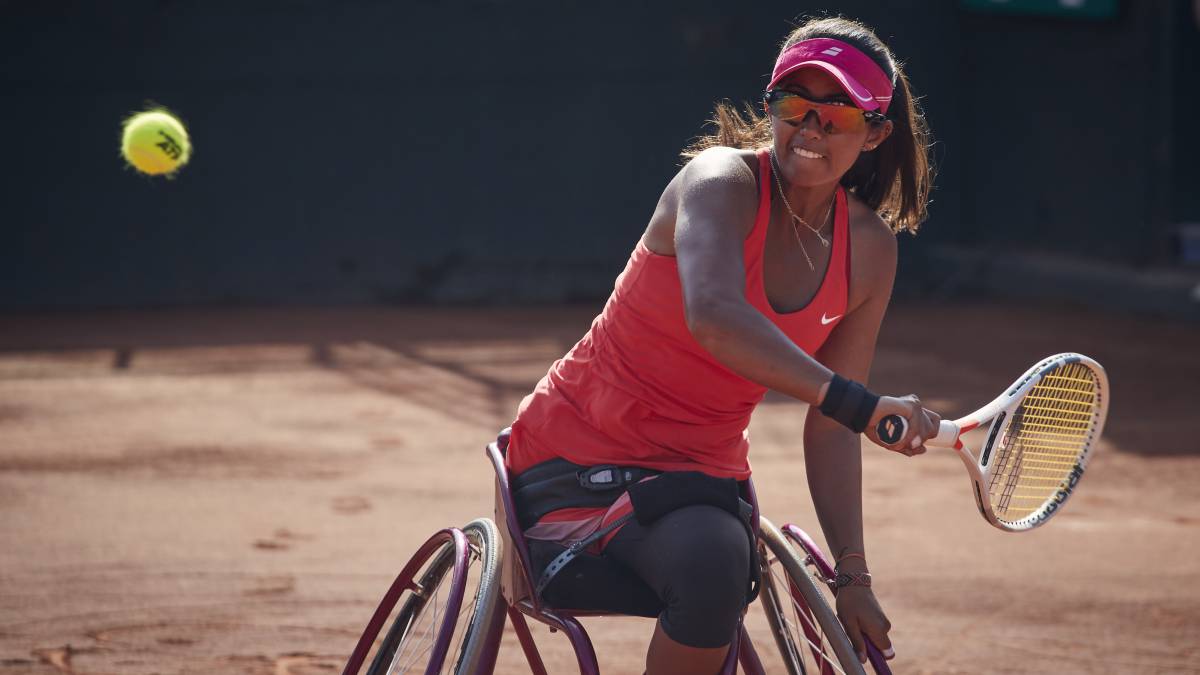 María Angélica Bernal Villalobos is ready to fulfill a dream. The Colombian tennis player will participate for the first time in the US Open, in the wheelchair modality, both in singles and doubles; in this last one she will compete with the American Dana Mathewson. Last details before traveling to New York.
Bernal, Colombia's number one racket and tenth in the world ranking, is one of the eight tennis players who will be present at the Grand Slam, who has not yet defined her team. Diede de Groot (Netherlands) Yui Kamiji (Japan), Aniek van Koot (Netherlands), Marjolein Buis (Netherlands), Jordanne Whiley (Great Britain) Momoko Ohtani (Japan) and Dana Mathewson (United States) will be their rivals.
The Colombian has played on the ITF circuit since 2007 and throughout her career has won 21 singles titles, four of them achieved in 2019. In addition, last year she won the gold medal in the Parapan American Games in Lima.
Angélica Bernal spoke with AS Colombia before her participation in the US Open, which will be held from September 10 to 13 at the USTA Billie Jean King National Tennis Center in New York.Beginnings: "My disability is from birth and is called phocomelia, which is the lack of a limb, which in my case is the right leg. I have used prostheses since I was two years old. My father was an athlete so he taught me various sports. He played tennis, soccer and skating. At the age of 11 I was invited to a wheelchair tennis clinic and a coach told me that I had good technique, although I did it standing up, and that if I did it in a wheelchair I could be professional. I thought a lot, but an aunt who is a coach supported me, I really liked it and I have had good results ".
Top 10 in the world and 1 in Colombia: "It is a job that goes step by step, it is the way I am going for my great dream, which is to be number one in the world. Representing Colombia and being number one is a very big responsibility because I can be an example for many children and young people. Being in the top 10 is very important to me, I got there last year and it is the fruit of all the work I have done. "Objective, to be number 1 in the world: "It is a long-term dream, I don't know in how long, but in a few years I can achieve it. The first thing was to reach number 10 to be able to play the Grand Slam and thus improve every year. two or three positions. I have already played with all those who are above me in the ranking and with the good work that I have been doing, I will be able to achieve it ".Challenge at the US Open: "Reaching the US Open is already a dream come true. Now I have to take advantage of that great opportunity that was opened to me. I am going to show the talent of the Colombian athlete and thus improve my ranking. In the doubles category I see many options because I have already played with my partner and we have had good results. "Doubles with Mathewson: "We understand each other very well with Dana, I really enjoy playing doubles with her. We are going to deliver our best from the first game, which started in the semifinals." Rivals in singles: "They are quite strong. Number 1 and 2 are girls who have an incredible game and it has cost me the games against them. I have taken advantage of all this time training and I feel stronger to face them" .Preparation at home: "The first days I started training under the routines that I had in the gym and seeing what I could do with what I had at home. Then I had a specialized routine by my physical trainer and my coaches accompanied me by video call. No The return to the fields was easy, that's why I'm not in Bogotá. I came to Fusagasugá and I have a field that I only use with one of my coaches, complying with the biosafety protocols and training hard all day. "Tennis return after COVID-19: "We are all in the same conditions, it was a long stage in which we could not be on the court. We all arrived with the same conditions, but I feel with a very good rhythm and we have taken advantage of the court time ".Good moment for Colombian tennis: "What has led us to this good moment is the strengthening of the sport and the support that has been improved by the institutions, in my case the IDRD. Now we trust much more in the athlete and in his talent. The work is more serious and professional ".Goals: "The goal is to begin to improve my ranking and be among the best eight in the world. I also think of the Paralympic Games in Tokyo to arrive as a seed, there are only eight seeds and my goal is to be among them" .
Photos from as.com