Anacona and Dayer, ready to help Nairo win the Tour
The Colombian cyclists of Arkéa Samsic trust their leader and as gregarious they are at their disposal to get the yellow jersey.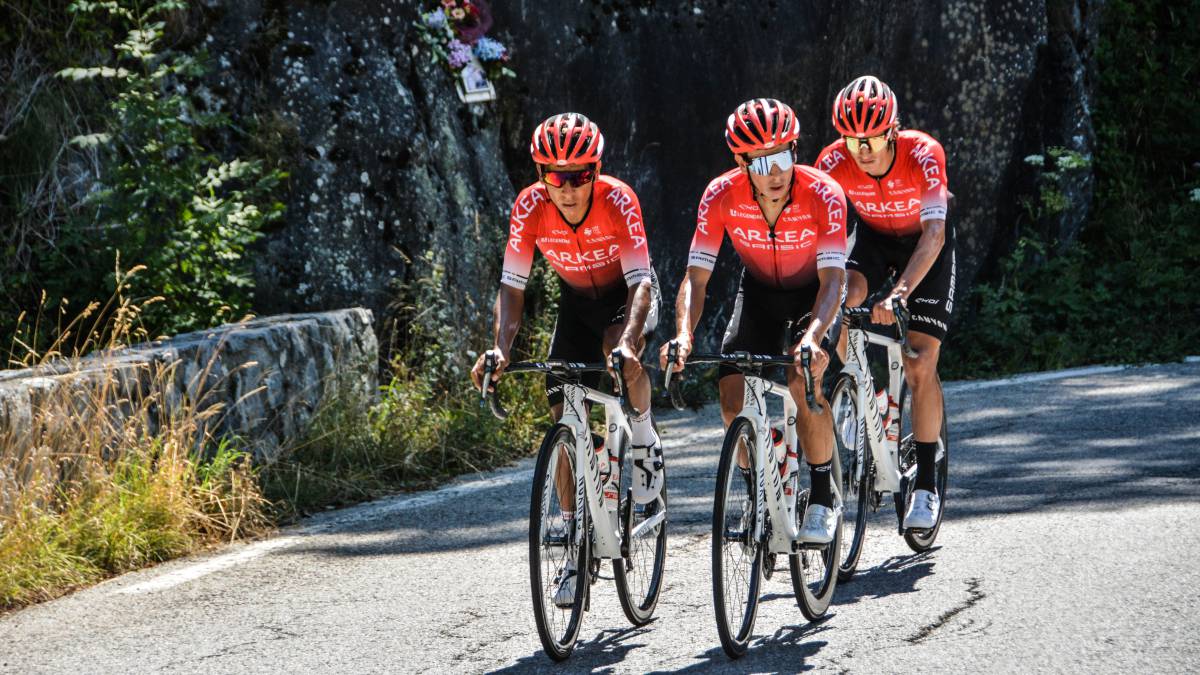 Winner Anacona and Dayer Quintana are ready for the 2020 Tour de France, where they will be gregarious for Nairo Quintana, one of the 13 favorites, at Arkéa Samsic. The two Colombians have the confidence of their leader and will seek to work for him to obtain the yellow jersey at the Grande Boucle, which will begin this Saturday, August 29 in Nice.
"In a team when there are three leaders, they are two less gregarious. The first leader is undoubtedly Nairo and Warren (Barguil) Nairo has also made himself available. When this is the case, it is easier because there are roles that are completely defined. There are roles that they can change, but it depends on the race, "said Anacona at a press conference. "Our strategy with Nairo is day to day. There are days where Nairo will need us to be with him until the last moment, he will need us to shoot or be with him always. The idea is to be with him as far as we can. That is the strategy that we have for now, "added Dayer, who was reunited this season with his brother at Arkéa. "For me it is a dream to be on the Tour with Nairo"
Dayer Quintana will debut in the Tour de France, fulfilling the dream of doing so alongside his brother, who also assured in recent days the importance of racing together. The Boyacense will have his third participation in a great lap, after racing the Giro d'Italia in 2015 and 2018. Now, he will seek to be useful for his team to achieve the objectives set.
Running with Nairo: "For me it is a pride, a pleasure and a dream come true to be together with Nairo in a big one. It was the dream we had since we were in school and we started to ride a bicycle. To be here with him and what consider us as key pieces to achieve the objectives that have been proposed, it is comforting and also gives pressure ".
Key stage: "There are stages where there will be a lot of adrenaline, where people will want to make a difference, but we believe that the key stage will be in Col de la Loze (stage 17). It is a flat stage at the beginning, then the Col de la Madeleine and finally the Col de la Loze, which is always climbing and has ramps that are quite difficult ".Biosafety protocols: "The equipment is quite good. The staff and we keep complying with the rules, using the mask and applying the gel. We always try to keep our distance. They disinfect the rooms. We have to take care of ourselves and not expose ourselves to other people "."Arkéa is at the same level as the WorldTour" Winner Anacona will return to play a great lap after two years and will return to the Tour de France, where he had not run since 2016. The Boyacense assured that it was difficult for him to regain the level after the suspension of races for COVID-19, but is already in the best shape to meet expectations. Objective: "I complete two years without doing a big one, obviously I am motivated. There is a lot of desire and a lot of ambition. We have a solid leader and a team that can fight. We do not feel less than the others. The meeting with the first races has served to put the engine in tune. Some have found it difficult to resume more and others less, but we want this Tour to go well for us ".Gregario de Nairo: "With Nairo there has been a good job beyond friendship. In the great goals I have tried to get the best of me so that he can take advantage of it. Nairo trusts me a lot and I thank him for that, the best The way to restore confidence is to do things at a good level. He has the pressure to be a leader but we as gregarious people have the pressure to respond to expectation ".Team Arkéa Samsic: "This year we have found ourselves in a new team where they have received us very well. At the infrastructure level the team is well and is at the same level as any other team. Arkéa is at the same level as the WorldTour teams. The working group has been excellent and we hope that this race will not be the exception ".Return from cycling: "There are some who seem to have had no effect from the suspension and others who had a little more effect. The pace has been impressive, for example, it has taken its toll on me but I am now recovered and I arrive very well on the Tour. work that was done at home and the races have served a lot. "
Photos from as.com