Albert Fàbrega: "The riders want to compete with Alonso"
Albert Fàbrega (Olot, 1972), commentator for Movistar Formula 1, talks with AS of the World Championship, Carlos Sainz, Fernando Alonso and their work on the track.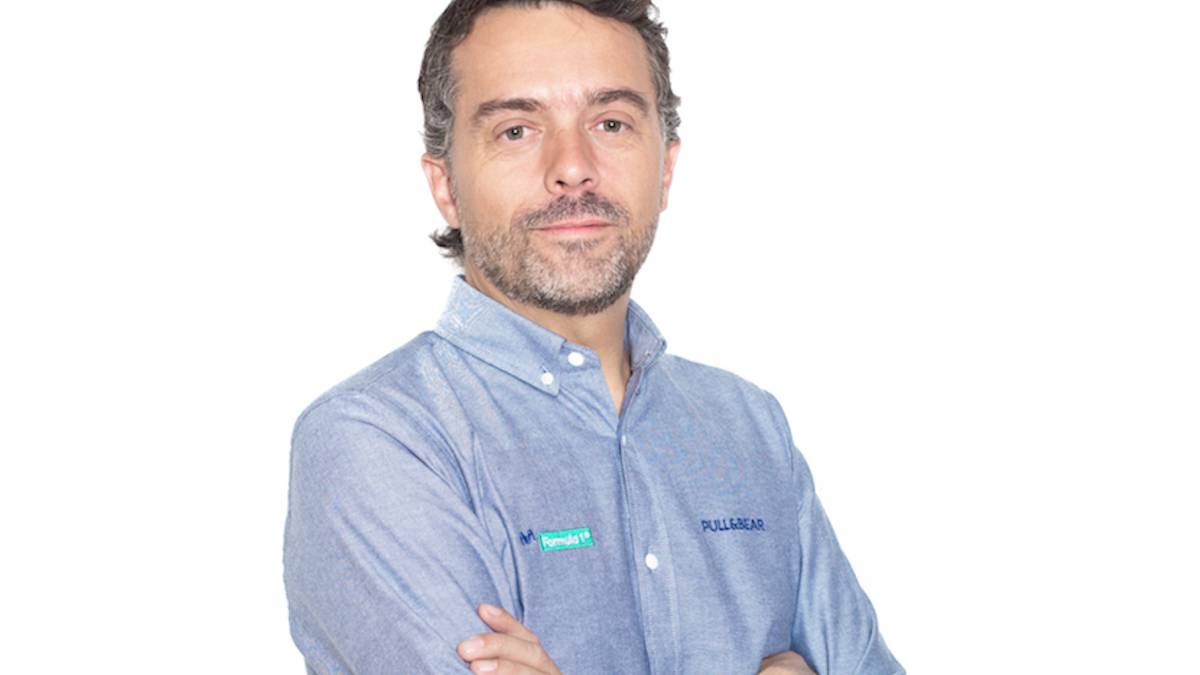 EI F1's 70th anniversary comes to Silverstone in times of coronavirus, but the show doesn't stop. Albert Fàbrega, commentator for Movistar Formula 1, offers the viewer the simplest possible approach to a complex technological world. The pandemic has limited its radius of action, but its essential mission remains the same. See and tell what happens on the track.
How is Silverstone after Racing Point?
The atmosphere is tense and there is a dispatch war, but it is normal in F1. We have seen it on other occasions. The situation is critical due to what may happen in the future, but in F1 it has always been copied and information has been transferred, either because it has been counted, photographed, or employees of another team have taken information or knowledge. This time, some teams believe that a hitherto respected line has been crossed.
It has also been a tire week ...
Yes. In Silverstone it is a nerve center. Surely with Suzuka and Spa it is the circuit that demands the most. Not in degradation, but in the energy that goes through it. Those high-speed high-speed curves that are also linked ... The other day there was not only an issue of degradation, wear, blistering or grading, but there were also those punctures in the last lap that had a determining influence on the first positions of the classification. These are things that can happen. The teams took the risk of not making an extra stop to maintain positions on the track and when you are in an area of so much wear it can happen. Any external element, blows to the pianos, can affect the tire casing. It is one of the team battles. Try to minimize pit stops even at the cost of slowing down the race pace. We have seen different episodes here at Silverstone. And there is an added drawback. The same tires as last year are used and the car's performance is higher. There is more power and more downforce, so the tire has to support more energy. The temperature forecast for this Sunday will be higher and the medium tire from the last race will be the hardest one for this one. Pirelli has increased the minimum pressures to protect the case. The degradation will increase and we will be exposed to a scenario that forces two or even three stops. The soft tire looks like the teams will try to avoid the race.
What is the great virtue of Carlos Sainz as a pilot?
He is a man who has learned to manage situations in an excellent way, he always makes the most of what he has and is a great team worker. When he had to take out the hammer, Carlos took it out and hit the table. His aggressiveness, his outings and knowing how to take the necessary risk at all times, have consolidated him as one of the great drivers of the future and that Ferrari has trusted him. Carlos' signing is not for 2021. It is for the future with the new regulations. We are all very clear, Carlos included, that the time to arrive is not the best in history, but there is a very clear objective which is 2022. I am sure that he will get along very well with Leclerc. He knows and is aware of where he is going and what he is going and therefore in two weeks in Maranello he will have already proven his worth not only on the track but also in working with the team. And from here on, what you get will be your credit. I don't think I'm going to enter number two. His status in the team will depend on him, his results and his work. He has a very long stage ahead of him as a winning driver if the team is. If Ferrari has a winning car and is able to put together a winning team, Carlos Sainz can be world champion. In Formula 1, the results not only depend on the driver, the car or the team, but they come when these three conditions work in unison in the same direction. He is a candidate to win the World Cup. What will happen? I don't have crystal balls and in Formula 1 I have learned that it is not convenient to have them. The result in the general classification does not reflect either the pace he has had or the opportunities he has managed. There have been several factors that have penalized your bottom line. That middle fight is very tight. And the teams that have brought the best performance to the conditions they have, the whole team, car and driver package, is McLaren. Although they are third in the World Cup and one of the benchmark teams, perhaps it does not mean that they have the third fastest car on the grid.
What do you enjoy the most as a commentator?
Having been on the other side of the box I like the work of the teams, seeing how the cars develop, the pitlane, but also the Formula 1 of the dispatches. And talk with people, with teams, analyze and be close to see the detail. Formula 1 does not stop. Generate information constantly. We are in 2020 and we are already talking about 2021 and 2022. There is no sport that is capable of generating so much information. And then you have to try to convey concepts as flat as possible. With examples from day to day. And for that you have to touch things. In the El Ojo de Fàbrega section I go with my camera walking around the circuit, the paddock, boxes, showing things that are not normally seen. It is another more didactic point of view, from you to you, from another atmosphere that goes beyond cars.
A lot of information is handled. It could be said that they study during the week ...
Formula 1 does not stop. It does not start on Friday and ends on Sunday. Generate information constantly. It is surely one of the sports that generates more information every day. The teams, the activities, the technical developments, the international federation ... After the race there is time to analyze what happened, there are different points of view ... We are in 2020 and we are already talking about 2021 and 2022. Formula 1 as technical sport has no equal. There is no sport that is capable of generating so much expectation and information. It makes you have to be 24 hours connected, reading ... And reading between the lines. F1 is not a job, it is a way of life.
How do you prepare this information for later transfer?
You have to be connected with the teams directly through their press releases and press officers, but also indirectly. Having worked makes you meet many people who are inside or have been and that allows you to have many sources of information. Not so much to obtain it but to contrast and read between the lines and draw conclusions. You have to always be up to date 24 hours, seeing what people do and how they execute it to anticipate what is going to happen. One thing is what they tell you and another is what really happens. You cannot settle for a single source. You have to try to have three or four. The best of all is your own eyes.
How is it defined?
I'm in love with Formula 1. I have participated in rallies, in touring cars, in the American card, in Le Mans, F1, FE… In the end I am passionate about motorsport and it has allowed me to be inside and outside the box. That gives me a different point of view and allows me to better analyze situations and, for now, it allows me to continue enjoying this sport, bar business or business bar sport. Lucky to be able to experience it first hand. Whichever side you are on. Now I am very comfortable in Movistar Formula 1. I feel very grateful because I have been able to carry out ideas that I have had and they have always been very open. What I like is the concept of hands in the dough. Try to transmit technical people without making it heavy or complicated to understand. First-hand, with examples from day to day, which is what has made me understand many things. Formula 1 is a technically very complex sport, but you have to try to convey that concept as flat as possible. Let people understand the concepts, not the details. And enjoy it. And for that you have to touch things and compare them with everyday things. Sometimes I get messages thanking me that they have finally understood a concept. I am satisfied. It is possible because Movistar has relied on this way of transmitting.
How is the F1 World Cup in times of coronavirus?
There is no audience and whether you like it or not, sometimes we forget when we watch the race, we notice it a lot. Leave everything a little more impersonal. Each circuit seems to you practically the same. We are in quarantine, we go from the circuit to the hotel and from the hotel to the circuit, we cannot go out to dinner or take a walk ... We have been locked up for ten days. That makes it more impersonal. It does not matter that we are in England, Barcelona, Belgium ... It is uprooted. This as a general concept. And in the day to day it is much more complex due to the measures. We must be in our cell, you cannot mix with anyone, get closer, access the pit lane that is my second home, there is no motorhome ... Everything is much more complicated, but we all assume that it has to be that way or it would not be.
How have you noticed that the stoppage of the competition has affected?
The pilots are at a beastly level of preparation right now. They are super athletes. A break of this type may have influenced not being able to scrupulously follow this pace of preparation without getting into the car. It has some kind of influence ... That this may have affected his performance on the track I think not. Maybe in the first free practice, but after five or six laps the drivers reconnect with the car. There have been no consequences or any result that we can attribute to that stop.
The last one. How did Fernando Alonso's lap sit down for the drivers? 444 444
Nobody understood how a driver was not sitting in a car that was also competitive. It was good news and it will be a joy to see him racing. He is a natural competitor. It doesn't leave a millimeter without a fight. That ambition and that talent is going to be great news. The pilots themselves want to compete with him. They know that he is a careerist, of real racing, who fights everything. Great pilots always want to fight face to face with great pilots. Regardless of the fear that he may return, they are happy about his return. Alonso does not go unnoticed at all. He tells things how he feels them and it takes pilots who move away from the canned speech or the speech of the press officer. He has always told what he wanted and that is necessary.
Photos from as.com