A terrifying postcard for Carlos Sainz's McLaren
Point bleeding with the pit stops of the Woking team: up to 12 went to pit lane. "The pistol did not release Carlos," Seidl explains to AS.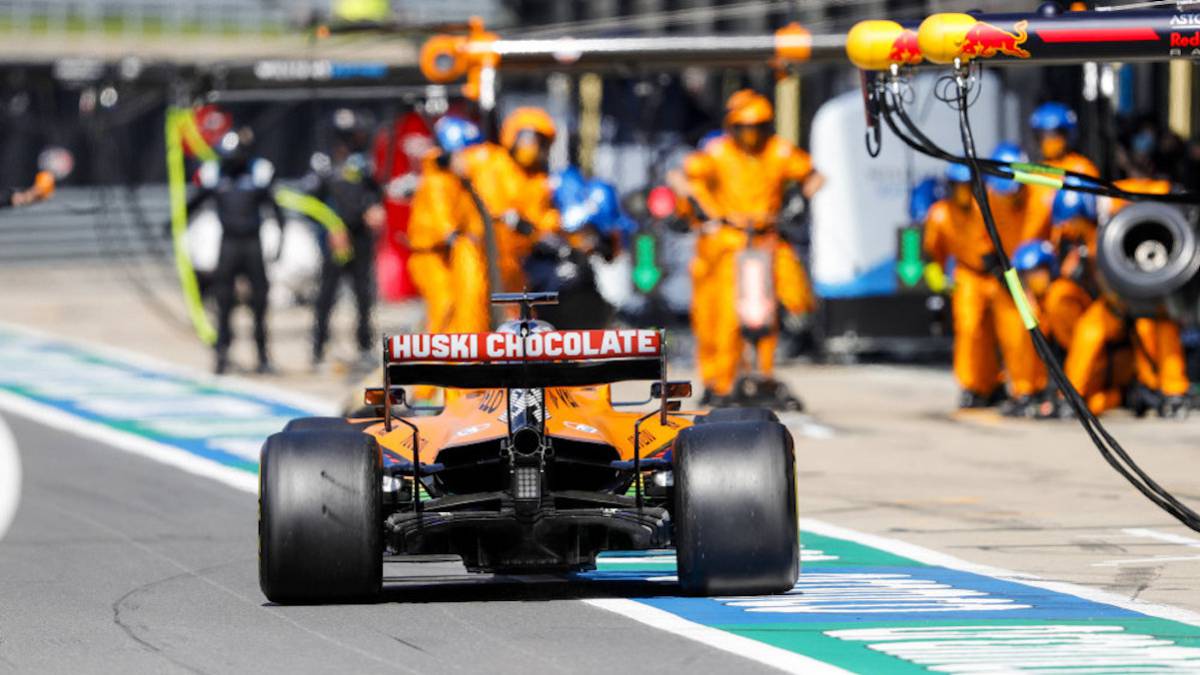 In a short season you cannot give away points and Carlos Sainz has lost too many. An easy fifth at the Styrian GP (10 points), a possible sixth in Hungary (8 points) and an eighth, ahead of Ocon, feasible at Silverstone (4 points) that join the puncture in the British GP that burst his fourth place (12 points). The sum is scary, 24 points given away, the equivalent of a victory. Fortune does not smile on him, but his team's performance on pit road has not contributed to flagrant errors in three tire change maneuvers either. Three, in five races. Statistics are scary. It is inevitable that the Madrilenian will feel chills every time a pit stop approaches.
On the second visit to the Red Bull Ring a wheel jammed and lost eight seconds where three should be used. He had started that race third, he was comfortable fifth but everything fell apart then and even so he saved three points. At the Hungaroring, no mechanic was to blame, but the strategic engineers were. When they stopped him, a line of cars was behind him, preventing him from returning to the pit lane: from virtual sixth to final ninth. And on Sunday, in England, another stop that exceeded six seconds left him without options and mired in traffic when his strategy predicted a comeback from 12th place, as he was wearing the same tires as the winner, Verstappen.
AS asked McLaren boss Andreas Seidl what was the cause of the incident: "We will have to analyze it in detail but it looks like a problem with the left front wheel gun. It did not allow us to release Carlos after engaging the nut correctly. No the green light appeared and that caused the delay. " The German leader set as a priority in 2019 to reinforce the team's equipment for the pit stops, but there have been recurring problems in this section that, unfortunately, have only affected Carlos Sainz. Lando Norris' saves have always been within normal parameters and the Briton is completing a solid start to the season with a podium finish in Austria and fifth place in the overall standings.
The main affected, Sainz, avoids bloodshot ("I don't want to be too hard, it was a mechanical and not human failure") although he admits that he is "very tired" of this kind of external factors that ruin his chances in the race. It is fair to emphasize that their performances on Sundays have been up to the task, just like last year. It was precisely on the first weekend at Silverstone that he completed one of his best races with McLaren, even if he finished with the Pirelli destroyed and out of the top-10. In debit, he lacked qualifying sensations, although until the last grand prix he had always been part of Q3. "The car is very different compared to last year to find a set up that suits me well. I was not always comfortable. There is a bit to improve in qualifying, I don't hide it," explains the driver, who prescribes patience when things go They do not come out as they should: "You have to digest, turn the page and go for the next one" .
Photos from as.com