A stain on the most overwhelming version of Lewis Hamilton
The Brit felt "in perfection" as he rounded almost the entire grid. The Mercedes has no rivals and the FIA will ban 'party mode'.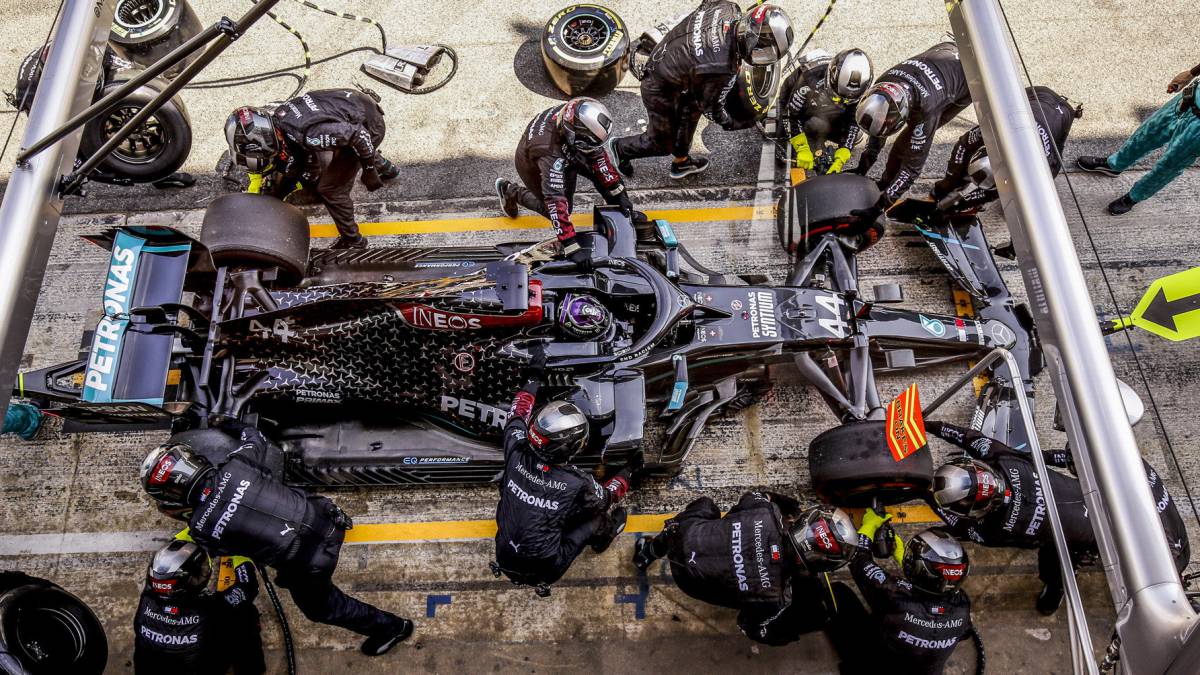 Ayrton Senna saw God when he was driving and this Sunday, in Barcelona, Lewis Hamilton confesses that he felt unbeatable, "perfect", "in ecstasy". The six-time champion explained coldly: "It is not a physical experience, I just feel at my best body level. We have a limited capacity and I felt like I was in the highest zone that I can reach and hold, for a long, long time. I have to evaluate how I reached it, because it is evident. I have had some perfect races and this has been one of them. " "For whatever reason, I can't say why, I felt like I was up there, driving with maximum clarity. I wasn't even aware of when we entered the last lap," he illustrates. His GP of Spain was overwhelming, he doubled all the drivers to fourth place. Now he defines it as a religious experience.
The 35-year-old British driver has more poles and podiums than anyone in the entire history of Formula 1 and is three wins short of equaling Michael Schumacher's 91. He will get over it this season, barring catastrophe. It will match the Kaiser's seven World titles, barring surprise. He will become the most successful driver of all time and the reverence of the rest will be even greater. Lewis wants to be an icon of sports, but also of social causes. From anti-racism, from environmentalism, from sustainability, from veganism. There is no doubt, he will transcend as an athlete.
The only blemish on his track record lies in the nature of his specialty, which combines the talent of the man behind the wheel with the ingenuity of the group on a machine. Mercedes has swept through the F1 hybrid era since 2014, but they are outgrown every year. And the W11 is, if possible, more dominant than all its predecessors, with a comfortable eight tenths of a lap lead and an unbeatable pace that only Red Bull, remotely, can match. Brackley's credit is enormous, they are the best team and they build the best car with the best ideas (DAS included). The demerit of the rest, too: the energetics and Ferrari have taken a step back in 2020. The problem is that Hamilton races against himself on the track, in zen mode, when there are 19 more drivers on the grid. Their advantage in the standings is 37 points over Verstappen. It seems little, seen as seen in the first six grands prix of the year, with four victories for Hamilton.
In Barcelona the lack of alternatives became evident, which translates into little emotion during the races. The FIA is going to take action and will ban in the middle of the season, from Spa, the maximum power rating mode of all engines. It seems a favor to Ferrari after reducing the capacities of its unit, and it will affect Mercedes because its 'party mode' implies three or four tenths of explosive improvement. The problem, paddock sources say, is that this way they will be able to balance their maps on a lap and in the race, and may still save more performance to dust off on Sunday. Let no one expect a step back from Mercedes.
"A lonely journey"
"Regardless, we are the best team. We are going to overcome everything as professionals. We will continue to do the best job, whatever they change. We will perform at the highest level. It is not a concern, I will remain prepared," concludes Lewis, who is living an extraordinary year: "This journey of an F1 driver fighting for the World Championship seems like a lonely journey and that is magnified this year, when you have to limit the people who access your bubble. Being with friends, finding a balance is much harder now. It's a psychological test, I don't see my family. But I'm focused and driving better than ever. It's a marathon, not a sprint. But I'll enjoy it at the end of the year, when there are no risks. "
Photos from as.com