"In a risky sport there is always a year that you have to mess up"
The current MotoGP world champion spoke on DAZN about the evolution of his injury, his return and how he sees the World Championship: "It seems that nobody wants to win."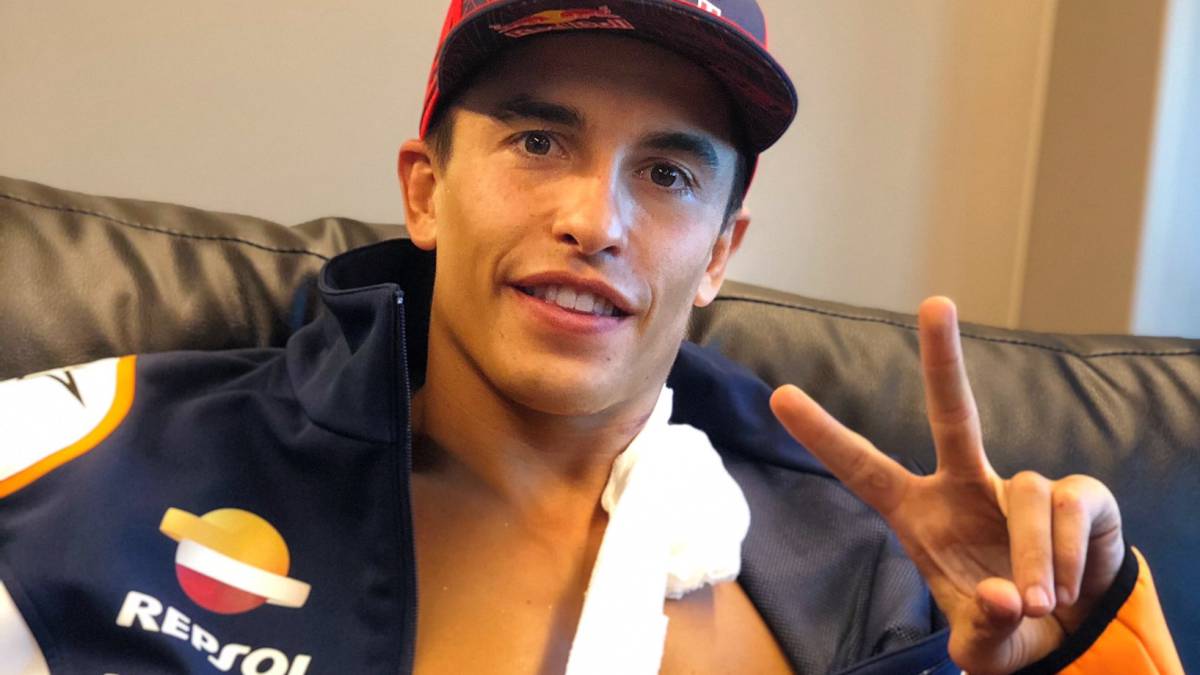 Marc Márquez has a good face to wear since July 19 in the dry dock in the interview with Dazn minutes before the MotoGP race of the Styrian GP started. In that time, the champion has had a first intervention to fix the fracture suffered in the humerus of the right arm, an aborted attempt to reappear four days after being operated and a second operation when the plate that had been inserted in the first one broke. . It is taken with resignation to know that it will take two to three months to reappear, as his team announced in a statement on Saturday, and he is left with the reflection of a Cervera neighbor whom he saw walking with her dogs: "In a sport of risk, there is always a year in which you have to mess around. "
Status: "Obviously, morale is not the best at the moment since we like to be on the track and even more so when at home I follow all the tests in Dazn and with the computer I see the times and the MotoGP partials. It is clear that I know It's been strange after seven years, this is the eighth and I didn't miss a race, but now it's time for patience, it's time to respect the body. The first time, in the first operation, we followed the recommendations of the doctors, who gave us the peace of mind of that I could get on the bike and lead a normal life, because not themselves expected the license plate to give way, and it didn't. But I continued to trust them, Dr. Mir and his entire team since a mistake can be made by anyone They also did the second operation and now they are logically much more prudent, with a second operation, and an arm that has had a bad winter with the shoulder operation, now we have to be more cautious with much longer recovery time on. And once the lost season is over, it is better to recover well and come back as strong as possible when the body asks for it ".
I try to return to Jerez: "I'll be honest, at the end I'll give you an example. If you have surgery on your leg and the doctors tell you that you can walk without crutches and it doesn't hurt, what are you going to do? crutch. It's an example, but then there was the same risk in Jerez as in Brno as in Red Bull Ring. A bone takes between six and eight weeks to weld. Four days had passed in Jerez, but only two weeks in Brno and in In Red Bull Ring three, the bone was still just as fragile, but in that operation the plate did not hold up to what the doctors expected. It was a mistake, yes, but now everyone can analyze the situation. I am the first to I gave all my confidence to Dr. Mir and to his entire team because they have done thousands of operations and all have gone well, but there is always one that goes wrong when you risk. How the Jerez race went wrong when I took a risk and I have done it every year that have given me so many joys, but it went wrong, I broke and fell, but also I gave them the confidence to operate on me and I will follow their deadlines as I always did ".
Return: "When I return it will be to go fast and risk again, which is our DNA. We hope to return at the end of the year, do some races and prepare well for 2021. I will return as soon as possible but 100%. Lose a year, but may there be many more ahead ".
One more year without winning in Austria: "Yes, one more year, and this year I looked strong (smiles). Let's see who wins because he's entertained. I make video calls with the team and it seems that nobody wants to win, everyone goes failing. It will be entertaining, perhaps a victory for Pol, my future companion. "
Championship: "What happens I do not know. Everyone fails, but it is a championship that has had many falls and many injuries. It is difficult to analyze you see a Maverick who is fifteenth in training, a Fabio who goes fast and then in the race not. In Jerez he beats you with the seconds he would have liked and then he arrives in Brno and it costs him a lot. It is very difficult to analyze. Dovizioso is perhaps the one who is making the least noise and thus he is second in the championship ten points behind Quartararo. Let's see. how is everything going. It seems that nobody wants to win it seems that nobody wants to take that advantage in the championship. Everyone is failing and there is no clear favorite, but hey, it's entertaining ".
Rupture Dovizioso and Ducati: "It surprises me more when you are riding fast, when a motorcycle that he makes the most of it, as he has shown in the last three years when he finished runner-up. It surprises and surely something escapes us, we don't know exactly what happened. but I respect the decision of Dovizioso who has been a great rival and I hope he will be in the future ".
Honda: "Here is a point that they say that the bike is made for Marc, but we all test the same parts and we all give our comments and I am the first one who would like to have a much more versatile motorcycle for different riding styles and a little easier, but the Honda is Honda and it is like that. Now Nakagami is squeezing it and analyzing my data a lot, as he has always done, but now it is working and to see if today he can get a podium, but the other Honda continue to suffer, not only my brother, who is learning and that does not mean that he has to take a step forward and is aware of it, as well as Crutchlow, who knows the motorcycle very well and is having a hard time ".
Accident Zarco-Morbidelli: "Without words, I was watching him on the sofa at home with friends, my grandfather and my mother and I was left wondering what happened. You see it a thousand times and a thousand times you think the same thing. It is a point that we already complained many years and that it must be changed; they have made a modification this year but for me it is not enough and it is clear that it is better not to think about what could have happened. They all came out unharmed, which is the most important thing, but it is the reality of the motorcycling since we are going 300 km / h on a motorcycle and the risk is there. The most important thing is that everyone goes out on the track today ".
Curve two in Austria: "You have to change turns two and three or even from one as there have been very dangerous falls. Perhaps it would be good to change from one to avoid these 'high sides' that get in the middle of motorcycles and the riders. It already happened in Moto2 and in practice and maybe that's why it would be good to go around that turn one and face two and three to make that section a bit different. That is my point of view, but it is clear that it is not easy to switch to boat soon a circuit ".
The most surprising thing about the World Championship: "For me the equality, Binder's victory surprised me a lot, not only for achieving it but also for the way he achieved it, for how he drove in that grand prix as he did very well and was one point above I would highlight the equality between the brands, KTM has already arrived and I hope that for the good of all they will soon take away the concessions and take away the points so that they equalize a bit and that is also nice for the championship. and with this equality there is more desire to see moved races ".
The most beautiful thing that they have said: "They have told me many things but while walking the dogs a woman from Cervera made me a reflection and she was right because I told her that 'not now, I will be a long time, this the other' and she said: "Boy, you've been in MotoGP for eight years, you haven't skipped a race and you're precisely not one of the riders who risk little. They've given you many championships and in a risky sport there is always a year in which you mess up." year that touches you and this has been the year. You have to accept and recover to see if we can do a race and prepare for 2021 to return to the attack ".
Photos from as.com