A historic Lillard (61) beats Doncic and rescues the Blazers
The point guard plays a game to remember and saves some Blazers who were behind, and almost eliminated, in the final stretch. The Mavs will meet the Clippers.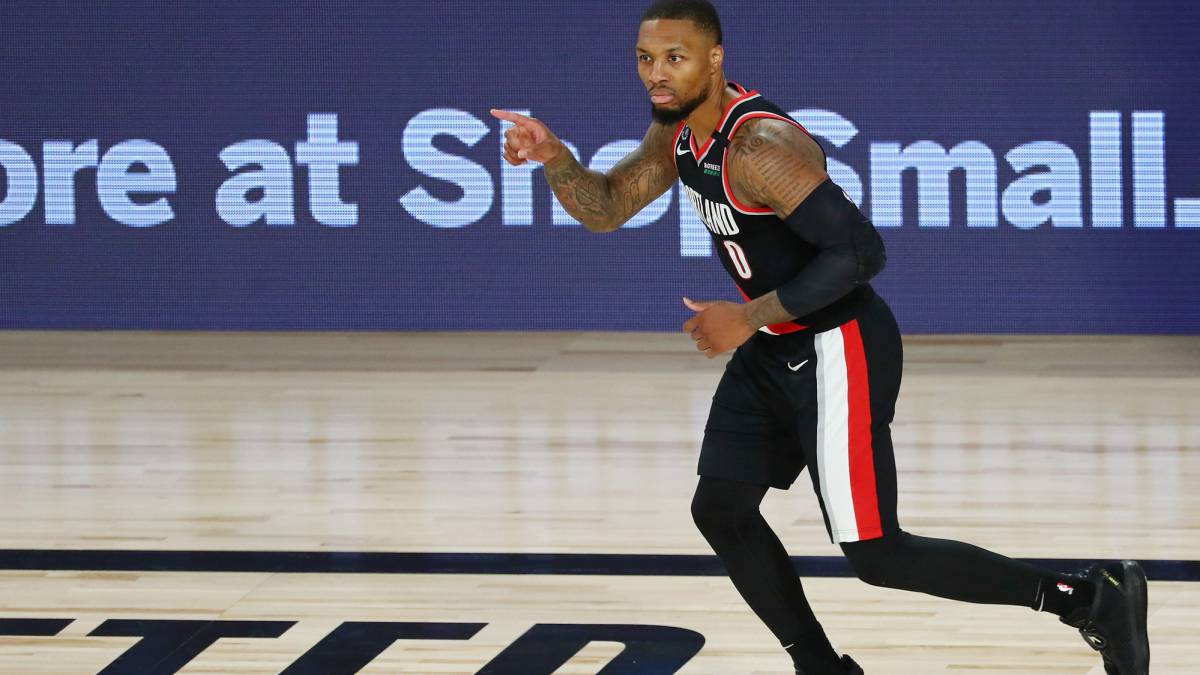 The Blazers were dead, with one foot out of the playoffs (play in included) in the final quarter of the game against the Mavs. In a duel that was resolved without defenses, almost without shots of two and in a carousel of personnel launches and from the line of three, those of Rick Carlisle were handled in small advantages to which he always responded alone, in a trance but without any collective plan, Damian Lillard. Blazers and Mavericks are two poor defensive teams, that's why some are as they are despite having Lillard and that is why the others lose more games than they should even though they have no trouble scoring. In that hysterical ecosystem, and when everything seemed almost, almost lost, Damian Lillard emerged.
The Blazers won (131-134) and, with excruciating suffering, their goal is almost done: if they beat the Nets on Thursday, they will not only be in the play-in but they will play it eighth (now that position is theirs) . That would earn them a two-way win, Saturday or Sunday, to face the Lakers in the first round. Even with a loss on Thursday, Terry Stotts's would be ninth and come to the weekend's rescue if they lose two of the Grizzlies-Suns-Spurs trio.
108-103, 110-105, 117-112 ... a succession of baskets on both sides of the court exhausted the game without the Blazers doing anything other than putting themselves in Lillard's hands and giving Carmelo Anthony (26 points, 8 rebounds) as a squire. Coarse. No defense, no McCollum (2/14 shooting), very little Nurkic (increasingly tired) ... it was enough for Lillard, superhuman, and for the usual mistakes of the Mavs when he burns the ball. In the fourth quarter, Carlisle's men made 5 triples but missed six free throws and accumulated five losses. That way they left a game that seemed like the gods wanted them to lose: with 90 seconds to go and with 130-127 for the Mavs, a dead-end attack ended with a triple by Lillard from the logo that bounced off the rim, went up to the roof of the pavilion ... and fell inside. With 132-130 and 40 seconds to go, Luka Doncic missed a free throw. And with five seconds left and with 132-131, Finney-Smith scored a triple that went into limbo due to an absurd lack of attack by Trey Burke, who unnecessarily charged Lillard (who else) when he had already hit assistance to his forward, alone in the corner. This is how the Blazers were saved. Luck, mistakes, the rival, a remarkable Carmelo ... and a player from another dimension.
Damian Lillard, it seems like forever, missed two free throws that put the Blazers at a crossroads against the Clippers. On the court, he endured the jokes of the rival bench (Paul George, Patrick Beverley ...). Since then he has played two games: 51 points and 7 assists to save his team against the Sixers (124-121) and 61, 5 rebounds and 8 assists against the Mavericks. With 9 triples (9/17) and 18/18 in free throws (received a very generous refereeing in the fourth quarter: megastar treatment). While his teammates faded and the defense did not bring even good news, the Oakland point guard linked triples, forced fouls, looked for the released players ... he held the game, endured his team, caused a heart attack ending and caught a victory that separated, surely and with Thursday as the foreseeable icing, failure from success. And with those monumental 61 points he became, incidentally, the second player in history with three games of at least 60 in a season. The other is Wilt Chamberlain.
The Mavs, it is already certain after this loss, will be seventh and will play in the playoffs against the Clippers. Again, they should have won but lost, and are 3-4 in the bubble. Hardaway Jr had 24 points and Kristaps Porzingis 36 with 7/9 from 3-pointers (he was eliminated on fouls). And Luka Doncic had very good numbers (25 points, 8 rebounds, 10 assists) but he did not have one of his big days: 2/8 in triples, 6 losses and the final battle lost with a Lillard who, on the other hand, would have won. to anyone, or so it seemed, on an enlightened, huge, superhuman day. 61 points, 112 in two games and the Blazers, in the absence of the last step, eighths and with one foot in the play-in on Saturday. All thanks to its star: gigantic Lillard.
Photos from as.com