89-84: Barça beat UCAM in the final two minutes
Calathes (13 points in the fourth quarter), Davies and Heurtel make the team react to an opponent with Frankamp, DiLeo and Lima making a great match.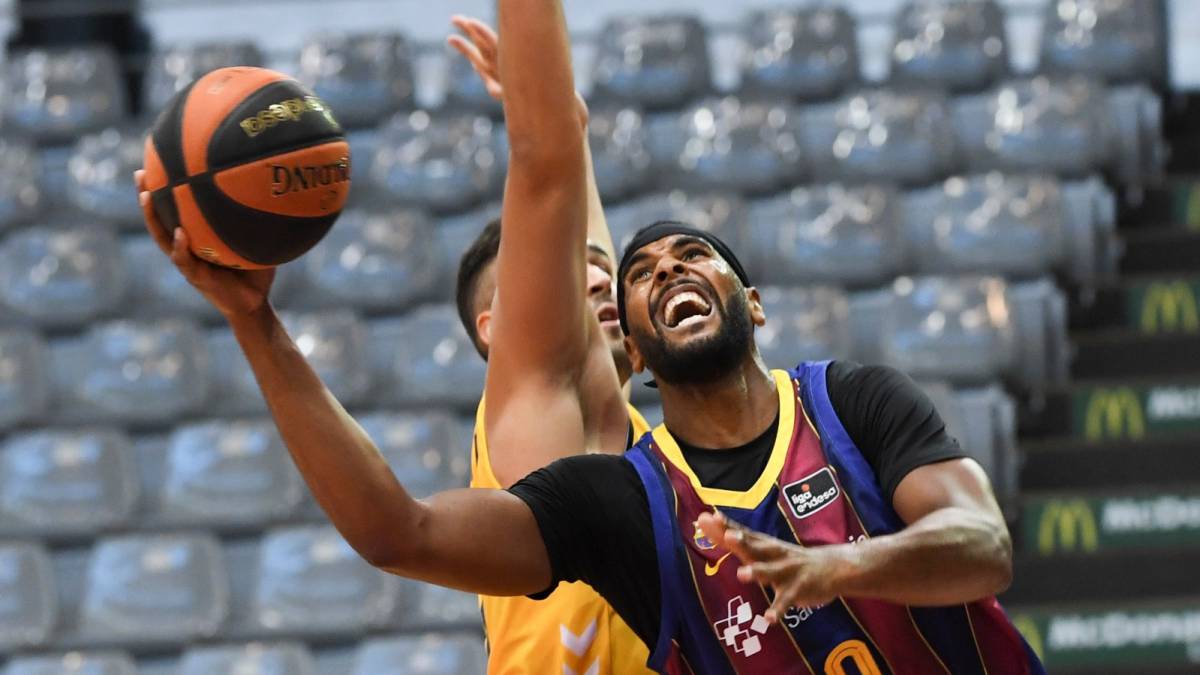 Barça has won its second preseason match by beating UCAM Murcia 89-84 against an opponent who only surrendered in the final two minutes thanks to the pace and success of Nick Calathes (13 points in the fourth quarter) and Thomas Heurtel, supported by Brandon Davies.
At UCAM, Conner Frankamp has shown why he was the top scorer in the Greek league last year, David DiLeo that he is a great tripler (he has endorsed 4 to Barça) and that Augusto Lima's return has been a success for his game inside. Now the two teams must match pieces.
Sito Alonso has still been able to count on Rafa Luz today, but with Montenegrin power forward Nemanja Radovic, who did not play in the previous match of Murcia against Baxi Manresa.
Jasikevicius has had the already known casualties of Cory Higgins, Kyle Kuric and Álex Abrines who no longer played on Wednesday against Morabanc Andorra.
The two technicians continued filming and constantly rotating their squads, it should be noted that UCAM Murcia has made eight signings for next season, but three of them already referred, along with the Dominican-American Sadiel Rojas, can always convert Murcia in a fearsome rival.
At Barça, Pierre Oriola made his debut today as captain and today it seemed that Jasikevicius was looking for more solidity in defense and a quick transition in attack.
Murcia with Rojas as the attacking point went quickly ahead (3-9, m.3) and Barça did not find fluidity in although they approached on the scoreboard (14-17, m.7) and improved with the entry of Nico Mirotic and the success of Brandon Davies to go with a minimum 24-25 against at the end of the quarter.
Pierre Oriola and Sergi Martínez put Barça ahead (33-31, m.14) and Sito Alonso stopped the game. This calmed his team and the differences in the score were minimal at half-time (40-41) .
Certain shares of Conner Frankamp, supported by Lima and Townes led to a 0-10 run at the start in the third quarter (40-51, m.23). Barça began to play more on the inside with Mirotic and Davies, but the triples from DiLeo and DJ Strawberry maintained the differences (49-60, m.17). Barça showed 0 of 7 in triples in this quarter.
Only two good interior actions by Davies, who surpassed Cate, timidly cut (53-60, m.19), but a triple by Frankamp closed the room and cut the Barcelona reaction (58-65) .
Saras put her best assets on the court: Heurtel, Oriola, Claver, Mirotic and the young point guard Brancou Badio. And it was a 2 + 1 from Mirotic and a triple from Brancou himself that cut differences (64-65, m.32), but Frankamp was lethal and with five points in a row he expanded the score (64-70, m.34).
Calathes entered the track with Heurtel and between the two they added a partial 8-1 that placed their team ahead (72-71, m.35). Sito stopped the game quickly because the Barça defense had stopped Lima on the boards and Davies came into play.
A 2 + 1 from Calathes tied (80-80) with two minutes to go and two triples (Heurtel and Calathes) put the Catalans ahead (86-82) with 50 seconds to go although Lima cut again and a Hanga's free kick and two by Davies sentenced the crash (89-84) .
Datasheet
89 - Barça (24 + 16 + 18 + 31): Heurtel (9), Hanga (2), Claver (7), Smits (12), Davies (16) -e.initial- Bolmaro (4), Pustovyi (- ), Martínez (2), Calathes (17), Oriola (7), Mirotic (10), Brancou (3) and Badji (-).
84 - UCAM Murcia CB (25 + 16 + 25 + 19) - Frankamp (23), Rojas (9), DJ Strawberry (8), Radovic (-), Lima (15) -e.initial-, Davis (6) , Townes (2), Malmanis (-), DiLeo (14), Jok (7) and Cate (-).
Referees: Perea, Padrós and Baena
Track: Barris Nord Pavilion in Lleida. Behind closed doors.
Photos from as.com