7-0 for Ricky's Suns: the miracle is just one step away
The Arizona team capitalized on the Sixers' losses and remains undefeated in the bubble. This is the first time he has won seven games in a row in ten years.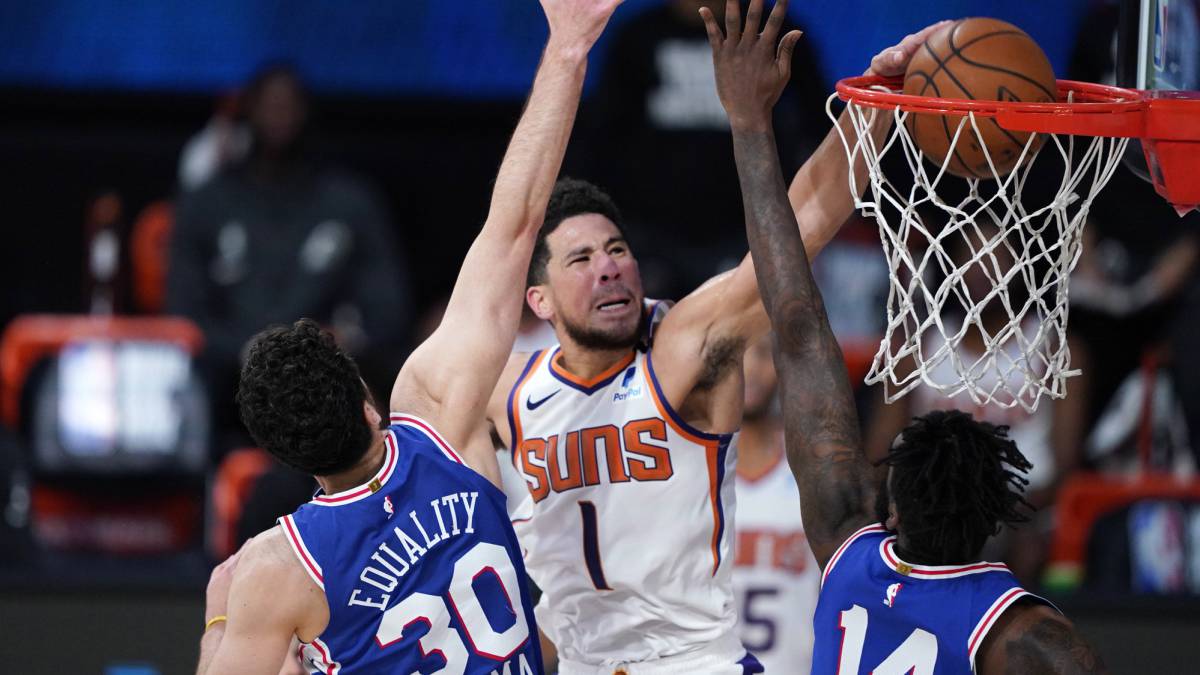 The Suns are 7-0 in the Disney World bubble, an incredible fact that would have seemed insane just two weeks ago. They have won everything and have reached the photo finish with options to play the play in and get into their first playoffs since 2010. They haven't won that many games in a row since that same season. In fact, Devin Booker, its star, has been in Arizona since 2015 (although he is only 23 years old) and did not know what it was like to add four consecutive victories before arriving in Florida.
The Suns live, and will play it against the Mavericks, on Thursday. They need to win and for the Grizzlies to lose their remaining games and the Blazers, at least one. One last bullet in a scenario in which no one counted on them and for which circumstances have helped: in their last two victories they have played against rivals (Thunder, Sixers) plucked by injuries, rotations, breaks and management of facing the playoffs that start on Monday. This time the starting advantage was radical. The Sixers (at the end, 117-130) did not have the injured Ben Simmons and Joel Embiid and gave rest to Tobias Harris, Al Horford and Josh Richardson. The chances of failure as well were slim for the Suns. Which, in any case, were well below the excellent level they have had so far in the bubble. And they flirted with disaster on the day when it seemed most unlikely. But they won, by sheer inertia and because of the little that the rival had, and they arrive alive to the last battle.
The game was ugly, stuck, suffered. Of many mistakes. The Suns did not find the good point, the Sixers held on based on gifts from a rival in torpor (despite everything that was played) and thanks to some good scorers from their rotation (Mike Scott, Burks, Robinson: 55 points among the three) and the appearance of Neto (22 points, 4 assists). Between errors and bad attacks by the Suns, Brett Brown's men were ahead (21-12) in the first quarter and were holding on afterwards, making the rubber every time a rival squeezed that went from less to more, or from too little to enough to win. Still, it was 97-103 in the last 9 minutes. There the Sixers' bellows ended, a project that shivers due to the injuries of Embiid and especially Simmons (more serious), and whose options for the playoffs are sold right now at a bargain price.
The Suns woke up on time, took command in the second half, were slow to break through and finally managed the fourth quarter well. Devin Booker was slow to warm up and lived many minutes of his trips to the personnel line (11/12) but finished with 35 points, 9 rebounds and 7 assists, brilliant in the final push of the last quarter. Ricky Rubio played well (16 points, 5 rebounds, 10 assists) and woke up his team in the second quarter connecting with Kaminsky (13 points) and a very important Saric in the central knot of the game (18 points, 9 rebounds, 4 assists ). On a bad day in Cam Johnson's shooting, the hyperactive Mikal Bridges (24 points) stood out (again), a player who is already an integral part of the promising young core of these Suns, who go for all, they are 7-0 in the bubble and they have one step left to complete a true miracle. Let's see Thursday ... 444 444

Photos from as.com