68-75: Mirotic appears after the break and breaks Joventut
Barca added their third victory in as many preseason games against a Joventut who was 26 minutes ahead against a rival with more resources.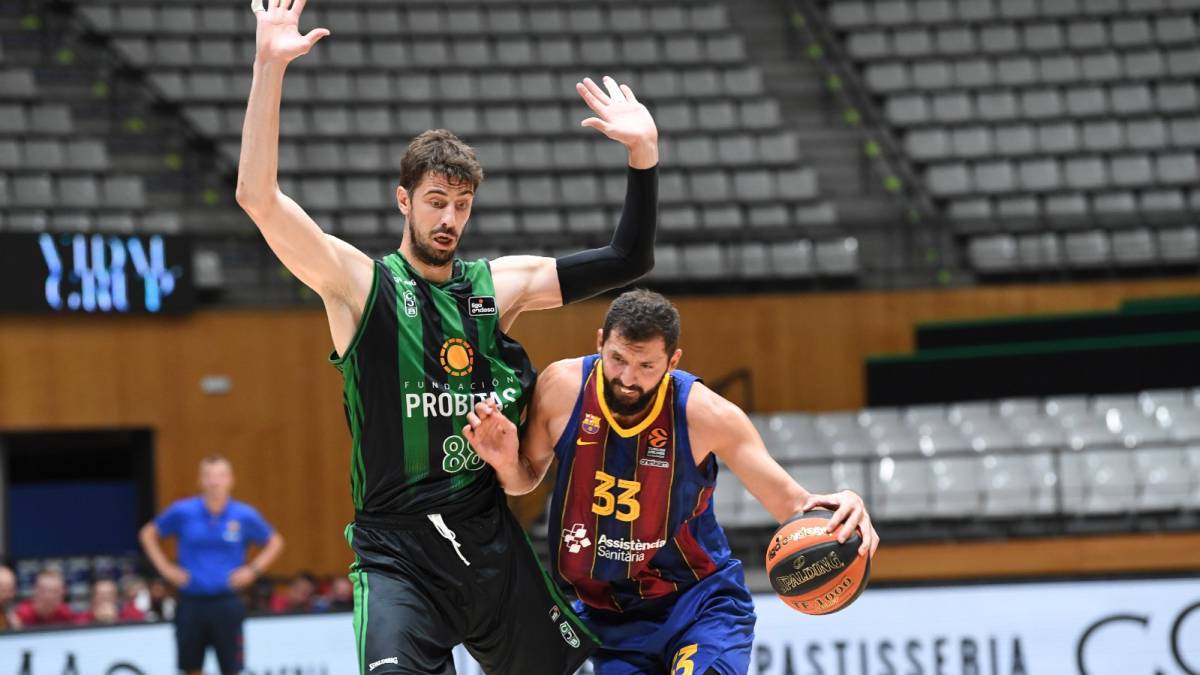 Barça closed its third preseason game with a new victory, this time against Joventut at the Badalona Olimpic by 68-75 in a match that Sarunas Jasikevicius's men chose the contest in their favor with a partial 10-28 in the third quarter (from 40-32 at halftime to 50-60) 444 444
The crash was a white glove and, once again, Nikola Mirotic marked differences with 10 key points in the third quarter, although Joventut never turned his face to an opponent with more rotation depth.
The meeting had many added attractions. It was the first for Ante Tomic and Pau Ribas with the green-black shirt in front of their former team and also the return to the Palau Olímpic of the American-Israeli guard Shawn Dawson, who reappeared last Friday in Salou (Tarragona) against Valencia after twenty months out off the slopes for two serious injuries.
On January 27, 2019, Dawson suffered an injury to the anterior cruciate ligament in his right knee that kept him off the court for 9 months. He returned last October 29 in a Eurocup match against Olimpia Ljubljana, breaking the achilles tendon in his left leg and would no longer play.
Swedish center Simon Birgander also reappeared on Friday, almost blank the last two seasons due to interventions on his left knee.
Curious pairings of Tomic with Brandon Davies or Pau Ribas with Heurtel, but nobody came out willing to be overcome by emotions and Barça, with Jasikevicius doing many rotations and always looking for double base actions with Calathes with the young Brancrou or Bolmaro together on the court just like Heurtel with him or Bolmaro.
The green and black with Tomic's first basket and two triples from Zagars and Ribas went with a clear 8-0 (m.3). The Catalans reacted timidly, but the Badalonese maintained their advantage at the end of the quarter (20-13) .
Both teams noticed the rotations and lack of shooting, especially on the outside shot. In addition, Barça made too many errors in attack and Shawn Dawson, with a triple, extended the local advantage (31-21, m.14) .
Heurtel and Oriola approached the Catalans (31-28, m.16) and Carles Durán stopped the crash. And it was Tomic, Dawson, who had some discomfort in the second quarter, and Brodziansky who left things as they were at halftime (40-32) .
Already in the middle of the third quarter (45-37, m.25) Saras entered the court of Heurtel, Hanga, Mirotic and Claver, lines were raised in defense and the hit came in attack with a partial of 0-9 that put by first time to Barça ahead (45-46, m.27) .
Triples by Hanga and Mirotic (10 points in this quarter) and five points in a row by Leandro Bolmaro closed the third period (50-60) with a partial of 10-28 for the Catalans.
Although Joventut tried to react at the beginning of the last quarter after a triple by Pau Ribas (55-60, m.32), Barça was already more incisive in attack, forcing personnel in the green-black paint and opening the gap again (55- 66, m.35) giving Barça the maximum advantage.
Before Tomic returned to the track again for Brodziansky loaded with fouls and it was possible to stop the attack of Jasikevicius (62-68, m.37) although Barça would not lose control of the scoreboard until the end.
Data sheet:
68 - Joventut (20 + 20 + 10 + 18): Zagars (3), Ribas (8), López-Arostegui (5), Morgan (4), Tomic (8) -e. starting- Dimitrijevic (8), Dawson (8), Brodziansky (12), Ventura (-), Birgander (2), Bassas (5) and Parra (5) 444 444
75 - Barça (13 + 19 + 28 + 15): Bolmaro (9), Brancou (5), Hanga (7), Mirotic (14), Pustovyi (6) -e.initial- Heurtel (5), Davies (7 ), Sergi Martínez (2), Calathes (7), Claver (2), Oriola (7) Smits (3) and Badji (1) .
Referees: Oyón, Baena and Padrós
Removed: Mirotic (m.38)
Track: Palau Olimpic de Badalona. Meeting behind closed doors.
Photos from as.com