'Tunde' will continue at Morabanc Andorra one more season
Babatunde Olumuyiwa (28 years and 2.05 meters), a center native to Sierra Leone, was an emergency replacement for the Andorran in the final phase of the League and won the renewal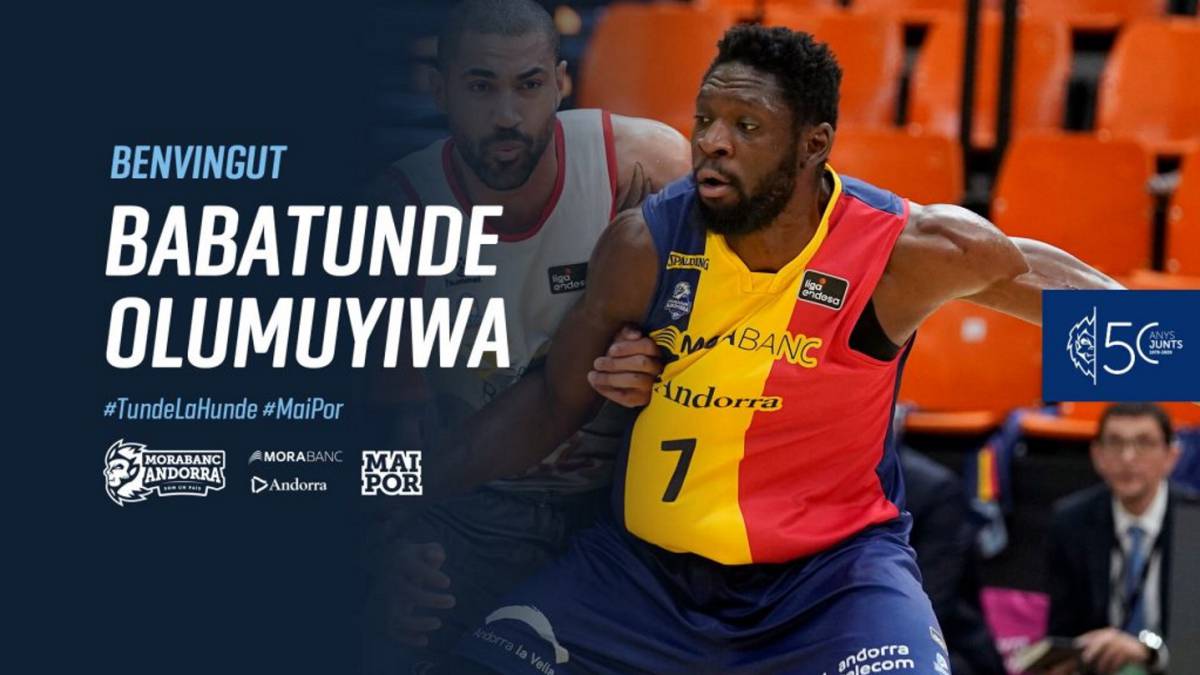 MoraBanc Andorra has officially signed the Sierra Leone player, Babatunde Olumuyiwa (28 years and 2.05 meters), who had reinforced the team during the exceptional final phase of the Endesa League.
The center, with a Cotonou passport, has been definitively signed for a season thanks to the good feelings his game left in that tournament with 6.6 points, 5.0 rebounds and 8.6 rating in 19 minutes on average in the five games he played.
The absence due to injury of the center Moussa Diagne in the final phase of the Endesa League and, later, that of the Serbian Dejan Musli forced Morabanc to urgently look for a new center to play this phase, Baabatunde Edward Olumuyiwa, who had played in the season at BBTB Palma de la Leb Oro and that arrived just one day before the start of the final phase.
Born in Freetown, the capital of Sierra Leone and trained at the American University of South Carolina, where he was part of the Spartans squad during his university period (2010 to 2014) .
He did not enter the 2014 NBA Draft and began his professional career in the Mexico Development League playing for the Cerveceros de Meoquí in the 2014-15 season. From there he made the leap to Europe, specifically to Spain to play in the ranks of CB Clavijo de Logroño of the LEB Oro
After two campaigns (2015-2017) in the La Rioja team he went to Albacete Basket of the LEB Plata, where, with 11.2 points, 6.8 rebounds and 1.1 blocks per game, he was one of the most outstanding players in the competition .
That good performance led him to the ranks of Real Betis Energía Plus to play in the LEB Oro League for a season, where he was part of the team that promoted to the ACB league again.
Last season he signed with the BTB Brand of Palma de Mallorca of the LEB Gold where in 23 games he averaged 4.2 points and 6.5 rebounds in 18 minutes.
Despite not being a born center, he stood out for his physical power, rebounding and defensive ability. He is a good blocker and intimidator in the interior game.
"Tunde was at an excellent level in the final phase and at that time we already had the possibility of signing him very present due to the many good things he can bring," says Sports Director Francesc Solana, who adds that "he is an intense, physical player , hard-working and supportive who is eager to take advantage of this opportunity and who in a long and demanding season will help us a lot ".
Photos from as.com