The Atlético de Madrid coach valued Carrasco's game: "He is finer, more incisive, vertical. The best Yannick has returned since he left."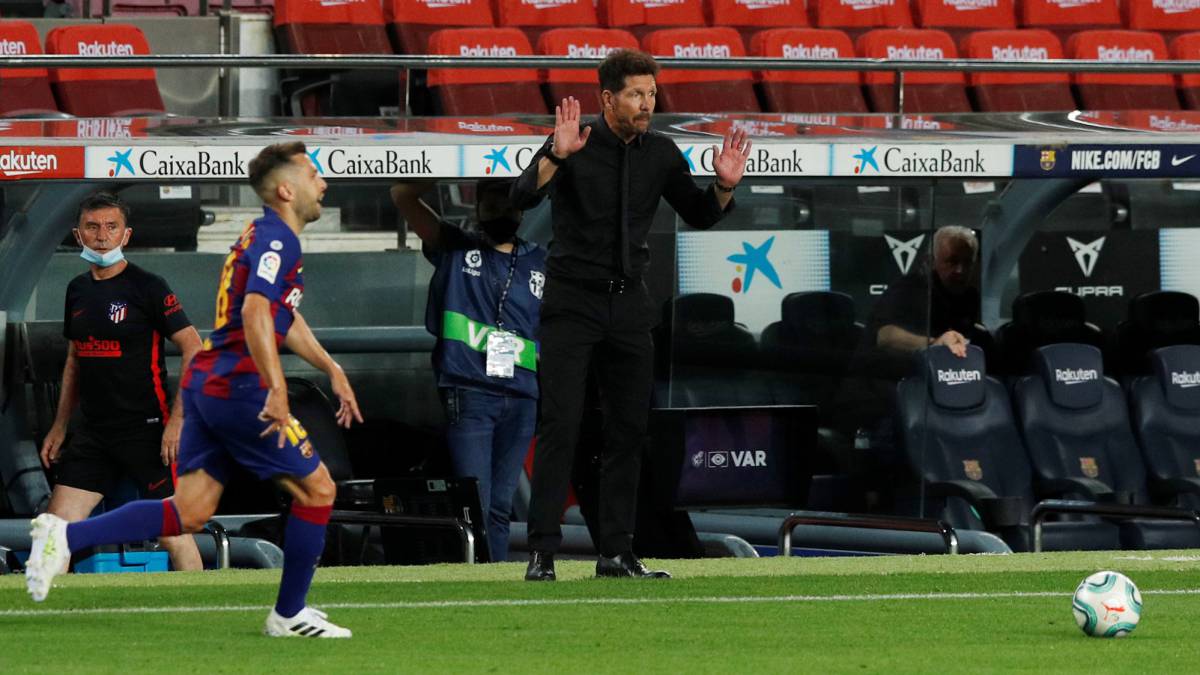 Diego Pablo Simeone went through the Movistar LaLiga microphones after the Atlético de Madrid draw at the Camp Nou against Barcelona.
Good result: "It was an entertaining match with different moments. We from the start looked for our speed. The match had the stage where we could find the tie right away. They had chances and we did too. The tie remains the illusion of the two teams in power win. "
Carrasco: "He has been playing since Bilbao. He is finer, more incisive, vertical. The best Carrasco who left is coming back."
Costa's lack of luck: "I'm not lucky either. Yes, I was lucky that we tied" .
Reaction: "At all times I saw that the team was closed and had a quick transition. The team tried to defend itself in an orderly manner and in each counterattack there was danger."
Fuertes: "No, there are many points to reach the goal. All the teams are growing and now we are going to focus on Mallorca" .
Third: "The goal is to be in the top four
Griezmann: "Speechless"
Subsequently, he attended the press.
We are very respectful of Barcelona. We know the quality of footballers in your squad. We came to play with the intention of having quick transitions, playing space with Carrasco and Lodi, Correa and Arias, Llorente and Costa to do damage to the spaces they usually leave when playing both on your field. I think the game was played in what we wanted, his goal came in an isolated play and the plays we were looking for began to appear until reaching the penalty. In the second half, a difficult match against an opponent who has the ball very well and the team knew how to react. They looked for a situation with Vidal, we the one from Costa, the one from Lemar and some that seemed like it could end better and we did not choose in the best way, but I am happy with the work of the footballers.
Griezmann only played for a few moments
Without words
Carrasco is taking off.We knew he was in difficulty, he is making a huge effort and we see the results. Each time he is better, incisive, vertical, decisive at the end of the play and makes us happy. In Bilbao he played a good game and today rounded off possibly the best game since he returned to the team.
Diego costa started with no luck, but was growing
May be one of the most regular games in continuity of play for Diego. At all times he tried to hold onto his back so that the team could progress and he went until minute 70 where we saw that he had given everything and that is what we needed. Five games left, all difficult and we will have to continue working and knowing that we need all the boys we have to reach the goal.
How do you see Barcelona?
I don't usually comment on the rival. It is always a team with a great game, with players who decide where to lead the game, where to position themselves and their way of playing does not change, it is incisive, with important ball support at other faster times and today it has been more positional. They are respectable styles, at least from me.
Are you influenced by playing without an audience?
I don't behave differently. I live it the wrong way or not, but I feel it that way and it is a way of trying to help the team to be inserted. I don't do it differently than if there were people, what happens is that there you hear less, but the way we deal with it is the same.
Could it be the final of the Champions League?
There are many important things ahead before reaching August. Now we focus on Mallorca, which is sure to be tough like all Spanish League games.
Photos from as.com