Sergio Rodríguez: "I would love to be in Tokyo"
The Canarian base analyzed on FEB's social networks his career in the National Team, to which he plans to return facing the Olympic Games, which will be held in the Japanese capital.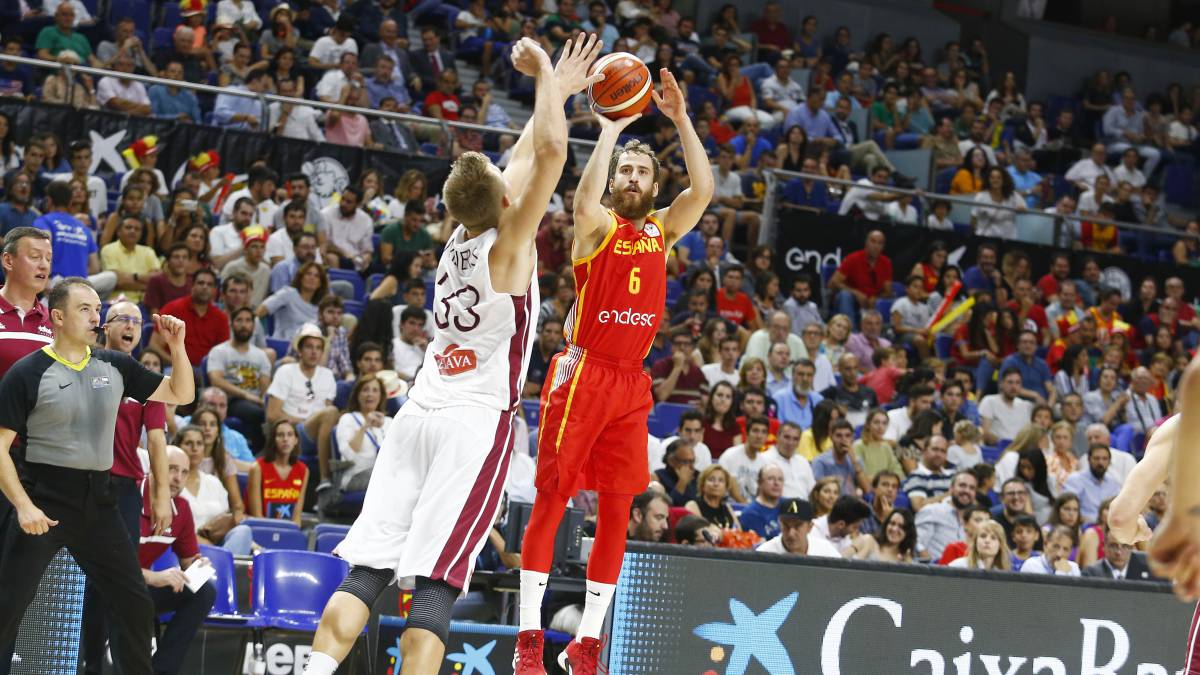 The base Sergio Rodríguez showed his willingness to be part of the Spanish basketball team at the Tokyo 2021 Olympics, despite not having attended the last World Cup, played in China and won by the Hispanic team.
"I have always said that I am available for the National Team. Last year was a difficult time, both personally and in sports, and I thought that the best thing for the team and for me was that I was not there," he said in a talk on the official account that the different national teams of the country have on the social network Twitter.
"The team did very well and I was able to rest and stop. When you enter the professional routine it is very difficult to know the moment when you have to catch your breath. It helped me to be cooler and face the season in the best way, but always that I can, I will want to be with the National Team, "he added.
Rodriguez explained how that event conquered by Spain lived in the distance: "It is suffered and enjoyed. The 2006 I experienced from the inside and seeing it from the outside in 2019 was also very nice. I saw how the team recovered from a bad start, we started to compete and we did it better than any other. Seeing the team enjoy that way and winning another world gold was amazing, "he confessed.
About the edition of the tournament that took place in 2006 in Japan, in which Spain won its first World Cup, and also about its premiere in a major competition in 2005, he noted: "In 2005 he was very young and like everything new, he was It was great being in the group. I played very little but being in that environment, seeing how my teammates played surrounded by great pressure and tension ... I have good memories. It helped me for the following year to have more experience in the World Cup, "he explained. .
Rodríguez defines experience as a key factor to know how to have the necessary calm when the minutes are missing: "When you accumulate tournaments you realize that there are moments for everything. It does not matter if you do not play in the first games because there will always be moments at crossings The ones you have to help. I learned that and it served me in 2006. The 2006 team was fantastic, there were many matches at a great level. The semifinal against Argentina was impressive. I still have a great memory, it was one of the most important matches in my career, "he said.
He also spoke about the Rio 2016 Games, where they hung the bronze: "We started losing against Croatia and little by little we recovered the game. We lost the semifinals against the US playing a very good match and the fight for bronze was a spectacular match. Australia played great and until the last second it was not decided. Games are always special and when you end up winning a medal, imagine ", analyzed
The canary scored two decisive free throws in that clash: "Perhaps they are the baskets I remember best. There was a lot of tension but I tried to shoot them as in any training session. I have always had a good percentage, I practice it a lot. At that moment you have to trying to avoid thinking about anything other than the pre-shot routine and sticking it in. When you put them in, and then you win the game, you get pretty free, "he acknowledged.
In addition, he highlighted the good atmosphere in the calls: "Many years have passed, many different tournaments. But in general it is a very solid group, who get along very well and who knows that this atmosphere in the concentrations is key to achieving success", commented
On the other hand, he highlighted how he plays it as a quality that stands out from him and detailed what he understands by 'Chachismo': "It is a way of understanding basketball, of having fun. Taking risks but having a lot of responsibility in what I do, knowing how important it is for everyone to do things well and as expected, "he said.
At the time of analyzing his time in the NBA, he defined this as "a dream come true" and assured "being proud" for having enjoyed two stages in the American league of which he claims to keep "a good memory" .
Regarding his future and a possible return to the Endesa League, he indicated: "I have been very lucky to be able to choose to play where I wanted, in very great teams. I am very happy in Italy, they are treating me very well, it is a wonderful experience professionally and for my family. I have two more years of contract and I don't look any further. I want to enjoy the present and take advantage of this opportunity in Italy, "he acknowledged.
For his part, the Canarian baseman said he was not clear about what his future will be once his sports career ends: "I don't know what I will do when I retire. I have considered it, but it is difficult. It will surely be something related to basketball and sports but I still don't know, it's difficult to decide now. I am in a very beautiful situation in Milan, I want to make the most of it and not have distractions, "he concluded.
Photos from as.com